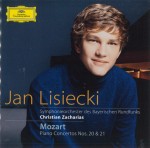 Mozart – Piano Concertos 20 & 21
Jan Lisiecki; Bayerischen RSO;
Christian Zacharias
Deutsche Grammophon4790061
Canadian Jan Lisiecki is an incredible young artist who has recorded the Mozart piano concertos Nos.20 and 21 at the age of 16. I enjoyed his performance of the D Minor concerto for its dynamic contrasts and the dramatic intensity of the cadenza. His playing is clear, structured and without pretence. The emotions within the music were expressed honestly and not coated in pretty or exaggerated stylism. His technique is virtuosic with articulate scales and arpeggios cascading up and down the keyboard in a refined tonal palette. The interpretations are artistically thought through and mature enough to defy his age. His touch was lovely in a pure Mozart style. The second movement, Romance did not melt my heart as some other performances (Perahia, Uchida, etc.) but he captured the natural flow of the music and his phrasing was impeccable. The Rondo: Allegro Assai with the cadenza by Beethoven was brilliantly played with crisp trills and ornaments and the "dark energy" Lisiecki speaks of in the program notes is evident in the intensity of his playing.
Conductor Christian Zacharias is most sympathetic and supportive. A well-respected pianist himself he responds to every nuance of the soloist. The orchestra is brought into the performance with spontaneous conversational zest. I always think of Mozart's piano works, solo, chamber or concerto, as opera for the keyboard. It is a singing conversation and I was pleased to read in Lisiecki's notes that this was what he also thought of as a key to Mozart's music. "With almost all the composers I play, I think of a human voice. If you play as you speak and sing, you will produce the most natural phrasing. Mozart's piano concertos sometimes have positively operatic qualities. In the third movement, Allegro vivace assai of the C Major concerto, for example, one can imagine having different characters speaking with one another onstage."
In the Piano Concerto No.21 in C Major K467, Lisiecki performs impeccably, light as air in touch, texture and mood but intense and deep in contrasting sections. Lisiecki wrote his own cadenza which was short but well-written and it fit into the concerto stylistically. The famous Andante was crystal clear and moved me with the singing line. Maturity will season this movement in time. Lisiecki has found the key to successful Mozart playing and seems to channel Mozart's exuberance, humour and singing voice.