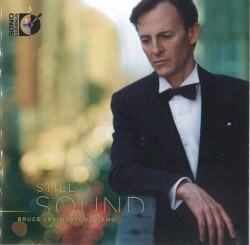 Still Sound
Bruce Levingston
Sono Luminus DSL-92148
Exquisite colours and haunting cadences highlight the remarkable solo performances of American pianist Bruce Levingston in Still Sound.
Levingston is powerful in his well thought out performances of Chopin, Satie and Schubert. He has a firm grasp of technique and style here. However, he is most striking when performing more contemporary works. Arvo Pärt's popular Für Alina and Variationen zur Gesundung von Arinuschka are breathtaking in their bell-like charm and quality of attention to the spaces between the notes.
Levingston is also a champion of American composers. Augusta Gross is a fine composer in the contemporary American style and is featured in five tracks. Memorable is her polyphonic writing in Reflections on Air which is intricately captured by Levingston's gentle performance. William Bolcom's New York Lights is a solo piano version based on an aria from his opera A View from the Bridge. Bolcom's clever use of a multitude of American musical styles makes this an accessible yet modern work. Unfortunately, Levingston is suddenly a bit too bangy and percussive in the climatic, louder section, though he retreats back to his mature musical touch for the end of the work.
Levingston is to be applauded for his choice of programming. This is a collection of reflective, personal music with which to enjoy, contemplate and unwind.