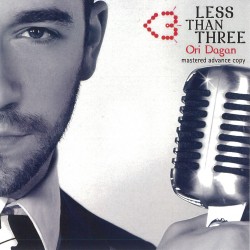 Less Than Three
Ori Dagan
ScatCat Records ODCD02
www.oridagan.com
In the follow up to his well-received 2009 debut, S'Cat Got My Tongue, Israeli-born Toronto jazz vocalist Ori Dagan has imbued his latest recording with a healthy dose of intriguing material, cool musical sophistication and superb musicianship. The title, Less Than Three, refers to the online symbol of a heart — illustrating Dagan's theme of "love" in its many guises.
Recently named "Canada's Next Top Crooner" by CBC Radio, Dagan's rich and sonorous baritone plumbs a depth of feeling above and beyond what his title would indicate. The CD boasts a line-up of gifted musicians, notably the Bill Evans-influenced pianist Mark Kieswetter and recent Order of Canada recipient, the luminous Jane Bunnett on soprano sax. All of the impressive arrangements are by Dagan and Kieswetter, including eclectic takes on tunes from Madonna, Elton John, Andrew Lloyd Webber and Lady Gaga, as well as two original compositions — the entertaining and witty Googleable, and a moving ode to peace, Nu Az Ma?, sumptuously rendered in his native Hebrew.
Noteworthy is a rhythmic and wickedly sensual version of Madonna's disco-era hit Lucky Star, as well as Eretz Zavat Chalav — sung with energy and authenticity (as only a "Sabra" can) and elevated to a thrilling level by Jane Bunnett's stirring improvisations. Other tasty tracks include a scat-o-riffic roller coaster ride on Lady Gaga's Bad Romance and a pure and elegant rendering of Elton John's and Bernie Taupin's first big hit, Your Song. No doubt there will be many more treats in store down the line from this talented and inventive vocalist.