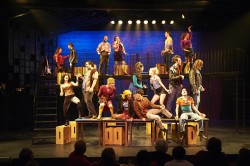 Rent, the iconic rock musical that stormed the bastions of musical theatre during the 1990s, returns to Toronto in a new incarnation mid-month at the Panasonic theatre. This time 'round, it arrives as a transfer from Sheridan College where, last December, it excited acclaim at the school's Oakville campus when it was presented by Theatre Sheridan as a showcase for the graduating class of the advanced diploma program in music theatre performance. Remounting the high-octane show for a limited run is a no-brainer for theatre impresario, David Mirvish, who considers Rent "this generation's best musical about the struggle young people face in finding their way in the world. Having a new generation of talent from Sheridan College … is perfect casting."
The endorsement by Mirvish is more than just hype. For years, Sheridan graduates have helped build Toronto's music theatre community. Read the cast notes for any musical produced recently in the GTA and you'll find the bio of a Sheridan theatre grad. And if you're lucky enough to get a ticket to Jesus Christ, Superstar, currently running on Broadway, check out the résumé of Chilina Kennedy who plays Mary Magdalene; she, along with two others in the cast, honed her skills at Sheridan. This is just one of the reasons that Jacob MacInnis, who plays the role of Tom Collins in Rent, was keen to enter the program which, he says, is "tops in Canada."
Theatre Sheridan heralds the cast of Rent as "the stars of tomorrow" — a sobriquet justified by the school's track record. The phrase also could apply to Rent's characters, an eclectic mix of twenty-something artists who scramble to eke out careers in the mean streets of New York City. Written by Jonathan Larson, who died unexpectedly before the show's off-Broadway premiere in 1996 (and its Pulitzer Prize-winning success), the libretto is based on Giacomo Puccini's La Bohème. AIDS replaces tuberculosis, the scourge of Puccini's opera; Paris in the late 1800s is reconfigured as New York's Alphabet City in the early 1990s; poverty still prevails; and love, lust and lassitude suffuse the characters' hopes with a paradoxical blend of energy and langour that lends "la vie bohème" an air of melancholic urgency.
Despite the angst and terrible odds, love survives in Rent — three varieties of it, no less. Roger, a jittery musician traumatized by AIDS, falls for Mimi, a night-club dancer with a habit for cocaine. Maureen, the ex-lover of Roger's roommate, Mark (a film-maker), stakes out a love-hate relationship with her new amour, Joanne, an erstwhile lawyer. Tom Collins, a gay anarchist and sometime college professor, picks up with Angel, a flamboyant drag-queen, also living with AIDS, who teaches him to trust. More important than the characters' individual lives is the community they help create — one where the incessant demand to "pay the rent" signifies the crises that threaten love and creativity. "Seasons of Love," the song that opens Act Two (and the show's one bone fide hit), is a paean to survival in a world that frequently condemns love as wrong, sex as dangerous, and art as frivolous, if not decadent. Rejecting the costs of social and artistic approbation, the characters forge their bonds without a belief in tomorrow. Together, they celebrate the present which, for some of them, is all they will ever know.
Jacob MacInnis tells me that Lezlie Wade, the director of Sheridan's Rent, conceived the production to foreground community. "For her, the cast is a family," he says — a large one, in that it numbers 32. "Everyone has a story-line with which to build their character. This isn't a 'leads plus ensemble' production; everyone takes the final bow together." The approach suits a show that offers "a snap-shot of an important moment in American history," as MacInnis puts it, a time when artists "cried out for people to open their eyes to what was happening all around them." He pauses, as if considering how to continue. "A group of young artists struggles to leave something behind. What will it be? At the end of the show, they know. It will be love." He pauses again, then gets personal. "I found a lot of myself in Tom Collins …"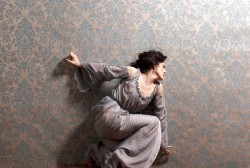 Also opening mid-month is From the House of Mirth, another adaptation of a famous work — in this case, a novel by celebrated American author, Edith Wharton, first published in 1905. Unlike Theatre Sheridan's production of Rent, this show is created and performed by some of Canada's best-known, senior artists, working under the auspices of Coleman Lemieux & Compagnie (CLC), one of the country's most respected dance initiatives. Founded in 2000 by Bill Coleman and Laurence Lemieux, pre-eminent choreographers and dancers, CLC creates intimate, small-scale performances, as well as spectacular stage shows, that feature some of Canada's greatest dancers. This new presentation qualifies as both.
From the House of Mirth is a music/dance/theatre collaboration with an original score by Rodney Sharman, libretto by Alex Poch-Goldin, and choreography by James Kudelka, the CLC's resident choreographer and director of the show. Kudelka stresses that this version of Wharton's story evolves "not as a ballet, not as an opera, and not as a sung play," but as all three, with each form picking up the narrative according to the emotional and intellectual demands of the moment. Four male singers take the stage, along with four dancers, all female. Only the male characters use songs to tell the story. The female characters remain silent, danced by Victoria Bertram, Claudia Moore, Christianne Ullmark and Laurence Lemieux who plays the lead character, Lily Bart. The four singers — Scott Belluz (countertenor), Graham Thomson (tenor), Alex Dobson (bass-baritone) and Geoffrey Sirret (baritone) — like the dancers, are accompanied by a five-piece chamber orchestra of piano, harmonium, harp, violin and cello, under the direction of John Hess.
Despite its substantial cast, From the House of Mirth recalls the salon evenings of Wharton's time — genteel soirées staged in intimate venues, often private parlours. The approach fits the Citadel, the venue CLC now calls home. The performance space is housed in a three-storey building erected in 1912 at the base of Regent Park, formerly owned by The Salvation Army and renovated by CLC during the past few years. A state-of-the-art dance studio that seats an audience of 60, the Citadel's intimacy fits Kudelka's reimagining of New York salon culture in the early 20th century. Ironically, he uses the piece to expose the repressive manners and manipulations of the society that treasured the form — a "hot-house of traditions and conventions," as Edith Wharton called it.
In the novel, Wharton charts the descent of Lily Bart from a glittering social circle in 1890s New York to poverty and a solitary death, her dreams of marriage — whether for wealth or for love — shattered by convention and her own conflicted desires. The challenge for Kudelka and his collaborators has been to create a vocabulary of music, movement, and theatre that evokes the novel's moral issues while, simultaneously, it illustrates Lily's inner life that evolves through her relationships with a number of men.
For composer Rodney Sharman, this challenge is tantamount to creating a structure that unites the disparate elements of the score. The music, he explains, "must set an atmosphere for the dance"; equally as crucial, it "must convey the most important moments in Lily's story." The songs sung by the men in From the House of Mirth use Poch-Godin's libretto to convey much, but not all, of the exposition. "In the pivotal scene where Lily is disinherited," Sharman notes, "there is no song whatsoever." Moments like this lead him to remark, "it is a testament to the power of dance that the women in the piece can communicate so much, so fully, without using words."
At the end of Wharton's novel, when Lily dies from an overdose of a sleeping powder, her complicity in the event is left ambiguous. Not so Wharton's attitude to the milieu she depicts with her cautionary tale. Summarizing its theme as "lost illusions and destructive melancholy" she pares her point-of-view to a succinct description that highlights the novel's social critique. Coincidentally, one could apply her summary to the characters in Rent. At least for them, however, love survives, even as idealism fades.
Ah, New York, New York: "if you can make it there, you can make it anywhere …" Plus ça change …
And There's More!
May is the month for musical adaptations (or so it appears this year), at least two of which deserve mention in addition to those above. Opening early in the month is West Side Story, one of the most famous adaptations in recent history, in a touring version presented by Dancap Productions. Inspired by William Shakespeare's Romeo and Juliet, the book by Arthur Laurents updates the rivalry between the Capulets and Montagues to New York's Upper West Side in the mid-1950s where the Jets and the Sharks, two teenage gangs, fight to control the streets. The Sharks and their Puerto Rican heritage are taunted by the Jets, a white working-class gang, even as Tony, a Jet, falls for Maria, the sister of Bernardo, leader of the Sharks. With a soaring score by Leonard Bernstein, poetic lyrics by Stephen Sondheim, and the electric choreography of Jerome Robbins, the show is one of the great achievements of American musical theatre.
West Side Story premiered on Broadway in 1957. Fifty years later, Arthur Laurents undertook a major revival of the show by weaving Spanish lyrics and dialogue into the English libretto, arguing that "the musical theatre and cultural conventions of 1957 made it next to impossible for the characters to have authenticity. Every member of both gangs was always a potential killer even then. Now they actually will be. Only Tony and Maria try to live in a different world." This new "edgy" production, even more successful than the original, is the one on tour to Toronto.
Opening late in the month, Dear World is possibly as obscure as West Side Story is well-known. Using music and lyrics by Jerry Herman to refashion Jean Giraudoux's play, The Madwoman of Chaillot, the show was a flop when it opened in New York in 1969 for a brief, calamitous run. Despite negative reviews, it won Angela Lansbury a Tony Award for her performance as the Countess Aurelia, a woman driven mad by a lost love who spends her days reminiscing in the basement of a Parisian bistro — at least, until it is targeted for demolition by an multinational oil corporation. Conceived as a chamber piece, the show reputedly was overwhelmed by the grandiose design of its initial staging. A subsequent revision of the book by Jerome Lawrence and Robert E. Lee returned the script to its intimacy, and Herman added three new songs to expand his melodic and clever score. Presumably, this version is the one that the Civic Light Opera presents at the Fairview Library Theatre until June 9th. Check it out.
Based in Toronto, Robert Wallace writes about theatre and performance. He can be contacted at musictheatre@thewholenote.com.