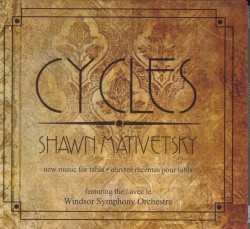 Cycles – New Music for Tabla by Ledroit, Lizée, Paquet, Hiscott & Frehner
Shawn Mativetsky; Marie-Hélène Breault; Catherine Meunier; Xenia Pestova;
Windsor Symphony Orchestra;
Brian Current
ombu 1015
www.shawnmativetsky.com
Montreal percussionist Shawn Mativetsky has made a specialty of performing on the tabla (twin hand drums), not only in music indigenous to its Hindustani (North Indian) roots but also with dance, Western instruments and orchestras. As a leading Canadian disciple of the renowned Sharda Sahai he has serious tabla street cred. On Cycles however Mativetsky presents his culture mash-up side in six commissions dating from the last decade by mostly Quebecois composers. The works admirably showcase his timbral, temporal control and musical sensitivity on the tabla alone, and as supported by a series of duo, chamber music and orchestral forces.
While individual pieces variously draw inspiration from Western and Hindustani musical sources, they also clearly reflect the personalities and musical aesthetics of their composers. Metal Jacket (2005) for tabla & harmonium by the busy Montreal composer Nicole Lizée is an excellent example. This smart, crafty and playful work pushes boundaries of groove, drone, repetition, phrase augmentation and diminution — all essential features of traditional Hindustani music — and overlaps them with characteristics found in electronic mediated music: glissandos, fades and extreme distortion effects.
Mativetsky's project reflected on this CD is not unlike that of other Canadians who have combined musical instruments and genres from afar and presented them alongside the classical music traditions of the "West." Toronto's Evergreen Club Gamelan's 1980s pioneering work and that of the Vancouver Inter-Cultural Orchestra in the 2000s come to mind. Cycles will delight both world music and new music aficionados alike.