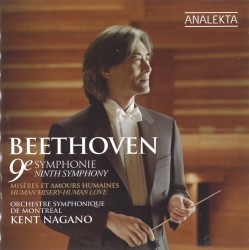 Beethoven - Symphony No.9
Erin Wall; Mihoko Fujimura; Simon O'Neill; Mikhail Petrenko; Choeur et Orchestre symphonique de Montréal; Kent Nagano
Analekta AN 2 9885
Unashamedly and unapologetically modern. Intended deliberately for the 21st century soul. There is nothing "authentic" about this performance by the Orchestre symphonique de Montréal under Kent Nagano, not as we understand the established practice of historically informed performances. Authentic, however, is the breath-taking emotional intensity channelled through this symphonic colossus. This performance leaves no doubt that Nagano has understood every nuance of Beethoven's convictions about the world, indeed the universe around him. Every lost hope, every anger, every dream and inspiration the composer ever had seems embedded in the writing for Nagano to reveal with exquisite precision.
Perhaps the joy of familiar works is discovering new inner voices brought forward by fresh interpreters who uncover secret countermelodies that have eluded others. Nagano does this repeatedly with oboes and lower string phrases, especially against the solo vocal parts. The effect is astonishing and delightful.
Numbering some 92 players, the orchestra is massive but always lithe, agile and fully capable of every dynamic required by the score. The 60-voice combined chorus of the OSM and Tafelmusik Chamber Choir under Ivars Taurins sings beautifully with flawless diction. Every German word is there with clarity and intent.
It would be hard to find higher production values than those demonstrably evident on this recording. I haven't heard a Ninth so moving, so exciting, in very many years. Recorded during the inaugural concerts at the OSM's new home, the Maison symphonique de Montréal, this testament certainly bodes well for the orchestra's future.