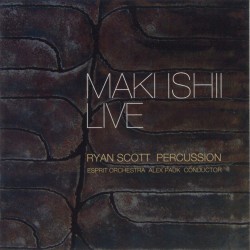 Makii Ishii Live
Ryan Scott; Esprit Orchestra; Alex Pauk
Innova 809 www.innova.mu
With a strong international reputation, Maki Ishii (1936-2003) stands among the foremost Japanese composers in the avant-garde concert hall tradition. Ishii had a strong predication for the purity and drama inherent in percussion sounds and the three concerti on this CD, first recordings all, place them and the percussionist front and centre.
Ishii's idiosyncratic musical universe revealed in these works reflects his mature style, one that straddled two musical worlds - combining the language, compositional methods and sound palette of European and Japanese musical traditions.
The solo parts are here masterfully performed from memory by the Toronto percussionist Ryan Scott. Twice nominated for a Juno, Scott has built a career playing percussion with many Toronto and American ensembles and orchestras.
Saidoki (Demon) (1989-1992) features new instruments called Cidelo Ihos, metal sculptures created by Kazuo Harada and Yasunori Yamaguchi for this work. They are sounded by striking and bowing, creating unpitched metallic soundscapes, framed dramatically by the Esprit Orchestra spread out throughout the hall. Adding to the metal sounds is a battery of wood and skin instruments constructed for this work by Ryan Scott. The orchestral writing emphasizes its concerto nature, clearly revealing the voice of the percussion soloist. By the rumbling ghostly ending Ishii's programmatic aim, to evoke the vigour and energy of a "rough demon" with the "inner soul of a human," has been imaginatively evoked.
The earlier, equally virtuoso Concertante for Marimba (1988) was composed for a 5-octave marimba solo accompanied by an ensemble of 6 percussion instruments. It is overall more transparent in texture than Saidoki, though possessing no fewer theatrical gestures. The third Ishii concerto, South-Fire-Summer (1992) utilises a large battery of standard orchestral percussion instruments. Initially framed with sparse orchestral accompaniment with plenty of sonic room for soloist Ryan Scott to display his mallet control and fine musical taste, it builds to a roaring climax.
The clear live sound, recorded over a number of years by CBC Radio 2, clearly reveals the timbral and textural details of these works. Kudos to producer David Jaeger and recording engineers David "Stretch" Quinney, Doug Doctor and Steve Sweeney.
Concert Note: Ryan Scott is featured in Maki Ishii's South-Fire-Summer at the Esprit Orchestra concert at Koerner Hall on November 30.