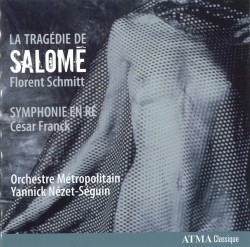 Schmidtt - La Tragedie de Salomé; Franck - Symphonie in D minor
Orchestre Metropolitain du Grand Montreal; Yannick Nézet-Séguin
ATMA ACD2 2647
A half-submerged treasure in the dark and luxurious orchestral repertoire of the early 20th-century is the ballet/orchestral work The Tragedy of Salomé (1907) by French composer Florent Schmitt. Dance critic Toni Bentley's intriguing book Sisters of Salomé describes the era's "Salomania" craze. Oscar Wilde's play Salomé that became the libretto for the Richard Strauss opera (1905) was not the only manifestation. There were also solo Salomé acts by proto-modern dancers including Canadian Maud Allan, "Mata Hari" (real name Margaretha Zelle) and Ida Rubenstein.
Schmitt's work was premiered by American dancer Loïe Fuller, also well-known for her own Salomé creations when Schmitt composed his version. After the premiere he shortened and re-scored it for large orchestra, in the form recorded on this fine disc. Yannick Nézet-Séguin leads Montreal's Orchestre Métropolitain in an exciting yet carefully-balanced performance. The shifts of mood and pacing essential for this post-Debussy style are handled sensitively, as is the balance of solo winds emerging out of complex symphonic textures. I particularly liked the brilliance of the Dance of Pearls and the aptly-titled final Dance of Terror in 5/4 time.
Franck's Symphony in D minor (1888) has its defenders, but for me the overworked motifs eventually turn into unwelcome guests. Nézet-Séguin delivers with subtle dynamics and clear delineation of the organ-like instrumentation, enough to attract Franckophiles and those seeking to fill a gap in their late-19th-century orchestral collections.