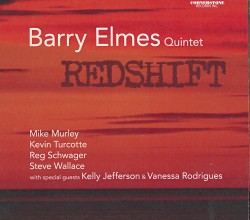 It's been years since sophisticated drummer Barry Elmes' quintet entered the lists, but the wait's worth it for Barry Elmes Quintet - Redshift (Cornerstone CRST 127 www.cornerstonerecordsinc.com), a nine-tune session showcasing leading jazzmen at the top of their game. The beat's in a constant state of buoyant flux as tenorman Mike Murley, trumpeter Kevin Turcotte, guitarist Reg Schwager and propulsive bass Steve Wallace romp through seven artfully-arranged Elmes originals, joined on some tracks by hornman Kelly Jefferson and Montreal-based organist Vanessa Rodrigues. The opening Reading Week is an appealing blues in ever-changing meters and Stumpy updates "Pink Panther" themes with rugged tenor and glistening guitar that counterpoints jagged passages elsewhere. All the Elmes rhythmically-charged tunes suggest a long shelf life with their imaginative structures and unspooling lines that create their own elegant moments – and they get sterling, probing and vigorous execution here. Thus one can accept the leader's indulgent inclusion of the hymn Abide With Me.
A new album by Russ Little showing off his vast trombone wares is always welcome, guaranteed to be both different from past entries (like the outstanding "Footwork" and "On The Shoulders of Giants") and entertaining. Here Russ Little - Slow Burn (Rhythm Tracks RTCD0014 www.russlittle.com) roams 20th century music covering the musical waterfront from Jimmy van Heusen and Irving Berlin to Stevie Wonder and Marcus Miller. Plenty of guests enhance his basic quintet, with only drummer-arranger Brian Barlow ever-present on seven long tracks that demonstrate Little's ease whatever the genre. The funky My Momma Told Me So has two tenors and regular pianist Tom Szczesniak on electric bass, the versatile leader offers soothing Glenn Millerisms on Body and Soul before jumping into lilting improve, while Jive Samba features slick playing by trumpeter Steve McDade before Little delicately growls on his Latin journey. Overall, the pace is too leisurely and Little could have challenged himself more, but each chart gets a colourful, subtle workout with strong contributions from skilful sidemen.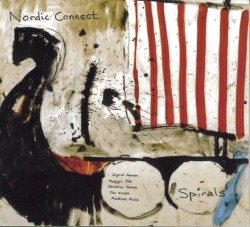 Canadian stars Ingrid and Christine Jensen help serve up a sonic treat on Nordic Connect - Spirals (ArtistShare AS0097 www.ingridjensen.com). Together with Sweden's Maggi Olin (piano) and Mattias Welin (bass) plus Alaskan drummer Jon Wikan, the sisters underscore the notion that jazz is art with a program of lush and atmospheric, essentially cerebral music of superior quality. Ingrid on trumpet and flugelhorn is in splendid form, playing with fluent flair, a model of clarity tempered with a biting attack, Christine on alto and terrific soprano sax forcefully eloquent yet always tasteful. With the innovative Olin, composer of five of the nine cuts and also a dab hand on Fender Rhodes, they comprise a Pandora's box of fresh, clever ideas, narratives big on melody sculpted within ethereal surroundings, precise but never predictable. This is significant jazz.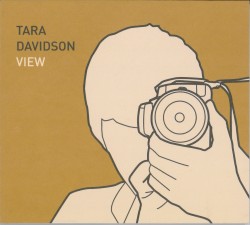 Her continued rise to the top is exemplified by alto and soprano saxophonist Tara Davidson in her new release View (TD-11 www.taradavidson.ca). This seven tune set of originals, her third as leader, embellishes her talent as a composer as well as a horn player who first emerged hereabouts as a Mike Murley protégé who comprehends the importance of balance and contrast. Her colleagues – pianist James Reynolds, bass Jon Maharaj and drummer Fabio Ragnelli - are fully in sync with her expansive ideas. The opening Bunny, Bubs and Bodie has effective alto long-line improv with supple phrasing, while Reynolds eases June into a reflective mode that's sweet but not sentimental before tempo is doubled for an undulating scamper that suits the bustle and ebb of the boss' notions. Elsewhere she displays a sprightly soprano that particularly flourishes with Reynolds switching to electric piano. Tempos hew to the serene, which makes the bruising elements of South Western View a welcome, grittier proposition, but this album is a classy contender for your wallet.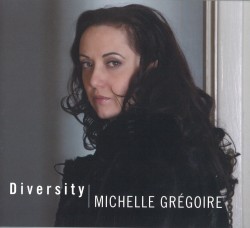 Enterprising Winnipeg pianist Michelle Gregoire is an intense and engaging performer, as you'll hear on Diversity, her second CD as leader (MG3332 www.michellegregoire.com), a quintet outing with seasoned companions in tenor Kirk MacDonald, trumpeter Kevin Turcotte, bass Jim Vivian and drummer Ted Warren. Of the nine pieces three comprise the Gratitude Suite with Vivian offering a fourth, the solo Gratitude Interlude. The opening title track is typically intricate with a surging pulse, and others flow with appealing concepts at their core. The minor key Dichotomy rumbles in hard bop idioms illuminating MacDonald's fluency and Streak has Gregoire in fine fettle, continually prodding bandsmen to greater vigour. Throughout the session she demonstrates an acute sense of mood that's perhaps most dramatic in the vaulting cadences of Three or Four in the Morning. More please.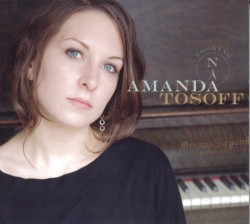 Pianist Amanda Tosoff is justifiably carving a solid niche in Toronto since emigrating from Vancouver, exemplified on Looking North (Oceans Beyond Records OBR0008 www.amandatosoff.com). With Evan Arntzen (saxes), Sean Cronin (bass) and Morgan Childs (drums) plus guests she highlights a talent for catchy composition and an impressive command of the keyboard and the inevitable Rhodes at all tempos. Among a batch of intriguing tunes M.I.A. struts delightfully and Concept 2010 is most certainly compelling contemporary piano, direct and thrusting. Tosoff conveys a sense of resilient optimism in her creations, fiercely inventive when it matters.