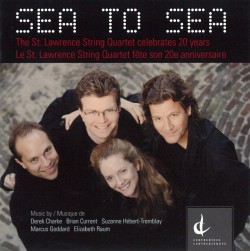 To celebrate their 20th anniversary, the St. Lawrence String Quartet solicited proposals from across Canada for short works without electronics. The five pieces that were consequently created for 2009 formed an integral part of the group's repertoire that anniversary year, and are presented on their latest outstanding CD from the Canadian Music Centre, Sea to Sea (Centrediscs CMCCD 16310). The works obviously differ in sound and form, but all are strong, interesting and very accessible. They are: Derek Charke's Sepia Fragments, which made an immediate impact despite a rather baffling concept; Brian Current's Rounds, the title referring to the frequent use of overlapping individual melodies; Suzanne Hébert-Tremblay's A tire-d'aile (in a flurry of wings), inspired by the songs of Quebec birds; Marcus Goddard's Allaqi, the Inuit term for a clearing in the sky, which has a strong rhythmical opening mimicking Inuit throat singing, and a lyrical second half based on Inuit folk song melodies; and Elizabeth Raum's A Table at the Bushwakker, portraying a table-hopping evening at Regina's noted Brewpub. Decidedly tonal in feel despite the use of a tone row, this last has one quite beautiful section of tender, rhapsodic music depicting an amorous couple oblivious to the noise around them. Recorded at the U of T's Walter Hall in November 2009, all five works display strong, idiomatic writing throughout, with the SLSQ sounding as if they have been performing these pieces for years.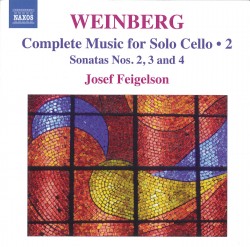 Every now and then a CD comes along that blows your socks off. Enter cellist Josef Feigelson with his stunning CD of the Complete Music for Solo Cello Volume 2 by the Polish/Soviet composer Mieczyslaw Weinberg, a colleague and friend of Shostakovich who died in 1996 (Naxos 8.572281). Previously available on the Olympia label, these World Premiere Recordings of the Sonatas for Solo Cello Nos. 2, 3 & 4 (plus the original - and tougher - first movement for the latter) were recorded in New York in November 1997. Feigelson played them from the manuscripts, which he acquired from the composer's widow in Moscow, having recorded Sonata No.1 along with the 24 Cello Preludes in 1996. (Those recordings are now available on Naxos 8.572280.) If you are even remotely interested in music for unaccompanied cello then this CD is an absolute "must" and at the low Naxos price it's a no-brainer. Buy it. Play it. And hang on to your socks.
Despite his English name, George Onslow (1784-1853) was a French composer. Although highly regarded in his time – he was known as the French Beethoven! – his music was until recently neglected and difficult to obtain. A recent CD from the French ensemble Quatuor Diotima (Naïve V5200) features three string quartets from 1828 – Nos. 28, 29 and 30 – that Onslow wrote while still trying to come to terms with the impact of Beethoven's late quartets, which he found both fascinating and disconcerting. They marked a change from a pre-Romantic style to one of intense expressiveness, a quality captured perfectly in these dazzling and clearly empathetic performances. The booklet notes describe this music as "exciting, personal, and amazingly neglected" - a perfect description.
Naxos has issued another two excellent CDs featuring seldom-played violin concertos. Sergei Mikhailovich Lyapunov (1859-1924) was a Russian nationalist composer who studied with Balakirev and remained strongly influenced by him. His Violin Concerto in D minor, Op.61 is a one-movement work that sounds exactly as you would expect: big, Tchaikovsky-like melodies, a Romantic flow and a dazzling solo part. Maxim Fedotov is in superb form, with excellent support from the Russian Philharmonic Orchestra under Dmitry Yablonsky. The latter are also terrific in Lyapunov's Symphony No. 1 in B minor, Op.12 (Naxos 8.570462).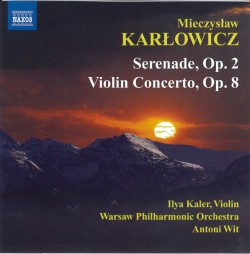 You can add Polish composer Mieczyslaw Karlowicz to your list of "strange composer deaths" - he was killed by an avalanche while skiing in the Tatra Mountains in 1909, aged only 32. His Violin Concerto in A Major, Op.8, a three-movement work that features an unusual opening cadenza, receives an outstanding performance from Ilya Kaler and the Warsaw Philharmonic Orchestra under Antoni Wit (Naxos 8.572274). Karlowicz's first orchestral work, the Serenade Op.2, is somewhat reminiscent of Dvořák and Grieg, and has a particularly lovely slow movement. It's obvious that a hugely promising talent was lost here.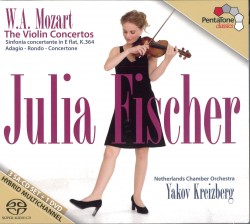 Finally, PentaTone has re-issued the three individual Julia Fischer SA-CDs of the complete Mozart music for violin and orchestra in a digipak set together with a 25-minute DVD of footage from the recording sessions (PTC 5186 453). It's a wonderful set: Fischer's playing is warm, stylish and beautifully judged throughout; Yakov Kreizberg sets perfect tempi and draws superb playing from the Netherlands Chamber Orchestra; the sound quality is excellent. Concertmaster Gordan Nikolic is a perfect viola partner in the sublime Sinfonia concertante K364. This is one set that's never going to be very far from my CD player.