"The Density of our time" - Claire Chase's Density 2036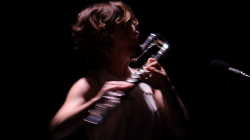 In 1936, flutist Georges Barrère premiered Density 21.5, a piece composed by Edgard Varèse for the first performance of a new flute made of platinum (a metal with the density of about 21.5 g/cm3). Now, 80 years after that premiere, New York-based flutist Claire Chase is commissioning a new body of flute works—and is coming to Toronto to present a teaser trailer of what solo flute music might sound like in the year 2036.
Started by Chase in 2014, Density 2036 is a 22-year-long project aimed at creating new solo works for flute, culminating in a 24-hour marathon concert in 2036 to commemorate the centennial of Density 21.5. In that sense, Density 2036 is simply a very long concert-in-the-making. However, it's also more than that. Each year, Chase performs a solo recital of the pieces commissioned that year—amounting to huge contributions to the library of contemporary flute music, with year-to-year documentation of fresh new repertoire. And with works by composers like Dai Fujikura, Pauline Oliveros and Matthias Pintscher on her programs, Chase's project promises to be of lasting value, for contemporary music audiences and flute players alike.
Next month on October 4, Chase will come to Toronto to present Density 2036's 2016 instalment. Part of Soundstreams' 2016/17 'Ear Candy' series, the show will act as a sort of 'double-preview'—both for the Soundstreams season opener on October 12, which features Chase alongside four other flutists (Robert Aitken, Leslie Newman, Patrick Gallois and Marina Piccinini) in a program of contemporary flute works, as well as for Chase's final concert in 2036, and the 20 years' worth of new music to come between now and then.
Writing about the original 1936 composition that inspired her project, Chase expresses her intent to reflect on how music today might push the boundaries of what listeners in Varèse's time thought the flute could do. "Varèse unleashed this spirit for the flute, for the one all alone, in these staggering four minutes of music," she says. "Did he go as far as one could go, metaphorically and otherwise? Of what will the Density of our time be made? Of osmium? Of signal processing? Of wood? Of carbon? Of flesh? Of air?"
Thanks to Chase, we may have the opportunity to find out.
Soundstreams presents Claire Chase, in the 2016 instalment of her Density 2036 project, on October 4 at 8pm, at Buddies in Bad Times Cabaret. For details on the show, visit their website, at https://www.soundstreams.ca/performances/ear-candy/density-2036-claire-chase/.
Win a season's subscription for 2 to the Talisker Players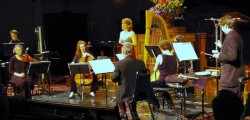 Win tickets for you and a friend to the Talisker Players' 4-concert season of vocal and chamber music—a $270 value. Read on to enter.
Local Craft: "Hopera"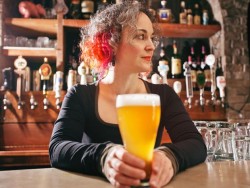 Mirella Amato knows her beer. A Toronto-based beer specialist, author and educator, Amato is a Certified Cicerone (beer sommelier)—the first woman in Canada to earn the title. She's the founder of Beerology, a beer education company that provides beer pairings, tastings and workshops across the country. And for the past few years, she's curated a classical music series.
"Hopera" is Amato's musical take on the concept of the beer pairing. A former professional opera singer who studied voice performance at McGill, Amato presents performances of arias, duos and trios by local opera singers, pairing each with a sample of a local craft beer. The next Hopera concert, presented as part of Toronto Beer Week, is September 21 and 22 and features singing by Jean-François Daignault (countertenor), Melanie Esseltine (soprano), Lyndsay Promane (mezzo) and Geoffrey Sirett (baritone), alongside beers by Amsterdam Brewery, Black Oak Brewing Co., Great Lakes Brewery, Junction Craft Brewing, Side Launch Brewing Co. and Steam Whistle Brewery.
Amato believes that both beer and opera are commonly misunderstood. "People who still think beer is just an easy-drinking vehicle to loutishness need to expand their horizons—and if anything, opera could stand to be taken down a notch or two," she says. "Having made a career switch from opera singer to beer educator, it never ceases to amaze me how many parallels can be drawn between these two seemingly incongruous fields. Like beer, opera has developed a reputation that isn't doing it any favours."
Amato envisions Hopera as a way of confronting both beer and opera's bad reputations, by bringing opera into the pub and beers into a framework that highlights their flavours and subtleties. "Insights are given on the music, beer sample and how the pairing was chosen," she says."[It] invites a rethinking of both the excerpt and the beverage."
As someone with plenty of professional experience in both fields, it's safe to label Amato a resident beer-and-opera-pairing expert—and in that light, safe to say that the rethinking of opera and beer is in very capable hands.
Hopera - Quartus, the next edition of Amato's series, is September 21 and 22 at the Monarch Tavern. For details on the show or to purchase tickets, visit https://www.eventbrite.ca/e/hopera-quartus--tickets-26860048127.
What We're Listening To
Quatuor Bozzini
"In Otto frammenti (1978-97), the string quartet members play without vibrato, suggesting the sound of viols. I find the effect mystical"
-Roger Knox, The WholeNote
Just In: Listings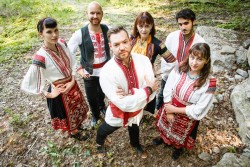 September concert listings added online since the publication of our September magazine include:
Thursday September 15
8:00. Lula Lounge. Mexican Fiesta. Mexican Independence Day celebration concert. Alex Dempster, vocals; Rosy Cervantes, vocals; México Amigo, Mariachi. Lula Lounge, 1585 Dundas St. W. 416-588-0307. $15. Doors open at 7:00.
Friday September 16
8:00. Clay & Paper Theatre. Eggplant Stew. Fundraising concert for members of Toronto's polyphonic singing community to attend the International Symposium on Traditional Polyphony in Georgia. Performing ensembles include: Doula; Mark and Marichka Marczyk (of Lemon Bucket Orkestra); Zari; Moskitto Bar; Meden Glass. Clay & Paper Theatre (studio), 35 Strachan Ave. 647-836-4852. Suggested donation $20.
Thursday September 29
7:30. The Cadillac Lounge. Kenny Brown's Las Call. A celebration of the life and career of vocalist/guitarist Kenny Brown as he enters his retirement. Donnie "Mr. Downchild" Walsh; Danny Marks; The Swingin Blackjacks; Kevin McQuade; The Burgess Brothers; and others. Cadillac Lounge, 1296 Queen St. W. 416-536-7717. $20. Proceeds to support Kenny Brown's retirement fund.
Friday September 30
8:00. Balkanto. Balkan Duende. Balkan and Eastern European music as part of the Toronto Balkan Festival. Anton Apostolov, guitar/vocals; Scott Metcalfe, piano; Jacek Karlowski, guitar; Justin Gray, acoustic and electric bass; Nikola Gaidarov, kaval and wooden flute; and others. Glenn Gould Studio, 250 Front St. W. 647-740-3358. $35-$45.
Tuesday October 4
8:00. Jazz Bistro. CD Release Concert: Melodies Pure and True. Jim Gelcer, drums/vocals; Reg Schwager, guitar; Brendan Davis, bass; and others. Jazz Bistro, 251 Victoria St. 416-363-5299. $15.
THANKS FOR SUBSCRIBING
The next issue of HalfTones will be out on Wednesday, October 12. The next print issue of our 2016/17 season, covering October 1-November 7, will be on the stands at the end of September.
Please contact halftones@thewholenote.com with any HalfTones inquiries.
Sara Constant is social media editor at The WholeNote and studies musicology at the University of Amsterdam.