Volume 3 Number 10. August 10, 2016
BASSOON OUT LOUD
Launching Monday August 15, Nadina Mackie Jackson's new concert series puts bassoon in the spotlight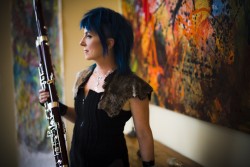 "I believe in creating opportunities for myself and for other people," says bassoonist Nadina Mackie Jackson, in conversation at The WholeNote office. With a new 12-concert series in Toronto slotted for this season—plus a potential bassoon-themed summer festival in the making—it seems like she's doing just that.
Bassoon Out Loud is Jackson's latest project: a season of more-or-less-monthly chamber concerts, all at Yorkville's Heliconian Hall. Jackson will perform at each concert, sticking to a regimen of at least one bassoon concerto per show. But apart from this, she has dispensed with the typical 'soloist + accompaniment' recital formula, instead opting for monthly collaborations with local guest instrumentalists, singers, writers and storytellers, each of whom will also bring their own latest projects—including solo repertoire of their own—to the concert hall.
The launch for the series is this Monday, August 15. Titled "The Company You Keep," it features Jackson alongside local writer and storyteller Leslie Magowan, who will read excerpts from her book What I Learned in School. Jackson will also be joined onstage by a small 'string section'—Ema Nikolovska on violin, Rory MacLeod on viola, and Bryan Lu on cello—for the chamber-music portion of the show.
For Jackson, a major motivation for the series is to revitalize the bassoon as an instrument—and build long-lasting musical relationships around the discovery of what the bassoon can do. "People always say that there is nothing for bassoon," Jackson says. "Not only is there an enormous amount, there is more written every day. But if people don't hear it, they think there's nothing—and that's not true."
While Jackson herself has a busy performing and teaching schedule, she couldn't help feeling that the bassoon deserved more time in the limelight. And in an industry where large-scale classical concerts can require years of planning and a lot of red tape, she decided to take matters into her own hands.
"I know so many fascinating people," says Jackson. "I know so much great music. And I'm tired of waiting."
Bassoon Out Loud opens on Monday, August 15, 7pm at Heliconian Hall. For details on the show, plus descriptions of other concerts in this series, visit www.nadinamackiejackson.com.
TOP 30, T.O.
Where to find CBC's Top 30 Under 30 in the city this season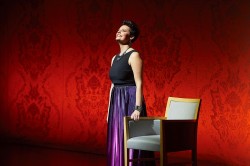 Last week, CBC Music released its 2016 "30 hot Canadian classical musicians under 30"—the latest edition of its annual shortlist of promising local musicians. As always, the list boasts an impressive range, both in age (from 29-year old working professionals to 10-year-old pianist Janaya Lo) and geographically, with featured performers from across the country. And as one might expect, a number of those performers have upcoming concert dates in Toronto this season—concert dates that, considering the CBC's reliable track record for predicting up-and-coming Canadian talent, are worth taking note of.
If you're looking to hear the CBC's "30-under-30" musicians, the Canadian Opera Company seems a likely place to start. Four of CBC's under-30s this year have upcoming appearances at the Four Seasons Centre this season. 23-year-old mezzo-soprano Lauren Eberwein appears with the COC this winter, to sing Wellgunde in its February 2017 production of Wagner's Götterdämmerung, and 21-year-old Toronto native Emily d'Angelo—a recent graduate of U of T's voice program—will sing the role of Zweite Dame in the COC's January/February 2017 production of Mozart's The Magic Flute. In addition to her role with the COC, d'Angelo will also sing at Koerner Hall on November 11, in concert with four other young award-winning artists in a Royal Conservatory show titled "Generation Next." Also performing at the COC this season are 25-year-old soprano Chelsea Rus, who will be featured in a free noontime recital on December 1, and 28-year-old horn player Mikhail Babiak, who can be found throughout the season in the orchestra pit.
In the contemporary music world, CBC-favoured groups to watch include Continuum Contemporary Music (possibly including 26-year-old bassoonist Darren Hicks), as well as Toy Piano Composers and Caution Tape Sound Collective, both of which are home to local composer Bekah Simms. Other dates to mark down are November 13—where pianist Matt Poon will perform a recital at U of T's Hart House as winner of the 2016 Eckhardt-Gramatté Competition for Canadian contemporary music—and January 31, 2017, where 23-year-old accordionist Michael Bridge will play a program of new works with percussionist Michael Murphy, as part of U of T's annual new music festival. Under-30s lists aside, local school venues like U of T (as well as York University, the Royal Conservatory, and numerous other institutions throughout southern Ontario) have busy year-round concert schedules, and are surefire places to hear young Canadian talent.
You can find the complete list of the CBC's "Top 30 under 30," with bios of all of the featured musicians, here on their website. Kudos to all those featured—and here's to a promising season ahead!
JUST IN: CORRECTED AND NEW LISTINGS
THE ASHKENAZ FESTIVAL RETURNS TO TORONTO: August 30-September 5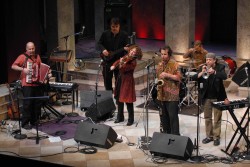 Ashkenaz, the biennial festival of global Jewish culture, returns to Harbourfront this summer on August 5, boasting an impressive musical lineup. Headliners include The Klezmatics and "Jewish-funk supergroup" Abraham Inc., as well as appearances by such Canadian folk music staples as the Gypsy Kumbia Orchestra and Lemon Bucket Orkestra—perfect music for one last end-of-summer party. For details on the festival, visit www.ashkenaz.ca.
Other new/corrected August concert listings added online since our last print issue include:
Thursday August 11
8:30: Hugh's Room. Qristina and Quinn. 2261 Dundas St. W. 416-531-6604. $22.50(adv)/$25(door).
Friday August 12
8:30: Hugh's Room. Alfie Zappacosta. 2261 Dundas St. W. 416-531-6604. $40(adv)/$45(door).
Friday August 12 to Sunday August 14
Batuki Music Society. Habari Africa Festival. Harbourfront Centre, 235 Queens Quay W. 416-973-4000. Free.
Sunday August 14
12:30: TorontoJazzBuzz.com/Vintage & Swing Concerts. Retro Concert Hall Thrills for Vintage-Wearing Swing Fans. Capital Focus Jazz Band. Tranzac Club, 292 Brunswick Ave. 416-923-8137. $20 (cash only at the door). Doors open at noon. Vintage attire not mandatory but welcomed!
Monday August 15
7:00: Nadina Mackie Jackson. Bassoon Out Loud: The Company You Keep. Works by Telemann, Scarlatti, Braun, Lussier and Mignone. Leslie Magowan, writer and storyteller; Nadina Mackie Jackson, solo bassoon; and others. Heliconian Hall, 35 Hazelton Ave. 416-453-7607. $30; $20(sr/st).
Saturday August 20
7:30: Choirs Ontario. Ontario Youth Choir: Fresh Voices. Allan Bevan: Full fathom Five; Jeff Enns: Hear My Prayer; Grete Pedersen: Norwegian Wedding March; Claudio Monteverdi: Si, ch'io vorrei morire; Eriks Esenvalds: Stars. Robert Cooper, conductor; Edward Moroney, piano. All Saints' Anglican Church (Peterborough), 235 Rubidge St.,Peterborough. 416-923-1144. $25; $20(sr/st).
Sunday August 21
3:00: Choirs Ontario. Ontario Youth Choir: Fresh Voices. Allan Bevan: Full fathom Five; Jeff Enns: Hear My Prayer; Grete Pedersen: Norwegian Wedding March; Claudio Monteverdi: Si, ch'io vorrei morire; Eriks Esenvalds: Stars. Robert Cooper, conductor; Edward Moroney, piano. Grace Church on-the-Hill, 300 Lonsdale Rd. 416-923-1144. $25; $20(sr/st).
Saturday August 27
9:30am: Ontario Shape Note Singers. Central Ontario All-Day Sacred Harp Singing. A traditional all-day singing from The Sacred Harp, 1991 edition (the "Denson Book"). Singers and listeners alike are welcome to attend, and can stay for all or any part of the day. Detweiler Meetinghouse, 3445 Roseville Rd., Ayr. 647-838-8764. PWYC.
8:00: Small World Music. Moonlight over the Maghrib. Original compositions and improvisations by Richard Robeson and Shahriyar Jamshidi. Richard Robeson, guitar/ukulele; Shahriyar Jamshidi, kamanche; Sina Khosravi, percussion. Small World Music Centre, Artscape Youngplace, 180 Shaw St. 416-536-5439. $20; $15(st).
THANKS FOR SUBSCRIBING
Volume 22 (!) of The WholeNote kicks off next month, with our September 2016 issue. Pick up a copy on the stands starting September 1!
Please contact halftones@thewholenote.com with any HalfTones inquiries.
Sara Constant is social media editor at The WholeNote and studies musicology at the University of Amsterdam. She can be contacted at editorial@thewholenote.com.