HalfTones
Vol 3 No 11: July 4, 2016
YEAR IN REVIEW: And the award goes to…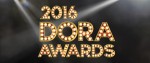 At the annual Dora Awards last Monday, music productions both large and small triumphed, with big wins in both indie and grand-scale arenas.
The Doras, named after Canadian theatre visionary Dora Mavor Moore, have been running since 1978, with the aim of recognizing local productions of theatre, music theatre, opera and dance. Like any annual awards ceremony, the Dora awards provide a nice way of looking back at some of the season's standouts--and with an emphasis on local theatre, giving due credit to some of the key players in the Toronto scene.
The COC was a favourite on Monday, with a staggering eight wins--five of which were for their production of Wagner's Siegfried last winter. The Siegfried team was awarded Outstanding Production in the opera division, as well as prizes for direction, musical direction, scenic design and lighting design. Baritone Quinn Kelsey (Germont) and soprano Ekaterina Siurina (Violetta) both won Doras for their performances in the COC's La traviata, which also won for Best Costume Design.
Homegrown operas also took home prizes this year, with Tapestry Opera winning Best New Musical for John Harris and Marjorie Chan's new work M'dea Undone and Against the Grain winning Outstanding Performance - Ensemble for their "barefoot, costumed, choreographed" version of Handel's Messiah.
To hear more from Tapestry, you may have to wait until 2016/17--but Against the Grain will be co-producing Benjamin Britten's The Rape of Lucretia as part of the Toronto Summer Music Festival on July 22. Details on the show here -- and if you're looking for a pair of tickets, look no further than our contest in this issue of our newsletter!
In other news, this year's list of Order of Canada appointments has just been released, with a number of familiar musicians on the roster. 2016 appointments include jazz saxophonist P.J. Perry, pianist and musicologist Elaine Keillor--who is currently on faculty at Carleton University--and soprano Barbara Hannigan, fresh off the heels of a January appearance in Toronto with the TSO.
All in all, a lot of well-deserved attention this past week for Canadian musical talent both local and internationally-based. A huge congrats to all winners, appointments and nominees this year. Onto the next!
TICKET GIVEAWAY: THE RAPE OF LUCRETIA AT TSMF
Win tickets to a one-night-only production of Britten's opera The Rape of Lucretia at Toronto Summer Music. Click here to enter!
SILK ROAD ONSCREEN
Yo-Yo Ma's Silk Road Ensemble hits the big screen
Last September, Roy Thomson Hall played host to the Silk Road Ensemble--renowned cellist Yo-Yo Ma's global music project almost 20 years in the making. Their appearance coincided with the world premiere at TIFF of The Music of Strangers, a new documentary about Yo-Yo Ma's vision behind the group.
Now, the film is back, with screenings at Hot Docs Bloor Cinema July 8 to 14. Directed by Morgan Neville--who was also behind Oscar-winning music documentary 20 Feet from Stardom--The Music of Strangers promises an in-depth look at the Silk Road project, from its inception in 2000 as an attempt to bring together folk musics from across the globe to its prominent status today.
Details on the Hot Docs screenings next week can be found here. Watch the trailer of the movie below:
Incidentally, The WholeNote featured one member of the Silk Road Ensemble--pipa virtuoso Wu Man--on the cover of our September 2015 issue, and another--Syrian clarinetist Kinan Azmeh--in our April issue of HalfTones, when he collaborated with the Toronto Symphony on a recording to welcome recent Syrian refugees to Canada. At that time in April, the latter had a tentative Toronto date in his calendar, for a June solo appearance with the TSO. Turns out that concert was postponed--meaning, hopefully, that he'll still be back, to follow up his last-minute partnership with the orchestra this April with a full-length concert. We'll keep you updated as details emerge. In the meantime, here's the video of Azmeh's composition November 22nd, which he recorded in Toronto during his April visit.
JUST IN: CORRECTED AND NEW LISTINGS
FEATURED LISTING: JULY JAZZ AT HUGH'S ROOM
It may be the end of the TD Toronto Jazz Festival, but jazz life in the clubs continues this month, with a host of listings at such local music hotspots as Hugh's Room on Dundas St. W. In the coming weeks, Hugh's Room hosts Ten Strings and a Goat Skin (July 7), Fathead (July 23), Kevin Breit & Rebecca Jenkins with the Upper York Mandolin Quartet (July 29), Matt Molloy, John Carty & Arty McGlynn (August 2), and Kiran Ahluwalia (August 6)--plus a weekly jazz night hosted by JAZZ.FM91 every Monday in July. Details at hughsroom.com.
Other new/corrected July concert listings added online since our last print issue are as follows:
Festivals/Series
One quick note on the topic of summer series: our summer festival listings at thewholenote.com are now searchable! Sort through festival offerings according to your interest and availability, to find the concerts you want to see. Try it out here.
Other summer series omitted from our last print issue include:
June 4-September 24, 11:00am-1:30. City of St. Catharines. Music in the Square. Market Square, 91 King St., St. Catharines. Free. Visit www.stcatharines.ca for details.
June 17-September 2, 6:30/8:00. Roy Thomson Hall/Sunfest. Live on the Patio. Days and performers vary. Roy Thomson Hall, 60 Simcoe St. 416-593-4822. Free. Food and drinks available. Two sets; doors open at 5pm.
June 28-August 30, 12:00 noon. Play the Parks. Dance Inspiring Fusion of the Americas. Trinity Square Park. Days and performers vary. Free. Visit www.downtownyonge.com/playtheparks/ for details.
June 29-July 20, 6:00. City of St. Catharines. Summer Concert Series. Montebello Park, St. Catharines. Free. Visit stcatharines.ca for details.
July 6-September 7, 12:00 noon. Play the Parks. Shapeshifting Classical. Mackenzie House, 82 Bond St. Days and performers vary. Free. Visit www.downtownyonge.com/playtheparks/ for details.
July 7-July 28, 7:00/9:00. #ClassyAF. La Rev, 2848 Dundas St. W. Days and performers vary. $15-$20. Visit www.classyafshow.com for details.
July 7-September 8, 12:00 noon. Play the Parks. Funky Lunchtime Soul. College Park Courtyard. Days and performers vary. Free. Visit www.downtownyonge.com/playtheparks/ for details.
July 7-September 18. Play the Parks. Festive Summer Streets. McGill Granby Parkette. Days, times and performers vary. Free. Visit www.downtownyonge.com/playtheparks/ for details.
July 8-10. Harbourfront Centre. Future Routes. Harbourfront Centre, 235 Queens Quay W. Times and performers vary. Free. Visit harbourfrontcentre.com for details.
Individual Listings
Monday July 11
9:00: The Burdock. Isabel (Fryszberg) and The Uncommons w/ Freeman Dre & The Kitchen Party. 1184 Bloor St. W. 416-546-4033. $8(adv); $10(door). Doors open at 8:30pm.
Tuesday July 12
8:00: Gallery 345. Stanislav Pronin, violin and Alex Seredenko, piano. Work by Tchaikovsky, Rachmaninoff, Prokofiev and Piazzolla/Gubaidulina. 345 Sorauren Ave. 416-822-9781. $25; $10(st).
Friday July 15
8:00: Gallery 345. The Art of the Piano: David Virelles. 345 Sorauren Ave. 416-822-9781. $25; $10(st).
Saturday July 23
11:00am: South Coast Jazz. David Sanbiorn with the Galen Weston Band. David Sanborn; Galen Weston Band; David Restivo; June Garber; Juliann Kuchocki; Shuffle Demons. Port Dover and Area Arena, 809 St. George St., Port Dover. 519-774-2787. $20-$70. Details at www.southcoastjazz.com.
Thursday July 28
8:00: Randolph Academy. Footloose. Music by Tom Snow; Lyrics by Dean Pitchford. Stage adaptation by Dean Pitchford and Walter Bobbie. Randolph Theatre, 736 Bathurst St. 1-855-985-2787. $22. Also July 29-30 and August 4-6(8pm), and July 30 and August 6(2pm).
THANKS FOR SUBSCRIBING
The current print issue of The WholeNote is a SPECIAL SUMMER ISSUE, covering June 1-September 7-- but HalfTones continues throughout the summer!
Vol 3 No 12: Wednesday, August 10
Please contact halftones@thewholenote.com with any HalfTones inquiries.