Peter Maxwell Davies' Canada Connection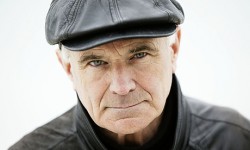 In a recent article by Andrew Clements, The Guardian referred to the late Sir Peter Maxwell Davies as "one of the great fixed points in the firmament of British music." The internationally-renowned composer and former Master of the Queen's Music died of leukemia on Monday, at the age of 81.
Perhaps best known in North America for works like his music theatre piece Eight Songs for a Mad King, Maxwell Davies was a prolific composer who over his long career tried his hand at an array of classical genres and styles. From his early experimental—and at times controversial—pieces, to his more symphonic writing of the 1970s, to his 'light classical' approach later in life, Maxwell Davies' musical voice was a many-chaptered, multifaceted one.
It just so happens that Maxwell Davies was a frequent visitor to Canada and the United States, both as a guest composer and conductor—and sometimes serving as both, as he did on tour in Canada with the Scottish Chamber Orchestra in 1988. He also left a musical impression, writing Job—a massive three-part oratorio, over an hour in length—for the CBC Vancouver Orchestra and Vancouver Bach Choir, who premiered it in 1997.
More locally in the Toronto scene, Maxwell Davies proved a valuable resource for such local fixtures as Aradia Ensemble's Kevin Mallon—who was a student of his at Dartington College of Arts—and New Music Concerts, when the organization was still in its infancy. In the early years of NMC in the 1970s—a tone-setting time both for the young concert series and the Canadian new music scene at large—Maxwell Davies compositions figured prominently in the programming, featured alongside works by Claude Vivier in 1976 as well as in a show specifically dedicated to Maxwell Davies later that year. Interviewed at the time by the CBC, NMC director Robert Aitken cited Maxwell Davies' aesthetic as an approachable, complementary counterpart to music like that of Vivier's, and the 1970s as a transitional time for new music, where "music is more exciting now than it perhaps has ever been...where literally, anything goes."
That interview is archived online here by the Canadian Music Centre, where you can check it out for a glimpse into Toronto's—and Maxwell Davies'—musical past. And as for New Music Concerts, now approaching its 45th season, things still seem musically as exciting as ever. You can find details on their upcoming April 3 program "Viva Electronica", which features electroacoustic works from a host of Canadian composers, here.
Incidentally, baroque ensemble Aradia is scheduled to close its 2015/16 season with a performance on June 4 of none other than Maxwell Davies' infamous Eight Songs for a Mad King, featuring a guest appearance by Montreal-based new music group Paramirabo. While maybe the reason behind why this performance's suddenly-apt timing isn't the cheeriest one, the piece is a real modern classic, and Aradia and Paramirabo are sure to put on a top-notch show. The concert is on June 4; details online at aradia.ca.
Different Drums
Japanese percussion in Toronto this month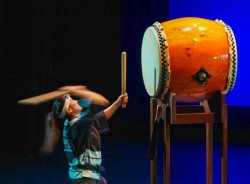 Several unique collaborative shows take place in the coming weeks, and percussion—more specifically, Japanese percussion—has ended up as the thread that ties them all together.
This Saturday at the Theatre Centre, Soundstreams presents "Electric Counterpoint," a concert of minimalist music in anticipation of Steve Reich's visit to Toronto this April. Part of Soundstreams' new Ear Candy series, the show program is a mix of Reich's music with new works by artists who he has inspired, namely DJ SlowPitchSound, longtime Owen Pallett collaborator 'Prince Nifty' on guitar and electronics, and 'Mas Aya' on percussion and electronics. Along with Reich's perhaps better-known works Electric Counterpoint and It's Gonna Rain, local percussionists Germaine Liu and Dan Morphy will tackle the duet Nagoya Marimbas, written in 1994 for performers at Japan's Nagoya College of Music. In his program notes for the piece, Reich specifies that the piece "requires two virtuosic performers," and Liu and Morphy certainly fit the bill. Details on the show can be found here.
Dan Morphy revisits Japanese percussion on April 2 at the Harbourfront Centre, with his quartet Torq. The percussion ensemble are the guest artists for premier Japanese Canadian taiko ensemble Nagata Shachu's upcoming concert, which will feature a blend of musical traditions from around the globe. More here.
Finally, the Japanese Canadian Cultural Centre (JCCC) hosts a collaborative show on April 7 featuring the work of three artists from different regions of Japan. "The Tsumugu Concert" brings together flutist and taiko drummer Keita Kanazashi, Amami Island-based folk singer Anna Sato, and shamisen player Chie Hanawa for a show with a unique, and definitively Japanese sound. The Japanese Canadian Cultural Centre is located near Don Mills, in what has recently become an arts-and-culture oasis outside of the downtown core (the Aga Khan Museum and Ismaili Centre, celebrated along with the JCCC for their collections, architecture and music programming, are basically right across the street). If you haven't made the trip to this part of town yet, April 7 is a good time to do so. Details on "The Tsumugu Concert" here.
PRIZES, PRIZES!
Exclusive contests from The WholeNote
IN THIS ISSUE: Chances to win tickets to hear Tafelmusik's take on solo and chamber music in "Bach: Goldberg Variations"; tickets to Opera Atelier's production of Lucio Silla; tickets to Soundstreams' concert with Steve Reich; and a 24-hour flash contest to hear violinist Pinchas Zukerman live at Roy Thomson Hall. Read on to enter!
Follow the links below to enter, Feel free to enter as many as you like (or all four!):
*24 HOURS TO ENTER* Pinchas Zukerman and the Orpheus Chamber Orchestra: Sunday March 20
Tafelmusik: Bach: Goldberg Variations, Friday April 1
Opera Atelier: Lucio Silla, Thursday April 7
Soundstreams: Steve Reich at 80, Thursday April 14
JUST IN: CORRECTED AND NEW LISTINGS
FEATURED LISTING: MUSIDEUM'S FINAL CONCERTS, MAR 16-30
After nearly 10 years as a treasured musical hub and concert venue in the city, Musideum at 401 Richmond St. will be closing its doors on April 2. For those who want to say goodbye to Musideum before it closes, their final concert series runs until March 30, with the following dates: March 16 (jazz), March 17 (world), March 20 (experimental), March 22 (folk) and March 30 (70s retro blast). Admission is by donation ($10-$20 suggested), with all proceeds going towards the costs of closing the venue. A big thank-you to Musideum owner Donald Quan for his years of work at this space, and best of luck to him for his future endeavours.
Other new/corrected March concert listings added online since our last print issue are as follows:
Friday March 18
7:30: Marilyn I. Walker School of Fine and Performing Arts. Encore! Series: Beverley Johnston and Marc Djokic. Beverley Johnston, percussion; Marc Djokic, violin. Partridge Hall, First Ontario Performing Arts Centre, 250 St. Paul St., St. Catharines. 905-688-0722. $29; $23(sr); $5(eyeGO).
Saturday March 19
4:30: Beach United Church. Sidwell Jazz Choir and Band. Upper School Chamber Chorus and Upper School Jazz Ensemble of Sidwell Friends School, from Washington, D.C. 140 Wineva Ave. . Freewill offering.
8:00: Nota Bene Baroque Players & Singers. Music for Easter. Works by Bach and Handel. Nota Bene Baroque Players & Singers; Howard Dyck, conductor. St. James Anglican Church (Dundas), 137 Melville St., Dundas. 1-866-303-0009. $35; limited number of free student tickets available with ID, first-come/reserve. Inquire for details. Also March 20(mat) at First United Church, Waterloo.
Sunday March 20
2:00: Nota Bene Baroque Players & Singers. Music for Easter. Works by Bach and Handel. Nota Bene Baroque Players & Singers; Howard Dyck, conductor. First United Church (Waterloo), 16 William St. W., Waterloo. 1-866-303-0009. $35; limited number of free student tickets available with ID, first-come/reserve. Inquire for details. Also March 19(eve) at St. James Anglican Church, Dundas.
2:00: Timothy Eaton Memorial Church. Palm Sunday Concert. Beethoven: Elegischer Gesang; Haydn: Little Organ Mass; Mozart: Ave Verum Corpus. Timothy Eaton Memorial Church Sanctuary Choir and Chamber Orchestra; Elaine Choi, conductor; Stephen Boda, organ. 230 St. Clair Ave. W. 416-925-5977. Freewill Offering.
2:30: Niagara Symphony Orchestra. Masterworks 4: Time Chronicles. Haydn: Symphony No. 49 "La Passione"; Conway Baker: Contours; Bach: Violin Concerto No. 1 in A minor. Aisslinn Nosky, violin/conductor; Brian Baty, double bass. Partridge Hall, First Ontario Performing Arts Centre, 250 St. Paul St., St. Catharines. 905-688-0722. $64; $59(sr); $32(under 30); $14(st); $12(under 15); $5(eyeGO).
7:00: Arcady. Handel's Messiah. Arcady Ensemble; Ronald Beckett, director. Pioneer Memorial United Church, 1974 King St. E., Hamilton. 905-545-9552. $25.
7:00: Knox Presbyterian Church. The Dying Saviour. Johann Wilhelm Hertel: The Dying Saviour. Senior choir and soloists of Knox Presbyterian Church, with strings and organ. Roger Bergs, conductor. 630 Spadina Ave. 416-921-8993. Freewill offering.
Saturday March 26
8:00: Shahriyar Jamshidi. Dilan Ensemble: In the Shadow of the Fatherland. Two bowed string artist from different musical backgrounds (Iran and Canada) present music of the Kurds. Raphael Weinroth-Brown, cello; Shahriyar Jamshidi, Kamanche and vocals. Small World Music Centre, Artscape Youngplace, 180 Shaw St. 416-536-5439. $20.
Thursday March 31
7:30: Cathedral Church of St. James. The Choir of Royal Holloway. Claudio Monteverdi: Ave maris stella; Orlando Gibbons: O clap your hands; Ēriks Ešenvalds: Long Road; and organ improvisation. Rupert Gough, conductor; David Briggs, organ. 65 Church St. 416-364-7865. Free.
NEW ONLINE: VIDEO INTERVIEW WITH MARSHALL PYNKOSKI, OPERA ATELIER
Opera Atelier's upcoming production of Mozart's Lucio Silla has been receiving praise from across Europe, and will be a Canadian premiere. In our latest Conversation @ The WholeNote, publisher David Perlman sits down with Opera Atelier co-artistic director Marshall Pynkoski about opera-making and the upcoming show. Watch the video here or below.
THANKS FOR SUBSCRIBING
The next issue of HalfTones, Vol 3 No 8, will be out on Wednesday, April 13, 2016. The next print issue of our 2015/16 season, covering April 1-May 7, will be on the stands at the end of March.
Please contact halftones@thewholenote.com with any HalfTones inquiries.