"NEW YEAR, NEW ME"
Concerts bringing something different to the table for 2016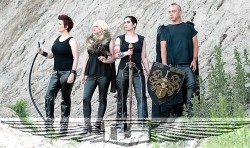 2015's days are numbered. As usual, the holiday season means that a new year is right around the corner, and as usual, that means us promises ourselves to do more, struggle less, and be better come January. Maybe it's naive of us to think that the New Year's Resolution is still a useful exercise, but if you need some musical inspiration for yours then you're in luck. In addition to the abundance of holiday concerts and NYE parties this time of year, there are a number of innovative concert presenters that are bringing new ideas to the table. Here's a few shows where you can celebrate fresh starts, find some peace of mind, or learn something new this January.
If you're already feeling the need to listen to some non-holiday-themed music and can't wait until the new year, the Ontario Philharmonic's show in Oshawa this Saturday December 19 is a good bet. Their program of Mendelssohn and Chopin is classic concert fare, perfect for those who want the holiday earworm out of their head. See http://www.ontariophil.ca/index.php?ID=1 for details.
For an atypical NYE experience, those in Hamilton might want to check out a concert at Melrose United Church. Crystal Journey's David Hickey will be playing two sets with paiste gongs, vibraphone, santoor and crystal bowls, with a gong to ring in the new year. The show includes tea and vegan snacks, and guests are encouraged to bring their own yoga mats or blankets to lie down on if they wish. Could be a relaxing and family-friendly alternative to the NYE party scene -- for details, visit http://www.crystaljourney.ca/live-performances.
On New Year's Day, industrious early-musickers Musicians in Ordinary are presenting a matinée show that celebrates famous composers' own fresh starts. Titled "Opus 1's," the show will feature first compositions by Handel, Vivaldi and other baroque composers at Yorkville's Heliconian Hall. And if you're busy on the 1st but still want to hear what these musical beginnings sound like, the show is on again the following evening. More info is available at http://www.musiciansinordinary.ca/concerts/heliconian-series/.
On another note, sometimes a new year can mean a fresh perspective on a difficult situation. I FURIOSI plays a concert on January 9, and as usual with their shows, it will be a bold new take on baroque repertoire. UNREQUITED tackles the subject of unrequited love, taking on music about lopsided emotions and hopeless circumstances. Soprano Merry-Anne Stuart and organist Stephanie Martin will join the ensemble for the program. Check out http://ifuriosi.com/concerts/ for details.
Finally, January 11 will be an opportunity to learn about a new approach to music-making, and what it has to offer. Composer Alexander Rapoport has organized "Theremin Meets Piano," a concert at Gallery 345 that will feature the piano alongside the iconic electronic instrument. Curious concertgoers will also hear theremin player Pamelia Stickney's demonstration of the instrument, as well as have the chance to try it out themselves. Details at http://www.gallery345.com/performances.php#jan11.
If more standard NYE fare is more what you had in mind, there's no shortage of other gala events, parties, and concerts scheduled to ring in the new year--for full listings, check out our website or a copy of our December/January issue. In the meantime: happy holidays, WholeNote readers, and here's hoping for an even happier new year.
DISCOVERIES: RECORDINGS REVIEWED
Two seasonal CDs for your holiday playlist
Just in time for the holidays we've received two seasonal delights. Dianne Wells reviews Winter Nights, a Pax Christi Chorale CD of "deeply thought out and sensitive" works by director Stephanie Martin, and a "hilarious" send-up of some Christmas favourites, The Most Wonderful Time… Maybe by local powerhouse vocal jazz trio Broadsway…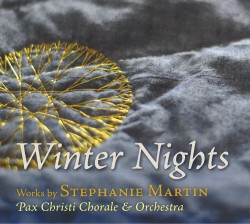 Winter Nights - Works by Stephanie Martin
Pax Christi Chorale; Stephanie Martin
Independent SJM010 (paxchristichorale.org)
Stephanie Martin's 20th anniversary as artistic director of the Pax Christi Chorale is fittingly honoured by this premiere recording of her own pieces. In addressing modern composition, she elects, in her own words, to "follow Britten's vision of the 'holy triangle' between composer, performer and audience. In an ideal musical triangle, a new piece can satisfy the intellectual needs of the composer, respect the limitations of the performing forces, and move the audience." The result of this approach is a collection of deeply thought out and sensitive works that harken to the past while maintaining a high degree of originality. The chosen texts are quite stimulating as well, drawing from classical giants such as Tennyson, Campion, Milton and Yeats, biblical texts, as well as offerings from the composer and her most gifted sister, Cori Martin. Rise up my love, my fair one gives a respectful nod to Healey Willan, one of Martin's forebears at St. Mary Magdalene's. Her five-movement cantata Winter Nights is a wonderful study of the pleasures and mysteries of the season and the final selection on the disc Now the Queen of Seasons provides a rousing opportunity to celebrate with exuberant organ and the True North Brass. Of course, as always, the Pax Christi Chorale gives superb performances throughout, in the hands of its consummate conductor.
Dianne Wells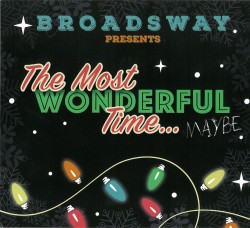 The Most Wonderful Time… Maybe
Broadsway
Independent BWCD002 (thebroadswayshow.com)
In the honoured tradition of Fractured Fairy Tales (i.e. The Three Little Pigs from the wolf's point of view), we have in this recording hilarious send ups of some of the best known and loved Christmas songs. That's not to say that the multi-talented women of Broadsway, Heather Bambrick, Diane Leah and Julie Michels don't have their serious moments. Set amongst wacky, reworked renditions of Baby It's Cold Outside and Most Wonderful Time of the Year are some pretty heartfelt renderings of quieter songs like Gordon Lightfoot's Song for a Winter's Night and Corlynn Hanney's Christmas Angel. The singing and especially the harmonies are gorgeous and enhanced by a few excellent players. Colleen Allen delivers stunning saxophone solos while a solid foundation is provided by bassists George Koller and Michael McClennan with percussionists Davide DiRenzo and Tom Jestadt. There are a number of clever medleys on the recording featuring quite innovative intertwinings of tunes, especially in Jingle Bells/Rockin' Around the Christmas Tree which adds snippets of Sleigh Ride, Jingle Bells, Rudolph the Red Nosed Reindeer and Deck the Halls, some at breakneck speed. And that's not all; as an added bonus, the women deliver some pretty convincing chipmunk impressions with Christmas Don't Be Late.
Dianne Wells
Correction from Vol 21 No 4:
A Conversation Piece
Dr. Réa Beaumont
Shrinking Planet Productions SPP0090 (reabeaumont.com)
A Listening Room print advertisement for pianist Dr Réa Beaumont's CD "A Conversation Piece" should have appeared in December/January's combined edition of The WholeNote, and we regret the error. Readers who would like to enjoy the enhanced review of Dr. Beaumont's CD should click here: http://www.thewholenote.com/index.php/booksrecords2/editorscorner/25581-editor-s-corner-september-2015. Listening Room enhanced reviews include clicks to listen and clicks to buy.
Speaking of records, if you haven't already you should take a look at Ori Dagan's column VINYL REVIVAL (http://www.thewholenote.com/index.php/newsroom/beatcolumns-sp-2121861476/intheclubsjazz2/25775-vinyl-revival), for tips on records, and on how, where and what to buy in Toronto. And if records interest you, keep an eye on our Twitter page @TheWholeNote this Friday -- where you might have the chance to win some exclusive record-related prizes. We'll say no more for now!
PRIZES, PRIZES!
Exclusive contests from The WholeNote
IN THIS ISSUE: Chances to win tickets to hear the Talisker Players in concert or receive free-of-charge entry into a Music Appreciation course at the RCM--plus some hints on how to win other special prizes exclusive to WholeNote readers.
Follow the links below to enter:
Talisker Players: High Standards, Sunday January 10
The Royal Conservatory: Music Appreciation Course of your choice, January-June
Plus, a correction and a reminder about another contest that we run every month:
Who IS February's Child?
In the Dec/Jan print edition we neglected to say HOW you can enter our regular contest "We Are ALL Music's Children". See If you know who it is in the mystery photo! You can take another look at the clues here, in the right-hand column: http://www.thewholenote.com/index.php/newsroom/musical-life/whoismusicalchild
To enter your name in a draw for some great prizes (tickets and recordings) please send your best guess by email to musicschildren@thewholenote.com by January 25, 2016.
JUST IN: CORRECTED AND NEW LISTINGS
FEATURED LISTING: THE MUMMERS' MASQUE, DEC 17-19
For an alternative yet still-festive option amidst a season of Christmas concerts, check out the Toronto Masque Theatre's production of "The Mummers' Masque" December 17 to 19. Billed as a 'Newfoundland Christmas Kitchen Party," the show will be a celebratory combo of music, dance and storytelling in Toronto's Enoch Turner Schoolhouse. The show will carry on a 400-year-old Newfoundland holiday tradition, and promises more of the innovative work that we've come to expect from TMT. For details on the show, check our listings below or visit http://www.torontomasquetheatre.com/node/40.
Other new/corrected December/January concert listings added online since our last print issue are as follows:
CONCERTS
Dec 17 12:15: St. George's Cathedral (Kingston). Advent Concert. Works by Mendelssohn, Grieg and Holst. Valery Lloyd-Watts and Clare Gordon, pianos. 270 King St. E., Kingston. 613-548-4617. Freewill offering.
Dec 18 8:30: Zula Music & Arts Collective Hamilton. Samuel Blaser Quartet plus Dave Gould. Samuel Blaser Quartet; Dave Gould, percussive strings. Workers Arts and Heritage Centre, 51 Stuart St., Hamilton. 905-522-3003. $15; $12(adv/st). CANCELLED.
Dec 19 2:00: Toronto Masque Theatre. Mummer's Masque. Carla Huhtanen (St. George); Marion Newman (Rival Knight/Dragon); Christopher Mayell (Princess Zebra); Giles Tomkins (Father Christmas); step dancers; children's choir; jug band; and others. Enoch Turner Schoolhouse, 106 Trinity St. 416-410-4561. $50; $43(sr); $20(30 and under). Also Dec 17, 18, 19(8pm).
Dec 19 7:30: Niagara Symphony Orchestra. Home for the Holidays. Joey DeBenedetto, vocals; Katie Kerr, vocals; Bradley Thachuk, conductor. FirstOntario Performing Arts Centre, 250 St. Paul St., St. Catharines. 905-688-0722. $64; $59(sr); $32(30 and under); $14(st); $12(child); $5(EyeGo). Also Jan 20(2:30).
Dec 20 2:00: Quinte Symphony Orchestra. A Quinte Christmas. Beethoven: Symphony No.5; Christmas sing-along. Dan Tremblay, conductor. Centennial Secondary School, 160 Palmer Rd, Belleville. 613-967-3970. $25; $20(sr); $10(st); free(child).
Dec 31 8:30: Crystal Journey. In Concert. Paiste gongs, vibraphone, santoor and crystal bowls. Melrose United Church, 86 Homewood Ave.,Hamilton. 905-928-9706. $25. Includes tea and vegan treat. Child care available. Chairs will be provided or bring your own yoga mat or blanket.
Jan 06 6:00: Cathedral Church of St. James. Cantatas in the Cathedral. Bach: Canata "Liebster Immanuel, Herzog der Frommen", BWV123; and organ works. Teresa Mahon, soprano; Simon Honeyman, countertenor; Asitha Tennekoon, tenor; James Baldwin, bass; David Briggs, organ. 65 Church St. 416-364-7865. PWYC. All donations go directly to the artists.
Jan 10 4:00: Church of St. Mary Magdalene. Organ music for the octave of Epiphany. Andrew Adair, organ. Church of St. Mary Magdalene (Toronto), 477 Manning Ave. 416-531-7955. Free.
Jan 23 8:00: Guitar Society of Toronto. Classical Guitarist Paolo Martelli. Works by Bach on an 11-string guitar, Assad, Bellinati, and others. Heliconian Hall, 35 Hazelton Ave. 416-964-8298. $30; $25(sr/st).
Feb 07 4:00: Church of St. Mary Magdalene. Organ music by Felix Mendelssohn. Andrew Adair, organ. Church of St. Mary Magdalene (Toronto), 477 Manning Ave. 416-531-7955. Free.
MAINLY CLUBS, MOSTLY JAZZ
Dec 17 7:00. The Jerry Cans. The Dakota Tavern, 249 Ossington Ave. $15/$12.50(adv) at www.ticketfly.com/purchase/event/10255
Dec 18 6:00. Guy Moreau, vocals; Kevin Barrett, guitar; Carrie Chestnutt, sax.120 Diner, 120 Church St. 416) 792-7725 or advance tickets at moreau.guy@gmail.com.
Dec 18 8:30. Foggy Hogtown Boys Christmas @ Hugh's Room, 2261 Dundas St. W. 416-531-6604. $25/$22.50(adv)
Dec 19 4:00. York Jazz Ensemble with vocalists George Westerholm & Beverly Taft. Swing & jazz & blues. Seven44, 744 Mount Pleasant Rd. 416-489-7931. $10 cover
Dec 20 12_noon. The Ault Sisters Xmas Matinee. Hugh's Room, 2261 Dundas St. W., 416-531-6604. $22.50/$20(adv); $10(child).
Dec 23 8:30. Have A Bluesy Xmas with Paul DesLauriers Band, Jerome Godboo & Selena Evangeline. Hugh's Room, 2261 Dundas St. W., 416-531-6604. $30/$25(adv)
Dec 30 8:30. Suzie Vinnick. Hugh's Room, 2261 Dundas St. W., 416-531-6604. $25/$22.50(adv)
Dec 31 9:30. New Years Eve @ Hugh's Room with Chris Whiteley, Diana Braithwaite & Sam Broverman. 2261 Dundas St. W., 416-531-6604. $50/$45(adv).
Dec 31 10:00. Jeanine Mackie Band. The Jazz Bistro. 251 Victoria St. 416-363-5299. $150. Dinner package includes 5-course gourmet dinner, live entertainment, party favours and champagne at midnight
Jan 6 8:30. Alex Pangman & Kevin Clark. Hugh's Room, 2261 Dundas St. W., 416-531-6604. $30/$25(adv)
Jan 9 8:30. Joanna Chapman-Smith. Hugh's Room, 2261 Dundas St. W. 416-531-6604. $20/$18(adv)
Jan 17 2:00. Beverly Taft (vocals) with David Restivo (piano). Jazz, bossa, blues & originals. Morgans on the Danforth, 1282 Danforth Ave. 416-461-3020. No cover
Jan 31 4:30. Beverly Taft (vocals) with Nathan Hiltz (guitar) and Artie Roth (bass). Jazz originals, bossa and blues. The Local Gest, 424 Parliament St. 416-961-9425. No cover.
MUSIC THEATRE
Dec 17 7:30. Lower Ossington Theatre. Avenue Q. Music and Lyrics by Robert Lopez and Jeff Marx. Book by Jeff Whitty. Directed by Seanna Kennedy. 100A Ossington Ave. 416-915-6747. $49.99–$59.99. Until Jan 10. Start times vary.
Dec 17 7:30. Lower Ossington Theatre. Jesus Christ Superstar. Music by Andrew Lloyd Webber and Lyrics by Tim Rice. Directed by Alan Kinsella. 100A Ossington Ave. $49.99–$59.99. 416-915-6747. Until Jan 17. Start times vary.
Jan 15 8:00. Hart House Theatre. Into the Woods. Music and Lyrics by Stephen Sondheim. Book by James Lapine. Directed by Jeremy Hutton. Musical Direction by Giustin MacLean. Hart House Theatre, 7 Hart House Cir, Toronto. 416-978-8849. $28; $17(sr); $15(st); $12(st on Wed). Until Jan 30. Start times vary.
FILM SCREENINGS
Dec 29 2:00 pm. Living Arts Centre. Opera Film Series: Le Nozze di Figaro - Opera Film Series. David McVicar, stage director; Ivor Bolton, conductor; Erwin Schrott (bass) Figaro; Anita Hartig (soprano) Susanna. 4141 Living Arts Dr., Mississauga. 905-306-6000. $20
GROUP MEETINGS
Jan 8 7:30 CAMMAC Recorder Players' Society. Amateur recorder players are invited to join in the playing of early music. Mount Pleasant Road Baptist Church, 527 Mount Pleasant Rd. 416-597-0485 or cammac.ca $15 (non-members). Refreshments included.
NEW ON OUR WEBSITE
HOLIDAY GIVEAWAY THIS FRIDAY
Keep your eyes peeled on Twitter this Friday, because @TheWholeNote will be making a special announcement about a chance to win some pretty great prizes...a MUST if you are a music lover or vinyl aficionado! We'll say no more until then, though...
THANKS FOR SUBSCRIBING
The next issue of HalfTones, Vol 3 No 5, will be out on Monday, January 11, 2016. Our current print issue is a special DOUBLE ISSUE covering December 1-February 7; the February print issue will be on the stands at the end of January.
Please contact halftones@thewholenote.com with any HalfTones inquiries.