AND THE WINNER IS...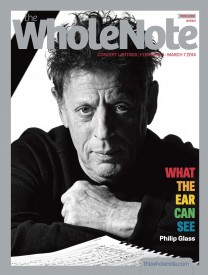 Yesterday morning, Koerner Hall was host to the announcement that Philip Glass (see our February 2014 WholeNote cover story) is this year's winner of the Glenn Gould Foundation's prestigious Glenn Gould Prize. Publisher David Perlman, who was at the announcement, reports back.
The moment at which GGF jury chair Bob Ezrin named Philip Glass the winner of the 11th Glenn Gould Prize was, in true Glassian spirit, both a climax and an anti-climax. The buzz, around the WholeNote office anyway, had been strongly towards this year's prize putting a dent in the growing feeling over the past few prizes, that "male, whiteish, mid-twentieth century, sort-of-American" are prerequisite characteristics for the winner. The fact that this year's jury consisted of six women and three men contributed more than a little to the feeling that maybe this would be the year things started to tilt. Listening to Ezrin describe the individual jurors as he introduced them somewhat dispelled that feeling: all six women were "beautiful" along with their brains; and the three men apparently were not. (Don't worry Jay Hunter Morris, we think you're cute.)
But the announcement of Glass as laureate had a grand and comfortable feel -- not just relief at his indisputable worthiness, but also hints of excitement in terms of where "the Prize" is headed as it matures and evolves. The GGF wants the prize to be seen as an award for a lifetime of transformative creative influence in all the arts, not just music, and Glass, because of his adventures across disciplines, certainly is that -- his voice heard and felt far further even than his name is known.
Even more telling, the range of passion, intellect and creative talent in the jury assembled on the stage was something to behold. Their willingness to be there, and their evident pleasure in having taken part in the cause they had been assembled for speaks to a process with integrity.
Stay tuned for lots of details over the coming months (where and when the award ceremony and related bunfests will be, and whom Glass has chosen for the City of Toronto Protege Prize that goes with the award). Meanwhile you can get an inkling of how various Glass is in his explorations as early as Wednesday June 10 at Massey Hall, when he appears with Ashley MacIsaac in a concert called Cape Breton Fire.
CONCERT CONTROVERSY: LISITSA & THE TSO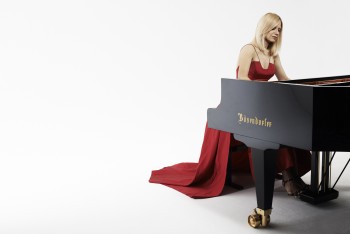 Toronto's largest musical presenter has been in the news lately after a controversial (and seemingly last-minute) move to pull piano soloist Valentina Lisitsa from her scheduled April 8/9 performances of Rachmaninov 2. TSO president Jeff Melanson's stated reason was that Lisitsa's Twitter activity, in regard to the political and territorial crisis in Ukraine, was "deeply offensive to some." The decision sparked a firestorm of response, for and against.
True to our mandate of trying to list everything going on so you can make up your own mind, you will find, below, links to a sampling of the thoughtful things being said about the TSO/Lisitsa affair.
Musical Toronto
April 6: Musical Toronto's overview of the situation right when the decision was made public:
http://www.musicaltoronto.org/2015/04/06/breaking-tso-bans-upcoming-soloist-valentina-lisitsa-over-political-views/
April 8: The Toronto Symphony CEO Jeff Melanson interviews to explain his decision-making process:
http://www.musicaltoronto.org/2015/04/08/interview-toronto-symphony-ceo-jeff-melanson-breaks-his-silence/
April 9: John Terauds weighs in on Lisitsa's position as a public figure:
http://www.musicaltoronto.org/2015/04/09/john-terauds-valentina-lisitsa-social-media-and-the-public-etiquette-of-art/
The Globe and Mail
April 7: Robert Everett-Green's collection of quotations from Toronto's classical music community:
http://www.theglobeandmail.com/news/national/classical-music-world-reacts-to-tso-dropping-pianist-valentina-lisitsa/article23830354/
April 8: Marcus Gee on the type of precedent the TSO may have set with this decision:
http://www.theglobeandmail.com/globe-debate/columnists/why-the-tso-set-a-terrible-precedent-by-barring-pianist-valentina-lisitsa/article23845288/
National Post
April 13: Kelly McParland on why criticism of the TSO neglects the nature of the artist as a public figure:
http://news.nationalpost.com/full-comment/kelly-mcparland-would-you-let-valentina-lisitsa-play-your-piano-i-wouldnt
New York Times
April 8: The story as seen from an outside perspective
http://www.nytimes.com/2015/04/09/world/americas/toronto-orchestra-drops-pianist-over-tweets-about-ukraine.html?_r=0
Finally, lest you think that amongst all of this compiling we don't have an opinion of our own, our editor-in-chief, David Perlman weighs in with this: "Leaders, like firefighters, get paid big bucks to put out fires when they happen, not just to wait for them to go out of their own accord. Looks to us as though Melanson acted decisively and for that he deserves credit. Some people agree with his decision. Some disagree. That's the nature of the beast. Where he went horribly wrong, in our opinion, is not the decision but the reasons he gave for the decision. 'Deeply offensive to some'?! What a terrifyingly unsustainable, deeply disturbing precedent to have on the books."
PRIZES, PRIZES
In this issue: Win tickets to the Canadian Opera Company's upcoming productions of The Barber of Seville and a Schoenberg/Bartok double-bill, as well as the chance to hear renowned Italian pianist Romeo Scaccia at the Glenn Gould Studio. Just click on the following links for a chance to win -- feel free to enter both contests!
The Barber of Seville at the COC: April 29
Bluebeard's Castle/Erwartung double-bill at the COC: May 6
Romeo Scaccia at the Glenn Gould Studio: April 25
JUST IN: CORRECTED AND NEW LISTINGS
G27 OPEN REHEARSAL AT CSI ANNEX
This Thursday, Torontonians have the chance to get a taste of how a professional music group runs its rehearsals -- and also of what's coming up in the near musical future. group of 27, billed as "Toronto's All-Star Classical Band," is hosting an open rehearsal this Thursday April 16 at the Annex location of the Centre for Social Innovation, in advance of their April 17 concert "Disquiet." The group is a powerhouse chamber orchestra with musicians culled from such ensembles as the Toronto Symphony, and the upcoming programme includes the TSO's Sarah Jeffrey performing Mozart's Oboe Concerto, as well as works by CPE Bach, Haydn and Jocelyn Morlock. Friday's concert is PWYC; Thursday's open rehearsal is free. For more details on Thursday's event, check out our listings update below or visit http://groupof27.com/open-rehearsal-at-the-social-innovation-centre/.

Wednesday April 15
7:30: Plumbing Factory Brass Band. Tsar Trek II - The Sequel. Exploring the best-loved compositions of seven giants of Russian music. Kabalevksy: Comedian's Galop; Shostakovich: Festive Overture; Rimsky-Korsakov: Concerto for Trombone and Band; Tchaikovsky: Finale - Symphony No. 4 in F minor; and others. Plumbing Factory Brass Band; Henry Meredith, director; Myles Skinner, trombone. Byron United Church, London, 420 Boler Rd, London. 519-471-1250. $15; $10(st).
Thursday April 16
8:00: group of 27/The WholeNote. Disquiet - Open Rehearsal. An open community rehearsal for the group of 27's upcoming concert, with music, lattes and cash bar. Eric Paetkau, director; Sarah Jeffrey, oboe soloist. Centre for Social Innovation Annex, 720 Bathurst St. Free. RSVP online via groupof27.com.
Friday April 17
8:00: Kobèna Aquaa-Harrison. Afrika Djelly Birthday Edition. Kobèna Aquaa-Harrison; Andrea Henry (Sugar Jones); Lesley "Waah Waah" Waldron; Djungle Bouti Orchestra; and others. BlakBird Lounge, 812b Bloor St. W. 416-576-3834. $10.
Saturday April 25
8:00: Michael Gabriel. Michael Gabriel "Strings Attached". Michael Gabriel, singer-songwriter; Trina Nadeau, cello; Karen Spithoff, violin; Caroline Olsen, viola; Sandy Ludwig, piano and percussion; and others. The Pearl Company, 16 Steven St., Hamilton. 905-524-0606. $20.
Friday May 1
7:30: Afiara Quartet. Spin Cycle Pre-Release Party: Afiara Quartet & DJ Skratch Bastid. Pre-release event to celebrate the release of the Afiara Quartet's latest album. 918 Bathurst Centre, 918 Bathurst St. 647-294-6349. $15(adv); $20(door).
Sunday May 3
2:30: Recitals at Rosedale. Wanderlust…There and Back Again. Schumann Mignon/Harper songs and also songs of Schubert, Duparc, Berlioz and traditional folk songs from the British Isles about journeys and coming home. Lucia Cesaroni, soprano; Anthony Cleverton, baritone; Emily D'Angelo, mezzo; Rachel Andrist, piano. Rosedale Presbyterian Church, 129 Mt. Pleasant Rd. 416-921-1931. $35.
Tuesday May 12
1:30: Oakville Opera Guild. The Life of an Opera Singer. Guest: Cassandra Warner, mezzo-soprano. Oakville Central Library, 120 Navy St., Oakville. 905-634-6977. $10 minimum donation. Proceeds towards scholarship awarded annually to a young Canadian singer studying at the U of T Opera Division.
Friday May 29
8:00: Oakville Opera Guild. Friday night meeting. Location, subject and guest artist TBA, Oakville. 905-634-6977. $10 minimum donation. Proceeds towards scholarship awarded annually to a young Canadian singer studying at the U of T Opera Division.
NEW ON OUR WEBSITE
Ever wanted to immediately hear exactly what our CD reviewers are talking about? The WholeNote is in the process of launching a brand-new online Listening Room, where you can take advantage of enhanced reviews with added features, including the option to listen to sample tracks from reviewed discs.
→ continue to the Listening Room
THANKS FOR SUBSCRIBING
Our next issue of HalfTones, Vol 2 No 9, is out on May 14! The next print issue of The WholeNote, covering May 1 to June 7, will be published on Thursday April 30.
Please contact halftones@thewholenote.com with any HalfTones inquiries.