Music for the New Year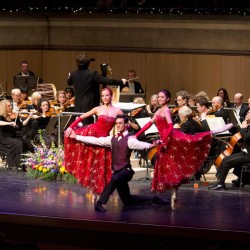 Welcome Vol 2, No 4 of HalfTones -- our update on extra December musical news, and the last issue before we hit 2015! While for some concert presenters, the onset of the New Year is a welcome break and mid-way point in their busy 2014/15 seasons, there are some brave performers who are taking up the challenge of bringing the city some New Year's musical cheer.
As usual, Attila Glatz Concert Productions is the big New Year's presenter this year, with concerts at Roy Thomson Hall both on New Year's Eve and January 1. They've been at this since 1995, and this year's shows represent their 20th round of New Year's celebrations. Their big production, beginning at 2:30pm on January 1, is a "Salute to Vienna" gala concert that includes everything from operetta excerpts to Strauss waltzes to polkas. Billed as "North America's Finest New Year's Concert," this show promises a New Year's Day to remember. The day before this New Year's Day extravaganza, Attila Glatz also presents "Bravissimo! Opera's Greatest Hits" on December 31, featuring a star-studded cast and excerpts from works by Puccini, Verdi Rossini, Offenbach and others; all this, and out by 10pm so as to still be able to party the New Year in! For details on both concerts, visit glatzconcerts.com.
The Musicians in Ordinary are also working hard over New Year's, ringing in 2015 in true Baroque style. Their New Year's Day matinée concert features works by Scarlatti, Corelli, Vivaldi, Pez and others at Heliconian Hall, and promises to be a beautiful show. And if trekking through town on the first day of the new year doesn't appeal to you, the group reprises their concert on January 2 at 8pm. All the details are in our listings and at musiciansinordinary.ca.
Finally, if you're on the hunt for a New Year's party of a jazzier nature, there are a number of upcoming shows that will be of interest. The Home Smith Bar, Palais Royale and the Toronto Don Valley Hotel are all host this year to shows featuring some excellent musicians (and great food). The Home Smith Bar's New Year's Eve Jazz Party features Alex Pangman and her Alleycats; the Toronto All-Star Big Band hosts the gala evening at the Toronto Don Valley Hotel; and Palais Royale presents Aura Rully, world-renowned jazz vocalist and Duke Ellington's own protégée. A ticket to any of these shows includes dinner and dessert, as well as, of course, some champagne to ring in what we hope will be an excellent year ahead.
Vocal Smorgasbord
Shout-outs to some of Southern Ontario's innovative choral and vocal programming in the coming days.
There are a number of vocal and choral shows coming this month, in addition to the usual carols and holiday tunes, that look like promising options for December concertgoers. The first couple of shows, two Messiah concerts coming up this weekend, may not seem at first glance like original programming but in fact represent some special variations on a holiday classic. The Cellar Singers perform the Messiah this Friday in Bracebridge and Sunday afternoon in Orillia -- the only performances of the work in Central Ontario with professional orchestra and soloists. They also just might have in their midst a Messiah record-holder in Orillia's Sue Newman, who between performances, workshops and rehearsals has sung Handel's classic masterpiece over 450 times. All the info at thecellarsingers.com.
Pax Christi Chorale's Children's Messiah also promises something a little different, especially for those who know some younger Handel fans. The show features favourite choruses and arias in a more casual setting that is free for kids and PWYC for adults. The show is 4pm this Saturday December 13 in the beautiful acopustic of Church of St. Mary Magdalene; details at paxchristichorale.org/childrens-messiah/.
For something celebratory but a little less holiday-themed, George Koller's "International Divas" series presents its final concert in a three-part series on Dec 21 at Trinity-St. Paul's Centre. The show features a number of female performers in an entirely acoustic setting. For this "season finale," Koller presents vocalists Rita Chiarelli, Lara Solnicki, The Ault Sisters, Sharlene Wallace, Maryem Hassan Tollar and Hisaka. Find out more at http://internationaldivas.net/.
EXCLUSIVE SPECIAL CONTEST:
TICKETS FROM THE TORONTO CONSORT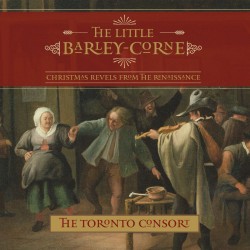 The Toronto Consort presents "Yuletide Revels from the Renaissance" with their concert, "The Little Barley-Corne," this weekend! Joining forces with superstar folk-fiddler David Greenberg, this program of holiday festivities features English ballads, French noëls, country dances and more -- celebrating both the holiday season and the re-release of the Consort's "Little Barley-Corne" CD.
In a special contest with The WholeNote, the Toronto Consort is offering PAIRS OF FREE TICKETS to their December 14 Sunday matinee show (3:30pm) to the first 10 WholeNote readers who respond correctly to their skill-testing question! Just email editorial@thewholenote.com with your full name and answer the following question for your chance to win:
When was the Toronto Consort album The Little Barley-Corne originally released? (hint: check the Toronto Consort website, torontoconsort.org!)
First 10 correct responses receive a pair of tickets for Sunday! On your marks, get set...email!
JUST IN: NEW LISTINGS
New or corrected (*) listings in December and January include the following:
Monday December 29
8:30: Hugh's Room. A Jazzy Holiday Party to benefit St. Francis Table @ Hugh's Room. The Music of Thelonius Monk. The Westend All Star Jazz Musicians: Jane Bunnett; Adrean Farrugia; Sophia Perlman; Daniel Barnes; Larry Cramer; Chris Butcher. 2261 Dundas St. W. 416-531-6604. $20(adv); $22.50(door).
Wednesday December 31
7:30: Jazzy Events/Palais Royale. Aura & Friends: A Jazzy 2015 New Year's Eve. Dinner, dance and live entertainment. Aura Rully; and others. Palais Royale, 1601 Lake Shore Blvd. W. 1-888-222-6608 or 416-606-9402. $175. Doors open at 7pm; event runs until 3am. Black tie welcome/jacket required.
Saturday January 3
12:00 noon: Northumberland Learning Connection. Opera Brown-bag Lunch Talks: Le Nozze di Figaro. Half-hour talk and Metropolitan Opera HD broadcast. Mozart: Le Nozze di Figaro. Elizabeth Wilson, speaker. Capitol Theatre, 20 Queen Street, Port Hope. 905-885-1071. $5. Coffee and tea included.
Friday January 16
8:00: The Jeffery Concerts. Latin Journey. Songs and melodies of Spain and Latin America. Works by Rodrigo, Granados, de Falla, Villa-Lobos, and others (all arr. David Jacques). Marie-Josee Lord, soprano; David Jacques, guitar; Ian Simpson, double bass. Wolf Performance Hall, 251 Dundas St., London. 519-672-8800. $35; $30(sr); $15(st).
Sunday January 18
2:00: Canzona Chamber Players. In Concert. Brahms Quintet Op. 34. Vadim Serebryany, piano; Csaba Koczó & Sonia Shklarov, violins; Yunior Lopez, viola; Peter Cosbey, cello. St. Andrew by-the-Lake Church, Cibola Avenue, Toronto Island. 416-822-0613. $20. Also 7:30pm, Music Gallery.
Monday January 19
7:30: Canzona Chamber Players. In Concert. Brahms Quintet Op. 34. Vadim Serebryany, piano; Csaba Koczó & Sonia Shklarov, violins; Yunior Lopez, viola; Peter Cosbey, cello. Music Gallery, 197 John St. 416-822-0613. $20. Also 2pm, St. Andrew by-the-Lake Church.
Saturday January 24
7:30: Pocket Concerts. Pocket Concerts: Family Edition. Mozart Flute Quartet in D Major; and others. Les Allt, flute; Cordelia Paw, violin; Rory McLeod, viola; Rachel Desoer, cello. , . 647-896-8295. $40; $25(age 35 and under); $12(age 18 and under). Please phone 647-896-8295 if you have questions about accessibility.
NEW ON OUR WEBSITE
For those of you who now finally have the time to do some stress-free internet surfing, our latest "Conversation <at> The WholeNote," with renowned pianist (and the star of this month's magazine cover) Angela Hewitt, is up on our website! Check out this and other video interviews with local performers and music professionals on our video page at http://www.thewholenote.com/index.php/newsroom/our-videos
THANKS FOR SUBSCRIBING
Our next issue of HalfTones, Vol 2 No 5, is out on January 8! The next print issue of The WholeNote, covering Feb 1 to March 7, will be published on January 29.
Please contact halftones@thewholenote.com with any HalfTones inquiries.