Oddities and Openings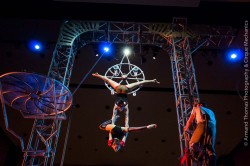 As we salute the start of another concert season (and kick off the 20th volume of The WholeNote), it seems as though an inclination towards all things odd or unusual is in the air. In the coming weeks, there are a number of concert programs that highlight the absurd, the newly-invented or the mechanics of the modern day.
This Saturday, September 20 at 8pm, in an event co-presented by the Music Gallery and Toy Piano Composers, the Music Gallery welcomes visiting American composer and instrument inventor Anthony T. Marasco. Influenced by what is known as today's "Digimodernist culture," Marasco's portfolio includes electroacoustic works, interactive computer systems, multimedia installations and even film scores. He and the TPC Ensemble present his pieces Mid-Century Marfa and Ultraviolent Cleopatra, in a program that boasts four world premieres and is sure to give you your fair dosage of the unusual.
The presenters promise "a night of inventions, toys, oddities and hidden treasures," it seems, with good reason—for more details on the show, check out toypianocomposers.com or musicgallery.org.
For those out-of-towners, the Kitchener-Waterloo Symphony has a similarly-themed showcase on its September calendar. The first concert of their pop series this year, "Cirque Mechanics," pairs popular classical works with the spectacle of a circus, featuring mechanics, acrobats, contortionists and aerialists. The show is Friday, September 26 at 8pm and Saturday September 27 at 2:30pm and 8pm; for more on the K-W Symphony and on the Cirque Mechanics company, visit http://kwsymphony.ca and http://www.cirquemechanics.com.
Other news in the Toronto music scene this month is the opening of a new concert venue. The Aga Khan Museum opens to the public this Thursday, and hosts David Buchbinder and guests' Routes of Andalusia as its first musical event on Saturday, September 20. The concert features a number of international guest artists alongside local performers, and will provide a first look at a unique addition to Toronto's cultural scene. Event details are available at https://www.facebook.com/events/581198732002688.
Finally, some breaking building-related news: U of T has just announced that the building just north of their Music Faculty on Queen's Park—once the ROM's McLaughlin Planetarium—will be transformed in coming years into a mega-cultural complex, which will include a 250-seat performance hall. U of T purchased the building several years back in 2009, but this project is brand-new and in its early stages.
Look for more updates on this project in future issues of The WholeNote!
An Opera-rich Month
Toronto opera fans are in luck—a number of season-opening operas are on offer during the next few weeks.
The COC, of course, opens their 2014/15 season with productions of Verdi's Falstaff, October 3 to November 1, and Puccini's Madama Butterfly, October 10 to 31. The WholeNote has tickets to opening night of the Puccini production (valued at $159 each) up for grabs! For details see our section "Prizes, Prizes!" below.
In a timely complement to the famous love story of Puccini's classic, Essential Opera starts up their fifth season with Christoph Willibald Gluck's less-often-heard Paride ed Elena (Paris and Helen). This production, featuring a cast of female singers, showcases a passionate romance of its own in a concert-opera format. Essential Opera performs in Toronto on Saturday, September 27 at Trinity-St. Paul's Centre, and in Kitchener on Wednesday October 1 at the Registry Theatre. For details, visit essentialopera.com.
Torontonians get another chance this month to hear rarely performed opera, this weekend in double-bill presented by Opera 5 and Alliance Française de Toronto. "Offenbach & Hahn," running this weekend from September 19 to 21, pairs the Canadian premiere of Reynaldo Hahn's late-nineteenth-century opera L'Île du Rêve with Jacques Offenbach's Ba-ta-clan. It will be a rare chance to hear these two works performed locally, and also one of the first performances to take place in the Alliance Française's new theatre space. More info on shows and tickets is available at http://www.operafive.com/season-tickets/.
PRIZES, PRIZES!
WIN a season subscription for two to the Toronto Mendelssohn Choir's 2014/15 season, tickets to opening night of COC's Madama Butterfly, tickets to Soundstreams' "The Seasons" (Recomposed!), subscriptions to a new diva-showcasing concert series and more! Just click the links below and follow the instructions to enter in the contests of your choice. Feel free to enter all four!
Toronto Mendelssohn Choir season subscription for two
Opening night tickets to COC's Madama Butterfly
Tickets and CDs for Soundstreams' "The Seasons"
International Divas I, II & III series subscription for two (Concert I feat. Jackie Richardson, Laila Biali, Luanda Jones, Cindy Church, Saina Singer and Patricia Cano)
JUST IN: NEW LISTINGS
The great trumpeter Kenny Wheeler, now 84, has recently been placed in a long-term care facility in England at the same that his wife Doreen has been hospitalized. The costs are very high and there have been several benefits launched internationally to help defray the expense, including events in England, Italy and several Canadian cities, including Vancouver, Ottawa and Montreal. Wheeler is probably the most important jazz musician and composer ever to have been born in Toronto, and though he emigrated to England at age 25, he's maintained a strong musical relationship with the city and the country, playing concerts and clubs, doing clinics and working with and influencing some of our finest musicians, like Don Thompson and Mike Murley. Murley, who has recorded with Wheeler as part of the Maritime Jazz Orchestra, is doing a benefit concert with his quintet at the Rex with all proceeds going to the Wheelers. As Murley points out, "Kenny Wheeler is a major musical influence on all of the members of the quintet," and the band will be playing two sets of Wheeler's harmonically imaginative, song-like compositions. It's a fine group for the task, with Wheeler's influence particularly apparent in the interval leaps of trumpeter and flugelhornist John MacLeod. Murley continues, "this promises to be a memorable evening in support of a great Canadian artist."
9:30pm, October 2, The Rex, 194 Queen St. W., 416-598-2475.
Admission is $15/$10 for students.
- Stuart Broomer
Other new or corrected (*) listings this month:
Monday September 22
8:00: JAZZ.FM91. Ranee Lee in Concert. Part of the 2014 Sound of Jazz Concert Series (Sep to Dec 2014). The Old Mill Toronto, 21 Old Mill Rd. 416-236-2641. $39 (season tickets $175).
Saturday September 27
7:00: Oakham House Choir/Concert Choir of the Karlsruhe Institute of Technology. Friends in Song/Freunde im Gesang. Excerpts from Brahms, Mendelssohn, Rutter, Cohen and others. Oakham House Choir of Ryerson University; Concert Choir of the Karlsruhe Institute of Technology. St. Patrick's Catholic Church (Toronto), 131 McCaul St. $15(door). For reservations and more information, please contact choir@ryerson.ca.
8:00: Sonia Oduwa Aimy in Concert: "Singing Spirituality". In Concert. Sonia Oduwa Aimy, vocals; Peter Opong, guitar; Kwaku Gyasy, bass guitar; John MaClean, sax; Maurizio Valente, drum kit; Prince Bamidele, conga, talking drum. BlakBird Jaz, 812b Bloor St. W. 647-344-7225. $20(adv); $25(door). Doors open at 7pm.
Sunday September 28
*7:30: Royal Conservatory/Stratford Festival. ARC Ensemble: The hell where youth and laughter go. Featuring narrations of contemporary writings, in commemoration of the start of WW I. Butterworth: Suite for String Quartet; Elgar: Piano Quintet in a Op.84. Koerner Hall, 273 Bloor St. W. 416-408-0208. Free.
Monday September 29
1:00: Hugh's Room. North Meets South: Old Songs for a New Day. Part of the Underground Railroad Music Festival. Zakiya Hooker; Geechee Gullah Ring Shouters; Diana Braithwaite and Chris Whiteley, blues duo. 2261 Dundas St. W. 416-531-6604. $27.50(adv); $30(door).
NEW ON OUR WEBSITE
Check out our new "Our Videos" page, where you can see the latest addition to our "Conversations@TheWholeNote" series—an exclusive interview with Toronto Consort artistic director David Fallis!
THANKS FOR READING
Our next issue of HalfTones, Vol 2 No 2, is out on October 15! The next print issue of The WholeNote will be published on October 1.
Please contact halftones@thewholenote.com with any HalfTones inquiries.