Welcome to issue #12 of HalfTones—The WholeNote magazine's regular midmonth e-newsletter. Here's where you can find the latest local music news, contests, and extra concert listings for the rest of the month. For additional updates on summer music in Toronto and beyond, take a look at the summer issue of the magazine—and see you in September with the first print issue of our 20th season!
FOLLOW THE FROG
ROUNDING UP AUGUST AND SEPTEMBER'S MUSIC FESTIVALS
Back-to-school ads and concert season announcements notwithstanding, the summer's not over yet! There are several worthy music festivals you should keep on your radar as summer draws to a close: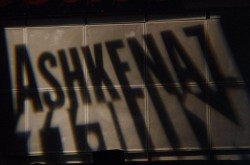 -- The Ashkenaz Festival, a biennial highlight of the Toronto summer, is one of the world's largest showcases of Jewish music and culture. This year's festival takes place at Harbourfront (as well as other smaller venues across the GTA) August 26 to September 1, and includes a wealth of both free and ticketed events, featuring performances by musicians both local and internationally-renowned. All the details at ashkenazfestival.com.
-- JUST ANNOUNCED: The program for the 2014 Guelph Jazz Festival is out and on their website! The festivities take place September 3 to 7, and all the info can be found at guelphjazzfestival.com/2014.
-- If you happen to be Alberta-bound this September, Honens—best known for their prestigious piano competition—takes its first leap into the festival scene, with an inaugural Honens Festival September 4 to 7 in Calgary. Even if you can't be there in person, the festival will be one to keep tabs on—performers include singer Martha Wainwright, pianist Alexandre Tharaud, and a primer on music of the early 20th century with Alex Ross, music critic for The New Yorker. More on the event at honens.com/PerformancesEvents/Tickets.aspx.
-- There's also, of course, the inaugural year of the Bravo Niagara! Festival of the Arts. On September 5 they present the Ontario premiere of the one and only James Ehnes with his string quartet. Not a concert to miss—and The WholeNote has tickets to be won by lucky readers! Just click here or see our CONTEST section below.
CHORAL SCENE, AT HOME AND ABROAD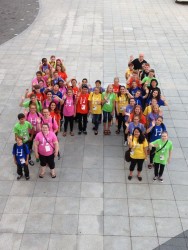 Welcome home to the 44 members of the Hamilton Children's Choir, from an international tour to the 10th World Symposium on Choral Music!
The Hamilton Children's Choir, the only choir representing Canada at the symposium, returns from a week in South Korea, which included a special performance for the Embassy of Canada in Korea. The World Symposium on Choral Music, organized once every three years, brings together choirs, presenters and choral conductors from around the globe. The last symposium, held in Puerto Madryn, Argentina, hosted nearly 1,500 attendees from 51 countries. For the HCC's blog of their trip, visit hamiltonchildrenschoir.org.
Closer to home, the Ontario Youth Choir wraps up a three-concert Canadian tour on Sunday, August 24, with a program entitled "Roots and Wings." The choir of 40 singers aged 16-23 travels to Toronto after ten days of rehearsals, masterclasses and voice lessons at the University of Ottawa. The show is 3pm at Grace Church on-the-Hill; details are available in the LISTINGS section below, or at choirsontario.org/EventManager/detail?id=8a3620c2474d9b9501475fd0997a0344.
BACK IN TOWN: NEW MUSIC 101
The New Music 101 series has announced three new sessions for the coming fall. Presented by the Toronto New Music Alliance, the series presents monthly, one-hour-long crash-courses in exploring some of what the Toronto new music scene has to offer. The sessions are Monday nights (September 8, October 6, November 3) on the third floor of the Toronto Reference Library (with an extra Tuesday night session October 7 at Palmerston Library) and don't require any fee or registration.
This fall's sessions include a presentation on contemporary opera by Toy Piano Composers and the Bicycle Opera Project in September, demonstrations on parallels in musical and literary narratives in October, and a November exploration of the relationship between sound and visual imagery with New Adventures in Sound Art and pianist Christina Petrowska Quilico. If you're interested in attending, more details are available at musiccentre.ca/node/122448.
RESONATE
Resonate is a new, student-run benefit concert series in Toronto, that seeks to raise awareness and funds for lesser-known philanthropic causes through annual performances. Founded by Luke Chang and Jason Lee, two students at Harvard University, the organization's inaugural concert in 2013 raised over $2,000 to assist relief efforts for the earthquake that occurred that April in Sichuan, China.
Resonate's second annual concert is 7:30pm on Saturday, August 23, at U of T's Victoria College Chapel. Proceeds from the show will be donated to the new Canadian Museum for Human Rights, set to open its doors this September. The lineup includes young performers from conservatories and schools across North America, and promises an exciting program for a worthy cause. For more on Resonate, and for details and ticket info for the upcoming concert, see our LISTINGS section or visit resonatemusic.org.
TORONTO'S OPEN STREETS/BLOOR STREET CULTURAL CORRIDOR
On Sunday, August 17 and Sunday, August 31, the Royal Conservatory of Music and Royal Ontario Museum will present a cultural hub on Bloor Street as part of the Open Streets TO initiative. On these two days, passersby will have the opportunity to enjoy informal music performances from 9:30am until noon, a public piano, and an outdoor café presented by b espresso. The ROM also joins the festivities, with activities outside the museum inspired by its special Forbidden City exhibition of ancient China.
More info about Open Streets TO is available at www.openstreetsto.org. More on the Bloor Street Cultural Corridor is at bloorstculturecorridor.com.
CONTEST: JAMES EHNES STRING QUARTET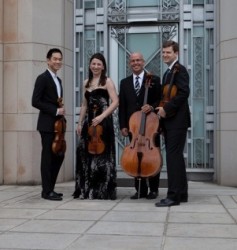 On September 5, Bravo Niagara! presents the Ontario premiere of superstar violinist James Ehnes with his string quartet, against the picturesque backdrop of Niagara's vineyards. The WholeNote has tickets to be won by lucky readers (1 pair of tickets = $127 value)! Just click here and answer the following question for your chance to win:
Name one other member of the Ehnes quartet.
(hint: check out the event's webpage at bravoniagaraimf.com/index.php/falling-for-music)
For details on Bravo Niagara! and the upcoming show, visit bravoniagaraimf.com.
JUST IN: LISTINGS
Tuesday August 12
6:30: Palais Royale. Waterfront Tuesdays at Palais Royale. Dinner and dancing with live music. Vivianna and her Jelly Bean Jazz Band; Glenn Chipkar, vocalist. 1601 Lake Shore Blvd. W. 416-533-3553 x22. Free with dinner; $10 cover without purchase of dinner. Also Aug 26. Doors open at 6pm.
8:30: Hugh's Room. Kruger Brothers. Jens Kruger, banjo, vocals; Uwe Kruger, guitar, lead vocals; Joel Landsberg, bass, vocals. 2261 Dundas St. W. 416-531-6604. $27.50(adv); $30(door).
Wednesday August 13
2:30: Barrie Concerts. Seniors Serenade. Bach; Beethoven; Ginastera; Brahms; Handel; Chopin; Liszt. Tabitha Johnson, piano. Grace United Church, 350 Grove St. E., Barrie. 705-726-1181. Free.
9:30: ANTE Up Productions/SummerWorks Festival. And Now, The End. A Sci-Fi Musical-Drama about a small Canadian town as it faces an imminent apocalypse. Tamara Bernier Evans; Troy Adams; Paulo Santalucia; Jeff Yung; Ruth Goodwin; and others. Book: Victoria Houser; Emily Nixon; Drew O'Hara; Zach Parkhurst; Jake Vanderham. Music and lyrics: Jake Vanderham. Theatre Passe Muraille, 16 Ryerson Ave. 416-907-0468. $15. Also Aug 15(7pm), Aug 16(10pm) and Aug 17(5pm).
Friday August 15
6:30: Istituto Italiano di Cultura/CHIN Radio. Italian Opera: Tribute to Franco Zeffirelli -- "La Boheme". Film screening of Puccini's "La Boheme" as directed by Italian director Franco Zeffirelli. Mirella Freni; Adriana Martino; Gianni Raimondi; Rolando Panerai; and others. Franco Zeffirelli, director; Herbert von Karajan, conductor. Alliance Française de Toronto, 24 Spadina Rd. 416-921-3802 x227. Free.
7:00: Toronto Tabla Ensemble. Indian Diaspora Festival. Performances in Indian music and dance forms, tabla and kathak. Razak Pirani, tabla; Rina Mehta, kathak dance. Palmerston Library Theatre, 560 Palmerston Ave. 1-888-958-2252. $20.
8:00: Paintbox Bistro. Branches. CD launch for Denis Schingh's new solo piano album. 555 Dundas St. E. 647-748-0555. $10.
Sunday August 17
2:30: Peterborough Symphony/Kawartha Land Trust. Fresh Airs on Stoney. An open-air concert on the shore of Stoney Lake. Peterborough Symphony. Viamede Resort, 595 Mount Julian Viamede Road, Woodview. 705-742-1992. By donation only. Suggested $20. Pre-concert chat by music director Michael Newnham begins the performance at 2:30pm.
Wednesday August 20
12:00 noon: Barrie Concerts. Music at St. Andrews. Bach; Hindemith; Bedard. Lenard Whiting, organ; Michael Gomiega, piano. St. Andrew's Presbyterian Church, 47 Owen St.,Barrie. 705-726-1181. $5; Students free.
Saturday August 23
7:30: Resonate. Fundraiser for Canadian Museum of Human Rights. Victoria College Chapel, 91 Charles St. W.647-926-1331. $20; $10(sr/st).
Sunday August 24
3:00: Choirs Ontario. Roots and Wings. Ontario Youth Choir. Grace Church on-the-Hill, 300 Lonsdale Rd. 416-923-1144. $25; $20(sr/st); free for children 12 and under. Tickets available through eventbrite.ca.
Wednesday August 27
8:30: Hugh's Room. Albert Lee @ Hugh's Room. Albert Lee, guitar; John "J.T" Thomas, keyboards; Will MacGregor, bass; Jason Smith, drums. 2261 Dundas St. W. 416-531-6604. $35(adv); $40(door).
Wednesday September 3
12:00 noon: Barrie Concerts. Midday Music with Shigeru. Dvorak: Slavonic Dances; Brahms: Hungarian Dances. Marketa Ornova and Jialiang Zhu, pianos. Hi-Way Pentecostal Church, 50 Anne St. N., Barrie. 705-726-1181. $5; Students free.
Friday September 5
8:00: Scott Thomson and Susanna Hood. The Muted Note. Premieres of new music, dance and poetry based on P.K. Page poems. Susanna Hood, choreography; Scott Thomson, composition; and others. The Citadel, 304 Parliament St. 416-364-8011. $20. Also Sept 6(8pm) and Sept 7(2pm).
DATES WITH HALFTONES
Volume No. 2 of HalfTones starts in the fall—first issue on September 16! Also, be sure to keep an eye out for the September issue of The WholeNote's 20th season—available in online flipthrough format on September 1 and on the stands September 4!
For all inquiries, including those members interested in submitting news items for HalfTones consideration, please contact halftones@thewholenote.com a minimum of one week prior to the appropriate publication date. Don't forget to 'Like' us on Facebook here or Follow us on Twitter here.
Finally, feel free to forward this email to anyone you think may be interested in The WholeNote HalfTones.