Welcome to issue #10 of HalfTones—The WholeNote magazine's e-newsletter that continues monthly through the summer! Here's where you can find the latest local music news, contests, extra concert listings and more. For additional updates on summer musical happenings throughout Toronto and beyond, be sure to also check out our summer issue of the magazine and our website at thewholenote.com.
- NOTEWORTHY -
TAFELMUSIK IN LEIPZIG
By William Littler
LEIPZIG--Leipzig likes to think of itself as the city of music and with Johann Sebastian Bach having been one of its citizens for the last decades of his life, the annual June Bach Festival (Bachfest) becomes a natural high point of celebration.
This year it also became a high point of celebration for Tafelmusik, when the Toronto period-instrument orchestra was honoured by an invitation to be ensemble-in-residence, performing in the June 13 opening concert in St. Thomas Church (Thomaskirche) as well as two more in the other principal church of Bach´s day, the St. Nicholas (Nikolaikirche).
Since 2014 marks the 300th anniversary of the birth of Bach´s second eldest son, Tafelmusik, like many other performers in the ten-day, 100-plus event program, has embraced music by Carl Phillip Emanuel, including, in the opening concert, a Magnificat new to the players and so full of harmonic variety and melodic invention that it easily stood comparison with his father´s great D Major Magnificat, daringly programmed in the same concert.
CANADIAN MUSIC FOR GAMELAN TURNS 30:
Evergreen Club Contemporary Gamelan Explores the Music of its First Decade
By Andrew Timar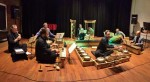 Where to start with Toronto's Evergreen Club Contemporary Gamelan? Perhaps it'd be best to mention that I was there at the group's genesis, invited by its composer/founder Jon Siddall. Over three decades later I'm
still a proud member of its roster of musicians, with 30 concert seasons, international tours, over 200 new works and 10 albums under its collective belt. While my bias here is clear, my tenure with ECCG as musician, composer, arranger and past artistic director also ought to qualify me to speak about its past and present projects with passion.
The ECCG has the distinction of being Canada's first group playing music on an Indonesian gamelan (orchestra). Recently it has been digging into its first decade of commissions of foundational Canadian and American music for gamelan, some not heard this century.
ECCG artistic director Blair Mackay makes a case for these early works. "There are a handful of works from the 1983-1993 era that formed the basis of the ECCG sound as well as our overall approach to playing the actual instruments." The eight-member group presents these foundational compositions in two intimate June concerts at the Arraymusic Studio, 155 Walnut Ave., Toronto. The first was staged on June 15 and the second will happen on June 22 at 8pm.
The 27th TD Toronto Jazz Festival is right around the corner—starting tomorrow, in fact—and promises a plethora of exciting shows across over 40 Toronto venues. With artists that continue to broaden the definition of "jazz programming" and are attracting international attention, this festival is something you won't want to miss. The WholeNote has CONCERT TICKETS to some of these genre-expanding shows—Hiromi, Buika and Measha Brueggergosman—available to LUCKY readers! Take a look at our "Special Offers" section below to find out more.
FOLLOW THE FROG!
For those of you on the hunt for summer music festivals in the coming weeks, all you have to do is pick up a copy (paper or "digital flipthrough") of The WholeNote and follow the green frog pin! The frog will lead you through the issue to listings and profiles of local music festivities. To get you started, here are a few festivals in the city that join the TD Jazz Fest in the listings during the coming weeks:
- The Artists' Garden Cooperative presents garden concerts Wednesday evenings in July and August, featuring everything from chamber music to blues to spoken word. To get a taste of what they offer, the AGC's annual launch party, with sample performances by this season's musicians, is this Tuesday June 24 at 4:30pm. The event is free but RSVPs are necessary—just visit artistsgardencoop.com or phone 416-487-0705 for details.
- The Harbourfront Centre hosts a "Canada Day Extravaganza" June 27 to July 1, with a lineup that features musicians of all sorts and kinds! Among the performers are selections from other Toronto summer series, including the Ashkenaz and Tirgan festivals, musicians from Lula Lounge and The WholeNote's own Jim Galloway and the Wee Big Band. Info on the weekend's events can be found at http://www.harbourfrontcentre.com/summer/festivals.cfm?festival_id=162.
- Finally, if you're willing to venture outside of Toronto, be sure to look into Owen Sound's Sweetwater Brass Festival (June 27 to June 29), Music and Beyond in Ottawa(July 5 to July 17) and the Montreal Jazz Festival (June 26 to July 6). There's lots of music this month all across Canada!
MICHAEL KOLK
In his guitar feature "Classical Comeback" in the summer issue of the magazine, Terry Robbins describes guitarist Michael Kolk's mid-February recital at Heliconian Hall as "as fine a display of classical guitar playing" as he has ever seen. Double good news: Kolk is back at Heliconian Hall this coming Monday June 23; and you can WIN TICKETS to the recital. See our "Special Offers" section below for details.
- SPECIAL OFFERS -
CONTEST: With the TD Toronto Jazz Fest right around the corner, the WholeNote has tickets to what are sure to be some of the most exciting concerts in the city next week: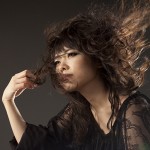 Tuesday June 24: HIROMI: THE TRIO PROJECT
Known for her high-energy playing and billed as "one of jazz piano's most brazenly virtuosic players," Japanese-born pianist Hiromi will play at this festival alongside trio members Anthony Jackson (bass) and Simon Phillips (drums). Hiromi takes the stage at Koerner Hall, Tuesday at 8pm.
Wednesday June 25: BUIKA
Afro-Spanish singer Buika has collaborated with the likes of Chucho Valdés and Pat Metheny, sung for filmmaker Pedro Almodovar and is the author of two books. Drawing inspiration from flamenco roots and jazz, Buika sings as part of the Jazz Fest at Koerner Hall, 8pm on Wednesday.
Thursday June 26: MEASHA BRUEGGERGOSMAN
Measha Brueggergosman, Canadian soprano extraordinaire, performs a selection of jazz standards for this year's festival. Described as a "force to be reckoned with, with an innate musicianship and voluptuous voice," Brueggergosman is sure to bring something special to the Koerner Hall stage. She performs with a group of Toronto's finest musicians in recital on Thursday at 8pm.
Want a shot at winning a pair of tickets? Just click here, select your date availability, and answer the following question:
In which year did Toronto Downtown Jazz program the very first Toronto Jazz Fest?
For more info on the TD Toronto Jazz Festival, check out torontojazz.com.
CONTEST: Featured in The WholeNote's summer issue, superstar guitarist Michael Kolk is back in Toronto on Monday June 23 at 8pm, with a sure-to-impress recital of Bach, Debussy, Barrios, Hétu and Gerhard at Heliconian Hall. The WholeNote has tickets to be won by lucky readers! Click here and answer this question for a chance to win:
Name one of the two other guitarists that Terry Robbins mentions alongside Michael Kolk in the summer WholeNote's "Classical Comeback" feature.
Updates on Kolk can be found at michaelkolkguitar.com.
- DISCOVERIES -
In preparation for Tony Malaby's upcoming performances at The Rex with Kayos Theory (June 27 and 28), reviewer Ken Waxman takes a look at a Malaby CD:
Somos Agua
Tony Malaby: Tamarindo
Clean Feed CF 304 CD (cleanfeed-records.com)
By Ken Waxman
An essay on the intricacies of saxophone improvisation, New York tenor man Tony Malaby explores every nuance of reed sounds on this matchless session, backed only by the four-square pacing of William Parker's double bass and the rhythmic flow of drummer Nasheet Waits. Reminiscent of similar trio tours-de-force by Sonny Rollins and Joe Henderson, the seven selections make up a suite whose parts flow logically and seamlessly into one another. At the same time, Malaby's solos confirm his experimental credo by exposing as many split tones and screeches as emotive flutters and gentling tones.
- LISTINGS UPDATE -
Please find below additions to our June and early July listings, plus corrections from our last print issue (marked *):
Friday June 20
8:00: Music Gallery/Shiraz Ensemble. Shiraz Ensemble in Concert. Classical Persian music, with a focus on the work of Ostad Faramarz Payvar. Pedram Khavarzamini, tonbak; Araz Salek, tar; Amin Reyhani, santour; Kousha Nakhaei, kamanche. Music Gallery, 197 John St. 416-204-1080. $25 ($20 member/st).
Monday June 23
5:00: Canadian Music Centre. Lazy Afternoon CD Launch with Byron Bellows. Performances of two of Bellows' works off of his CD "Lazy Afternoon." Cecilia Quartet. 20 St. Joseph St. 416-961-6601. An RSVP by email to aayotte@musiccentre.ca is required.
Thursday June 26
8:00: Ernest Balmer Studio. When the Sun Comes Out. Toronto premiere of a chamber opera by composer Leslie Uyeda and poet/librettist Rachel Rose. Teiya Kasahara as Solana; Stephanie Yelovich as Lilah; Keith Lam as Javan; Maika'i Nash, pianist. 55 Mill St. 416-537-6066. $15-$35. Also June 27.
8:30: Lee's Palace. Lemon Bucket Orkestra. 529 Bloor St. W. 416-532-1598. $20. Doors open at 8:30pm. 19-plus event.
Thursday July 3
8:00: Lula Music and Arts Centre. Yoser Rodriguez Trio & Cafe Con Pan. Jazz/Cuban/Mexican. Lula Lounge, 1585 Dundas St. W. 416-588-0307. $10.
Friday July 4
7:30: Lula Music and Arts Centre. Free Friday Summer Series: Laura Fernandez. Latin jazz. Lula Lounge, 1585 Dundas St. W. 416-588-0307. Free before 8pm.
10:30: Lula Music and Arts Centre. Cuba Libre Friday with Conjunto Chappotin. Salsa. Conjunto Chappotin. Lula Lounge, 1585 Dundas St. W. 416-588-0307. $15.
Saturday July 5
10:30: Lula Music and Arts Centre. El Gremio. Salsa. Lula Lounge, 1585 Dundas St. W. 416-588-0307. $15.
Tuesday July 8
10:30: Small World Music. Mokoomba - The New Sound of Zimbabwe. African. Mokoomba. Lula Lounge, 1585 Dundas St. W. 416-588-0307. $20(adv); $25(door).
Thursday July 24
*7:00: Summer Music in the Garden. Music from the Gardens of India. North Indian classical ragas. Bageshree Vaze, voice; Vineet Vyas, tabla. Toronto Music Garden, 475 Queens Quay W. 416-973-4000. Free.
- STRICTLY CLASSIFIED! (summer only) -
Pass the word! For only $12 (20-word max) you can have a classified ad on our website right now, without waiting for the September issue. Email classad@thewholenote.com
Here's a taste of the new ones. Click here to read the complete collection.
"FREE SINGING WORKSHOPS WITH VOCAL COACH & AUTHOR TAMMY FREDERICK, SUN July 20 & SUN Aug 17, 1 – 2 pm. www.simplysing.ca. RSVP: 416-850-0972"
"MUSIC DIRECTOR POSITION: St. John's United Church located in the heart of downtown Oakville, Ontario, is searching for a new Director of Music. We are a vibrant congregation with music being integral to weekly worship where we explore and enjoy a wide range of musical genres and expressions. We are looking for an experienced and enthusiastic music director who is skilled as both an organist and choir director. In worship we enjoy a 3-manual Casavant organ, Kawai Baby Grand and a digital keyboard. The music director's responsibilities include a well-established senior choir, growing junior choir and bell choir. Compensation for this 20 hour/week position is commensurate with credentials and experience and will follow the RCCO guidelines. We welcome applications from accompanist and conducting teams. Please forward your resume including references to stjohnsmusicsearch@hotmail.com."
And on the subject of classifieds, apologies to Patty Kelly whose ad as it appeared in the June/July/Aug omitted the last two lines. Ouch! Here it is in full:
"SENSIBLE VOCAL TRAINING: DO YOU LOVE TO SING? NEVER TOOK THAT LEAP INTO FORMAL TRAINING? Now's the time for a summer of adventure and fun. Come to Pattie's Vocal Gym for "SummerSing": a sensible and sensationally fun intensive program aimed at the newcomer . Discover and build your voice, learn how to use it, and get your adrenaline moving. Experienced singers are also welcome: take this opportunity to tone and tune up your instrument for the coming season. For sessions through July and August at special rates call Pattie now! 905-271-6896 vocalsense.ca"
- DATES WITH HALFTONES -
You can count on HalfTones right through the summer and into the fall! Upcoming HalfTones publication dates include:
Vol. 1 #11: Monday July 7 2014
Vol. 1 #12: Tuesday August 12 2014
For all inquiries, including those members interested in submitting news items for HalfTones consideration, please contact halftones@thewholenote.com a minimum of one week prior to the appropriate publication date. Don't forget to 'Like' us on Facebook here or Follow us on Twitter here.
Finally, feel free to forward this email to anyone you think may be interested in The WholeNote HalfTones.
HalfTones is compiled and edited by Sara Constant, Social Media Editor