"A self-defining happiness"
Xin Wang's TO.U Collective – and its resonances with her personal practice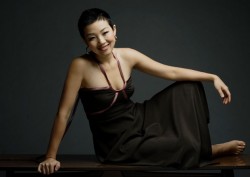 For soprano Xin Wang, singing contemporary music has always been about personal growth. But for many performers, making a career out of music can mean playing what they are told to play, rather than directing that personal growth themselves. So when Wang decided to start a contemporary music series in Toronto this year, she knew it had to be something different.
TO.U Collective is Wang's "something different" project – a seven-concert season of solo recitals at St. Andrew's Church, featuring professionals from the local music community. The focus of TO.U – its name both a Chinese character meaning "through" and a play on "Toronto/You" – is on highlighting contemporary music's personal relevance, both for audiences and for the artists who perform it.
"I wasn't actively seeking to create a series," Wang says. "I've been singing at St. Andrew's for years, and I was looking for a space to hold a local dress rehearsal for a concert I was performing in Montreal. My church naturally came up. So I asked, we did it there, and it was a great turnout – and the church was overjoyed to see people coming in. They said, 'Hey, it seems like there is an audience for contemporary music, and we would like to expand our musical language to the contemporary, to draw in more people.' So I said ok – I'll come back with a proposal."
The premise is simple: seven professional musicians, each with a personal connection to new music, will perform seven recitals of contemporary repertoire that matters personally to them. The recitalists curate their own concert programs, and are asked to emphasize music that has shaped their own lives and work.
"I want to switch things a bit," Wang explains. "I don't want musicians to wait by the phone anymore. I'm so tired of that. I think that the reason why the musicians agreed to this, and why they said yes to a fee that perhaps is humble, is because they seek to evolve themselves, and they don't have a stage to present and articulate this evolving process. But they should."
Wang's attempt to provide the stage for that evolving process is something that resonates with her own practice. "I'm very weary of this idea that my value needs to be decided by the gigs that I'm asked to do. And of course those gigs died away when I had children. But I firmly believe that my value as a musician did not diminish just because I stayed home," she says. "So for me, it was my own searching: how do I find the peace to stay home, completely surrounded by kids, without feeling that this doom has landed on me and that the world has disconnected? And I think it took panic times, and then finally it set in that self-perpetuated, self-motivated process is what centres art. And if I am centred, I'm then happy and fulfilled – and then as an artist I have something to say."
Wang opens the TO.U season next Wednesday, October 19, with a free noon-hour recital of works by Schubert, Webern, Berio, Aperghis and Gubaidulina. Before her performance, she intends to speak briefly about how this music has impacted her life, not only as a recitalist but also as an artist and a mother – presenting her work as the evidence of her own, complete personhood. And she hopes that the other recitalists – clarinetist Max Christie, cellist David Hetherington, pianists Stephanie Chua and Stephen Clarke, and guitarists Graham Banfield and Rob Macdonald – will do the same.
"Let's support a self-defining happiness," says Wang. "I want to create a space where I can call a person up and say, 'I know you've been working for a long time. Do you have something you want to say? Here's a fee. Say it.'"
Xin Wang opens her TO.U Collective series with a free noon-hour concert on Wednesday, October 19 at St. Andrew's Church, followed by a ticketed, full-length evening recital by clarinetist Max Christie on Saturday, October 22 at 8pm. For details on the series and a full lineup, visit www.toucollective.com.
The WholeNote is now on Patreon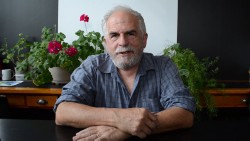 "Over the last 21 years, we've published over 50,000 free listings. We've printed half a million copies of our magazine. In that time, we've always said that you don't have to support us, that you should just support the presenters who make the music – and that they'll support us. But times have changed..."
Learn how you can help support The WholeNote – publisher David Perlman explains.
Opera, offstage:
Against the Grain's operatic pub nights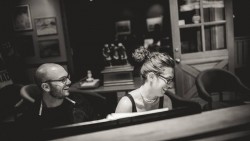 It's already been a big year for Against the Grain Theatre. Now in its seventh season, the indie opera company has announced two big productions this year, plus a residency at the Canadian Opera Company as part of the COC's pilot company-in-residence program. And tomorrow, they launch Opera Pub – a monthly music night that brings opera into an alternative space.
Starting Thursday, October 13 at the Amsterdam Bicycle Club and continuing the first Thursday of every month, Opera Pub presents live performances of operatic repertoire by established and emerging singers, in an atmosphere less formal and more personal than the concert hall. The concept isn't new – the series follows in the footsteps of companies like the Bicycle Opera Project, Tafelmusik's BAROQUE + BEER initiative, and beer specialist Mirella Amato's "Hopera" series – but it does point to an encouraging trend of embracing the versatility of live classical music, and the value it can have when it's up-close, scaled-down, and out of the opera house.
"It is a fact that there is less of a cultural awareness of what opera and classical music in general is," said AtG music director Christopher Mokrzewski in a conversation with Schmopera last month. "When we 'take it to the streets,' as it were, people are able to have a no-bullshit, no-boundaries encounter with the art form in a manner which is straightforward and visceral."
It's a format that seems to work, and that is worth exploring. The AtG pub night series will have no cover, $3.50 bottles of beer, and an 'open house' policy – allowing opera audiences and walk-ins to treat the performance as a no-strings-attached portion of a Thursday night out.
Tomorrow's Opera Pub set starts at 9pm, and runs until around 11pm -- for details, visit https://www.facebook.com/events/627490814075092/. For more info on the rest of Against the Grain's 2016/17 season, head to www.againstthegraintheatre.com.
Just In: Listings
New listings for the rest of October, added online since the publication of the October issue:
Thursday October 13
9:00: Against the Grain Theatre. Opera Pub: October Edition. Solo and small-ensemble opera performances in an informal pub atmosphere. The Amsterdam Bicycle Club, 54 The Esplanade. Free.
Friday October 14
7:00: Feldsperling Duo. Toward the Heart of Sound. Lemay; Scelsi; Yun; Clarke; Mendez. Liesel Deppe, flutes; Nicole Strum, saxophones. Array Space, 155 Walnut Ave. 519-272-9633. $15.
9:00: BAL(folk). BAL(folk)Masqué with La Forcelle. Polish Combatants' Hall, 206 Beverly St. 416-937-6198. $15; 2 for $25. Doors/dance lesson at 8pm.
Saturday October 15
2:30: Beach United Church. Music for the Soul. Lora Bidner, vocalist/songwriter/instrumentalist; The Visit: Heather Sita Black, vocals; Raphael Weinroth-Browne, cello. 140 Wineva Ave. Freewill offering.
7:00: Canadian Bandurist Capella. Bandura in Waterloo! Ukrainian folk and contemporary music. Canadian Bandurist Capella; Dibrova Women's Choir; Levada Women's Choir; and others. Maureen Forrester Recital Hall, 75 University Ave., Waterloo. 416-845-2691. $25(adv)/$30(door).
What We're Listening To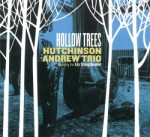 Hollow Trees
Hutchinson Andrew Trio; Lily String Quartet
"Most compelling of all is the interplay between the trio and the string quartet, a magical encounter that treats the listener to the luminosity, spaciousness and enthusiasm of a striking chamber performance. It's a lovely release that makes one eager for more."
-Raul da Gama, The WholeNote
THANKS FOR SUBSCRIBING
The next issue of HalfTones will be out on Wednesday, November 16. The next print issue of our 2016/17 season, covering November 1-December 7, will be on the stands at the end of October.
Please contact halftones@thewholenote.com with any HalfTones inquiries.
Sara Constant is a Toronto-based flutist and musicologist, and is digital media editor at The WholeNote. She can be contacted at editorial@thewholenote.com.