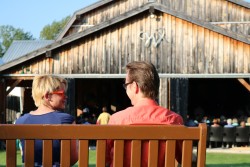 Classical music aficionados, rejoice! Westben Theatre is gearing up for their annual summer festival, which runs from July 2 to August 6 this year. The lineup is nearly entirely Canadian, making it a fitting celebration for the country's 150th birthday. All the more reason to get out of the city and celebrate classical music as Mother Nature intended: in the great Canadian backyard. All you need is a curiosity to hear classical music packaged differently – have you ever heard a professional piano concert in a barn? How about a birdwatching walk with piano music serenading participants on the trail? Or a late night jazz pub crawl around the Trent Hills region?
Based out of a barn-style theatre in Campbellford, Ontario, Westben has 25 events slated for its music series this summer – most of which can be sorted into six categories:
International – a homecoming for Canadian artists who perform on world stages
Canadian Acts – eminent homegrown acts
Novel Experiences – sound explorations presented in non-conventional formats
Technical – technical demonstrations or presentations
Jazz – casual presentations around town
Miscellaneous – performances falling outside classical and jazz genres
Here are some of The WholeNote's picks from each category:
INTERNATIONAL
Rolston String Quartet
Sunday, July 9, 2pm
The winners of the 2016 Banff international String Quartet Competition are on a busy touring schedule, playing at various festivals across the country. It will be interesting to hear how the acoustics of a string quartet resonate in a barn…
Great Pianists: Jan Lisiecki
Saturday, July 22, 2pm
Gramophone Magazine 2016 Young Artist of the Year, the 21-year-old Calgarian first came into the international spotlight in 2010. He will perform works by Bach, Schumann, Chopin and Schubert.
CANADIAN ACTS
Fiddle! Everything Fitz
Sunday, July 16, 2pm
Old-time fiddling and Ottawa-Valley step dancing. This promises to be an engaging and patriotic concert!
NOVEL EXPERIENCES
Song Birds: Find the birds, find the pianist!
Saturday, July 22, 7am
An out-of-city experience: a hunt for music and birds in Ferris Provincial Park, as pianist Rashaan Allwood interprets birdcalls in the park. Allwood will have performed the evening prior in the Barn, in another bird-themed program of piano works by Olivier Messiaen. The composer's fascination with birds is well-documented: he would attempt to imitate their chirps and warbles in his music. As Allwood wrote to The WholeNote, "[the space] is a great venue because it's isolated, and quasi-outside in a barn that was turned into a concert hall. Really cool stuff." He also has plans to bring the performance to Toronto audiences: "I'm planning to do the same program with images in Montreal, Scarborough and Toronto, sometime between September and November this year."
TECHNICAL
On the Record
Saturday, July 22, 7pm and Sunday July 23, 10am
This is your chance to learn about the recording studio from sound engineer Andy Thompson. How does that life-changing performance get transcribed onto CD, for repeat enjoyment? After the workshop, participants will take away a recording of their own performances.
JAZZ
Emilie-Claire Barlow
Saturday, August 5, 2pm
Trent Hills will be alive with the sound of this two-time JUNO Award winner. Barlow is a Canadian jazz singer, arranger, record producer and voice actress. She will appear with Amanda Tosoff (piano) and Jon Maharaj (bass).
Jazz Jam
Saturday, August 5, 9pm
Bring your own instrument and jam with the Band! Featuring vocalist/pianist Rob Phillips, bassist Howard Baer, and drummer Harry Ellis.
Jazz Brunch
Sunday, August 6, 11am
An easygoing way to spend a Sunday. Breakout performances at various locations. See website for details.
MISCELLANEOUS
TGIFun! Arrogant Worms
Friday, July 7, 7pm
Those who are averse to fun should stay away from this performance! The Arrogant Worms will perform selections from their latest album, on Canadian themes. Billed as "tuneful and silly escapism for everyone who needs it!"
Waves of Broadway
Wednesday, July 26 to Saturday, July 29, 2pm
Performances of water-themed Broadway hits.
Montreal Guitar Trio & California Guitar Trio
Friday, August 4, 7pm
These two trios have been giving joint performances for the past seven years. On the bill: jazz, world music, classical, rock, blues, progressive, and quintessentially Californian surf music. With six guitarists on stage, this promises to be a fun event!
Westben's summer festival series runs from July 2 to August 6 in Campbellford. For more information, visit www.westben.ca. Stay posted at www.thewholenote.com for more updates from this year's Westben festival.
Jennifer Liu is a recent graduate in piano performance, and has written on classical music for La Scena Musicale, The WholeNote Magazine, and Musical Toronto.