He's been called "probably the most uncompromising musician in Canadian musical history" by Robert Aitken, director of New Music Concerts. Udo Kasemets' compositions have made an indelible and enduring contribution to the Canadian modernist and postmodernist music landscape. Through his concert activism he also introduced the music of the American and European avant garde to the Toronto public.
In fact, Kasemets' career encompasses the story of the avant garde of the second half of the 20th century in our town. It is fitting that now in his 90th year, New Music Concerts is celebrating that contribution.
We've had a crash course, this week, in the political power of youth and music.
With José Antonio Abreu here to receive the Glenn Gould Prize, and bringing with him Gustavo Dudamel and the Simon Bolivar Youth Symphony Orchestra of Venezuela, people who don't care about youth and music – even people who, except for when handing out campaign promises, would rather forget about youth and music – have taken notice.
It's been very good to see the political stock of an education in music getting a small amount of the credit it deserves.
I'm here today to give credit to another organization which has been doing similar work almost completely without fanfare, across an ever-expanding territory throughout the world, for 64 years.
Perhaps the most common epithet applied in print to sitar virtuoso, composer and musical dynasty head Ravi Shankar (b. 1920) is "legendary." Glancing at the outline of his extraordinary 70-plus-year career, it would be hard to quibble with that summing up.
I admit that I've been among those who have occasionally followed the latter part of Ravi Shankar's pioneering work reaching out to Western audiences. His legacy could be observed two ways in the Oct. 18 concert given by Ravi Shankar and his younger daughter Anoushka at the spanking new and welcoming-sounding Koerner Hall, Royal Conservatory of Music. The first was in the make-up of the audience. It appeared overwhelmingly non-South Asian. Perhaps most significantly that indicates the overall success in Toronto of Ravi Shankar's half-century of outreach. It has ultimately paid off in creating a broadly based audience for his and Anoushka Shankar's music projects – certainly a much larger following than the core audience for orthodox "classical" Hindustani music.
There's much more to new music in November than just the St. Lawrence String Quartet concert on November 16. (See my latest In with the New column for details.)
Here are a couple of other picks to fill your calendar:
The Gryphon Trio continues to champion Canadian composers and their works in two world premieres this month: Wave by Gary Kulesha, and Paul Frehner's Berliner Konzert.
I had my first taste of the gorgeous new Koerner Hall in the revamped Royal Conservatory of Music building on Bloor Street last night (October 21). And it was an amazing introduction to the place, as New York-based a-cappella group Naturally 7 put on an electrifying show.
The WholeNote Podcasts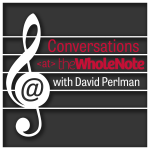 Welcome to the Conversations <at> The WholeNote podcast page. Below you will find our podcast episodes for your listening pleasure.
To listen, you have a few options:
You can listen via this website you can scroll down and find the episode you'd like and click play there.
Or you can download and save the podcasts on your phone, tablet or computer - and then you can listen to it anytime (even without an internet connection) by downloading from the episode articles below.
Or you can subscribe to this podcast on your favourite podcast service including iTunes, Google Play, Stitcher, BluBrry, PocketCasts and more. Just open your podcast app and search for Conversations at The WholeNote and hit 'subscribe'.
If you are unable to find us on the podcast app that you use, please let us know and we'll do our best to try and make it available to you.
Scroll down to select individual episodes to enjoy.