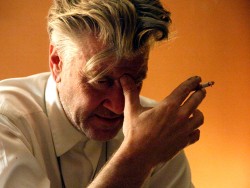 Filmmaker Jon Nguyen spent 25 weekends over almost three years interviewing David Lynch in his studio – painting, sculpting, smoking, drinking coffee and talking – to produce the new documentary David Lynch: The Art Life. The result is a compelling autobiography from a working artist who literally makes art every day, when he's not occupied with filmmaking or writing his new Twin Peaks TV series. Lynch leads us on his life's journey as an artist, from childhood to the AFI grant that enabled him to produce his fabled first feature Eraserhead.
This "private memoir" is dedicated to Lynch's young daughter Lula, who was about three and a half when seen with her father in his workshop. (His daughter Jennifer, the offspring of an early relationship, is seen in a home movie from the late 1960s.) Lynch's unforced lilt as he narrates his life reminded me of John Cage's one-minute storytelling cadences in Indeterminacy. Danish composer Jonatan Bengta's electronically-based soundtrack over a hypnotic percussion beat etches a deep groove that moves symbiotically with the film's natural rhythms. Bengta wrote on his Facebook page just before The Art Life premiered at the Venice Film Festival last September: "As a teen I tried to copy his hairstyle and twang my voice similarly. I then learnt how to talk like the elephant man and finally started to drink black coffee like Agent Cooper." Lynch's own blues-based music – I Have a Radio, The Night Bell with Lightning and Sparkle Lounge Blues, all with collaborator Dean Hurley – makes a few pointed appearances as well.
Filled with family anecdotes illustrated by old photographs, Lynch takes us through a happy childhood in the American Northwest and an unhappy adolescence triggered by a move to Virginia, all of it seemingly focused on his past, present and (implicitly) future life as a hardcore artist. An early key was his prescient mother who recognized something in her son that led her to forbid his use of colouring books because their rigidity would restrict his creativity. In high school it was the painter Bushnell Keeler, the stepfather of a friend, who became a mentor and later rented Lynch space in his studio. Keeler was the embodiment of "the art life," which for the teenaged Lynch meant "smoking, coffee and painting." Now at 71, he's still blowing smoke into the haze of memory, stoking the creative process.
Among the priceless stories the film relates: Lynch inviting his father down to the basement of their house to show him his prized collection of rotting fruit and decaying insects and animals which prompted his horrified father to advise him never to have children; and then there's the time when he was a boy at play in the street and suddenly saw a naked woman walking towards him – a striking correlation to the memorable scene from Blue Velvet. Tellingly, he always kept his friends separate from his family and his friends separate from his art friends, a compartmentalization that resonates in such films as Lost Highway and Mulholland Drive.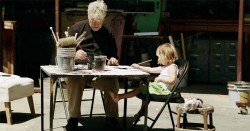 This is must-see stuff not only for Lynchian aficionados but also for anyone interested in the creative process.
David Lynch: The Art Life is currently playing at TIFF Bell Lightbox.
Paul Ennis is the managing editor of The WholeNote.