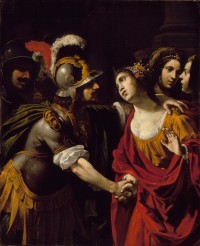 It is rarely surprising when the works of different composers who lived in the same time period share social and political themes. Although the individual notes might sound significantly different, events such as the two World Wars or the Soviet regime affected composers across the globe and, whether Britten or Bax, Schnittke or Shostakovich, the similarities between their experiences in the world are contained in their works. It is, however, a much more surprising and unexpected experience when two unrelated organizations present two separate events that, although created centuries apart, complement one another in their relevance. Such was the case this week, as the release of a film by the incredible Chinese artist Ai Weiwei and the Toronto Masque Theatre's double-bill performance of Dido and Aeneas thematically converged in an unexpected way.
Earlier this week the Toronto International Film Festival released renowned artist Ai Weiwei's Human Flow at the TIFF Bell Lightbox, a film that addresses the issue of human displacement, currently at its highest level since World War II. With 65 million people forced from their homes to escape famine, climate change and war – many of them in the world's poorest regions – Ai explores the courage, fortitude and insurmountable hardships of the displaced. A powerful and heartrending exploration of the modern refugee and our political attitudes towards them, Ai's film is as much a product of the 21st century as the people it documents.
Further north, at Jeanne Lamon Hall on Bloor St. W., a large and enthusiastic audience packed the house to watch the Toronto Masque Theatre tackle two independent yet interwoven works, as Henry Purcell and Nahum Tate's Dido and Aeneas was paired with James Rolfe and André Alexis' Aeneas and Dido. About 335 years before Ai picked up a camera to film Human Flow, the ink was drying on Purcell's Dido and Aeneas, a work which, in that strange way that old things can become suddenly relevant once again, focuses on the role of the refugee. For what is Aeneas other than a vengeful asylum seeker? His beloved Troy has been destroyed, burned to the ground, its people slaughtered, and it is from this extreme dual-edged desire to restore his nation and exact revenge (egged on by a persuasive visit from a sinister spirit or two) that Aeneas flees Carthage and his beloved queen Dido, ultimately leading to her dramatically tuneful demise.
In 2006 the Toronto Masque Theatre, in its quest for the perfect complement to Purcell's masterpiece, commissioned two Canadians, librettist André Alexis and composer James Rolfe, to write Aeneas and Dido. Aeneas is largely parenthetical, taking place in those gaps in Tate's libretto where the audience typically must assume what happens between scenes. According to Alexis, more than hanky-panky takes place in the grotto during the rainstorm (Aeneas receives his calling and mission, biblical in its prophetic nature) and we witness a more thorough, comprehensible and private argument between Aeneas and Dido, rather than their brief public 'Away, away!' row in Purcell's original work.
Where Nahum Tate's libretto focuses primarily on Dido and her entourage (we don't actually see Aeneas until midway through Purcell's opera), Alexis's libretto attempts to explore Aeneas's actions and their underlying psychology, determining what it is that makes him leave Dido in favour of a monumental and seemingly hopeless task, that of single-handedly restoring his fallen nation. The text is explicit in its portrayal of Aeneas as a war refugee, the main character lamenting the destruction of his motherland:
"I am a man with no home…My city is a dark memory." (Scene Two)
"I must go, for the sake of my people…We have suffered a holocaust. Our parents, children, grandchildren have been slaughtered and left to rot." (Scene Five)
It is in these passages that we see Aeneas as a dual figure, part alien and part messianic prophet, called by the gods to strike out into the wilderness and begin a new nation – a Greco John the Baptist. Aeneas' impassioned longing for his homeland serves as his motivation for departing Dido, providing a suitably modern and convincingly severe rationale for an act that can seem sudden and rash in Tate's libretto.
From a musical perspective, both works were exceedingly well done on Friday night: a beautiful blend of music and drama. Purcell's score is continuo-based, a band led by a team of cello, harpsichord/organ and theorbo, with a small group of treble parts (violins, flute, oboe and viola) rounding out the ensemble. If a performance of Dido is too musical with not enough action, it can seem dull; if a performance is extremely dramatic but not musical enough, the singing can border on sprechstimme, speech-singing, something we associate with the folk tunes in John Blow's Beggar's Opera or Schönberg's Pierrot Lunaire more than Purcell's Dido. This interpretation was a marvelous mix, with incredible singing throughout and enough visual dramatic action to engage the spectator.
Rolfe's score, rather than maintaining the Baroque convention of the bass-upwards continuo group, writes for his instruments as a chamber ensemble. Using contrasting styles that range from expansive, sustained accompaniments (mainly in conjunction with choral passages) to sparse, almost pointillistic moments that are rhythmically ambiguous and used to great effect, each instrument provides bursts of colour throughout the opera and creates a diverse sonic palette for the listener. There were many moments in the score which sounded 'Baroque-ish': Baroque-style structures and forms shrouded in modern harmonies, chordal extensions, and even the occasional quoting of Dido's famous 'Lament', which helped Rolfe's Aeneas tie into the original Purcell score like a distant cousin following the labyrinthine connections of a family tree.
Now in their last season, the Toronto Masque Theatre will be greatly missed when they disband at the end of the year. Their musical interpretations and performers are well-informed, their stagings well-executed and, whether they intend this or not, immediately poignant and relevant to contemporary global issues. By pairing the Tate/Purcell Dido with the Alexis/Rolfe Aeneas, Virgil's story of the political alien-cum-prophet Aeneas and doomed, lovelorn Dido is brought squarely into the 21st century – a profound and thought-provoking tale of love for queen and country in a world decimated by conflict.
The Toronto Masque Theatre presented the double-bill 'Dido and Aeneas/Aeneas and Dido' on October 20 and 21, at Trinity-St. Paul's Centre in Toronto.
Ai Weiwei's film Human Flow opened at Toronto's TIFF Bell Lightbox on October 20, and plays until October 26.
Matthew Whitfield is a Toronto-based harpsichordist and organist.