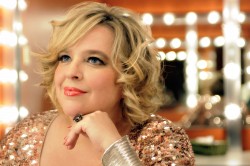 Karina Gauvin and Tafelmusik are old friends and this shared history comes across in the ease of concertando whenever the two get together. A lot has happened since the rising light baroque coloratura Gauvin recorded Morgana's "Torna mi a vagheggiar" with Tafelmusik for their 1999 Handel CD—she now sings Mozart's Vitellia in European opera houses and Tafelmusik now claims the early Romantics as part of their repertoire—but this mutual understanding and ease of playing remains. Tafelmusik and Karina Gauvin will never not sound good together.
The two convened again March 23-26 at Koerner Hall in a program titled "Baroque Diva." Gauvin sang four programmed pieces and two encores which demonstrated again how remarkable her range is. The aria "La mia costanza" from Handel's opera Ezio is a serene, moderate number with a good amount of coloratura. "Mio caro bene," from Rodelinda, which she introduced for the first encore as the "all is well with the world" aria, is in a similar tone. Alcina's aria "Ah, mio cor," on the other hand, is one of those agonizingly sad and long (it's the most glorious kind of wallowing) Handel arias that shows how polished the soprano's high sustained piani are. Beauty and purity of tone are a must. Together with "Verdi prati" in Alcina, "Ah, cor mio" is the saddest point of this magic opera, illustrating what happens when the spell of love wears off or is suddenly taken away. A dramatic commitment is required in equal measure. Gauvin of course got both sides down to a T. Her voice is more substantial now, there's a well controlled vibrato, there are gradations in shading: not all light and bright, the voice is more womanly than girly. Gauvin acted the aria as a scene, and while she was as dramatic as she would be in a staged opera, nothing went overboard. There was no hamming, because she withheld nothing.
Moving on across the Gauvin range, the Vivaldi's religious motet "O qui coeli" on first online listening in preparation for the concert may sound a little boring, but Gauvin rendered it as an aria and it was anything but. It sounded like the motet was written exactly for Gauvin's tessitura and timbre; she made the absolute most of it at every turn, including the virtuoso "Alleluia" coda. Her final aria on the program was of the baroque soprano rage type: "Furie terribili" from Rinaldo showcased this side of the consummate baroqueuse. There are speedy high coloraturas, some stylish screams and extravagant ornamenting packed into this two-minute aria.
The concert finished with a second encore, the classic Handel weepie "Lascia ch'io pianga" that he used in more than one opera. We were back in the slow, intimate, melancholy range after a whole lot of different soprano territory was criss-crossed in the preceding two hours.
In the last several years, we have been lucky to hear a wide array of new guest musicians with Tafelmusik, which has brought in some new rep and new visions of the rep. One of those new interpreters—now fortunately a regular—is British/Brazilian violinist Rodolfo Richter. Deciding to open the concert with Telemann's "The Frog" Concerto in A Major was unexpected and bracing: the solo violin is meant to echo frog sounds, and it starts the bariolage on its own, the production of the fairly unlovely sounds made by moving between stopped and open strings on (roughly) the same note. The other instruments join in, and the music continues as it keeps moving between the discordant frog chorus and beautiful passages of the familiar kind. It's a funny and fun piece.
With Telemann's Concerto in D minor, as with the sonata and concerto by J.G. Pisendel in second half of the concert, the extremely polished sound of the Tafelmusik ensemble is back on. Telemann's D minor concerto in particular showed just how consistent and melded the sound of both the strings and the woodwinds are, and how they merge seamlessly in the tutti passages. It's a fresco always worth coming back to.
Lydia Perović is an arts journalist in Toronto. Send her your art-of-song news to artofsong@thewholenote.com.