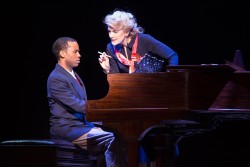 There is nothing quite like the opening of a Broadway musical – or of a large scale musical on its pre-Broadway out-of-town opening night – and the air was crackling with energy at the Elgin Theatre on March 23, from the sidewalk through to the orchestra, as we waited for the curtain to rise on the official opening performance of Sousatzka.
The brainchild of Garth Drabinsky (somehow back in the saddle after having spent 17 months in jail following his conviction for fraud and forgery while with Livent), the new musical is based on the 1962 novel by Bernice Rubens (which also inspired the 1988 film Madame Sousatzka starring Shirley MacLaine) and boasts a multi-Tony Award winning and nominated creative team and cast to tell the story of a young piano prodigy torn between his mother and his brilliant but eccentric piano teacher. Or is that the story? This musical version of Sousatzka has changes and additions to the original novel. They make the production more ambitious but ultimately make it unwieldy and muddied, trying to tell too many stories and to be too significant in too many ways at the same time.
The piano student is now a young South African, Themba Khenketha (newcomer Jordan Barrow) who has escaped from the uprisings and dangers of imprisonment in Soweto with his activist mother, Xholiswa (the amazing Montego Glover). The title character, Madame Sousatzka (Tony winner Victoria Clark), for her part, has been given an equally dark past in World War II Poland, though, in her case, one she is trying, impossibly, to forget. As these three characters meet there are conflicts and tensions but eventually (spoiler alert) they break through the barriers between them and rejoice in Themba's success.
Onto this personal story of three people, the production attempts to graft the weight of a moral fable about refugees, crossing racial boundaries, and in the words of the press release, of "genius, sacrifice and the redemption of the human spirit"; it is too much, at the moment, for the framework of the show to bear, although we do eventually come to see the parallels between the two backstories of the main characters, and to be moved by their personal journeys.
All seems to start well with a wonderfully powerful opening number (the prologue) depicting the education riots of 1976 Soweto where we meet a younger Themba, his mother and father, and are pulled forcefully into a brilliantly choreographed and lit world full of passion, violence and emotion. The contrast to the world of the next scene at Sousatzka's home in a rather dilapidated London house is – at least partly intentionally, I'm sure – a bit of a shock. The characters all seem slighter and less convincing, and unfortunately so, too, does the music. The longtime composer-and-lyricist team of Richard Maltby Jr. and and David Shire seem to fall down here, lapsing into rather mediocre tunes and banal lyrics that are only uplifted by the passionate performances of the actors. A sympathetic audience, while disconcerted by this, still wants to give them a chance to get better but, again, unfortunately, they don't and it is a pity. The excellent powerhouse cast pulled out all the stops last night, putting heart and soul into every scene and every song, but the show is too divided and too uneven to get our wholehearted approval. The London-based (as opposed to South African-based) numbers, even ballads such as "This Boy" or "Gifted," were frustrating in the simplicity and repetitiveness of their lyrics, and two of the big London-based production numbers, I felt, were clichéd to the point of being almost self parodies, and could easily be cut or edited down. "All I Wanna Do (Is Go Dancin')," where Sousatzka's housemate Jenny (Sara Jean Ford) takes Themba out to a punk dance club, could be cut without losing anything important to the story (other than cutting Jenny's one solo), and the odd My Fair Lady-ish "Maunders' Salon," while necessary to show the audience Themba losing his nerve at a first public performance, could be turned into a much shorter straight scene and be more effective.
Having said that, there were some powerful moments: Xholiswa's ballad of a mother's love for her son "Song of the Child," sung with heart-stopping emotion by Montego Glover; Victoria Clark's heartfelt embodiment of the eccentric piano teacher coming to love Themba as a son she does not want to lose and yet learning to let him go; the spirited full-cast singing (led by Ryan Allen as Themba's father) of the Desmond Tutu inspired "Rainbow Nation"; and one of my favourite scenes – the escape sequence from Soweto to London, "Themba's Dream," cleverly directed and choreographed by Adrian Noble and Graciella Danielle, with effective projections by Jon Driscoll.
As a director curious to see new work and as a musical theatre fan, not realizing at the time that I would be reporting on this for The WholeNote, I had actually seen the very first preview, and then another a week later. So I was particularly excited, opening night, to see what had been accomplished since I had last seen it. I'm happy to say that an enormous amount of work has already been done. The structure is much tighter and the themes and parallels are clearer. But it is still not fully clear exactly whose story it is and what we, the audience, are supposed to feel is the heart of the show. As the show stands now, it feels more Themba's story than his teacher's because of the primacy of the South African-based songs and production numbers. If it is supposed to be Madame Sousatzka's it would help, perhaps, to see her at the beginning before we meet Themba and his family; then the impact of their experiences could be seen as a new influence on Sousatzka's life and work, and we would know that this is the journey we are being taken on.
The audience at the end of last night's performance gave the show a standing ovation, every bit of which was deserved by the 47-member-strong ensemble cast, for their talent, passion and commitment. But I believe the production itself needs some more serious workshopping before it will be ready for Broadway.
Toronto-based "lifelong theatre person" Jennifer (Jenny) Parr works as a director, fight director, stage manager and coach, and is equally crazy about movies and musicals.