In a refreshing concert last Tuesday, July 19, Toronto Summer Music presented pianist Pedja Muzijevic's "Haydn Dialogues," a 75-minute performance of four Haydn sonatas separated by pieces by Oliver Knussen, John Cage and Jonathan Berger. Passionate about mixing old and new music, Muzijevic is also a genial talker, combining a delicious wit and the occasional catty comment with a streamlined historical sensibility that made it easy to relate to Haydn and his relationship to his patrons, the Esterházy family, and to the timely invitation by the British impresario, Salomon, to live and work in London. ("Talk about London Calling," Muzijevic added in a clever aside.")
Muzijevic also likes short concerts. "Don't you just love an eight-minute sonata," he said after playing the final London sonata, the two-movement Sonata in D Major, Hob.XVI:51 (1794), redolent with classical architecture.
Continuing TSM's London Calling theme, Muzijevic chose British contemporary composer Knussen's Sonya's Lullaby, Op.16 (1977-8) as his first modern work. Written as a lullaby to get his infant daughter to sleep ("wishful thinking"), it features a scampering atonality amidst a calm underpinning. More a description of a child finally falling asleep rather than a hypnotic sleep-inducing exercise, it was delightful.
The next Haydn (from 1784), the Sonata in G Major, Hob.XVI:40 (also in two movements), featured Muzijevic's sensitive broad tone in the Allegretto innocente with its stately theme contrasting with a sparkling secondary section. The Presto was filled with rapid chattering on the keyboard, humourous comments, joyous fun. ("It's very hard to express humour in music and Haydn was a master at it.")
Muzijevic then moved into a brief history of his relationship with the writings and compositions of Cage ("4'33" -- I'm available anytime"), from his university days to touring with Baryshnikov. ("Cage spoke in so many [musical] languages.") In the afternoon that same Tuesday I had audited the invigorating three-hour masterclass led by mezzo-soprano Sasha Cooke in which she pointed out that "art song is not painting a picture; it's stepping into it." Muzijevic's dreamy take on Cage's "serene nocturne, a meditation on tones and overtones," In a Landscape, found the pianist truly in the landscape. Magical.
The third and fourth Haydn sonatas, Hob.XVI:44 (1773) and Hob.XVI:50 (1794) framed Berger's impish and charming Intermezzo (2015) written specifically for the Haydn Dialogues. The earlier Haydn reminded Muzijevic of C.P.E. Bach and the pianist wondered if Haydn knew the work of Bach's most famous offspring. The later sonata, the "grandest" of the London sonatas, sparkled with wit in the Allegro, as if the music were wearing a constant smile. The Adagio seemed to take on a contemporary viewpoint as Muzijevic's juxtapositioning worked its magic on me; the virtuosic Allegro molto was simply radiant.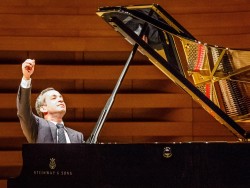 The disappointment of Jeremy Denk's cancellation of his TSM recital July 21 due to illness was assuaged somewhat by the opportunity to hear his replacement, rising star, Israeli-born, 27-year-old Inon Barnatan, make his Toronto recital debut. Barnatan, who begins his third and final season as the New York Philharmonic's inaugural Artist-in-Association this fall, even managed to preserve Denk's choice of Schubert's final piano sonata following intermission. Its first movement had a burnished, well-lived-in quality; Barnatan's interpretation was contemplative and lyrical, relaxed and unified. The Andante sostenuto had no hard edges; it felt otherworldly. The third movement was light and dextrous while the finale had the intimacy of chamber music. It was the fourth time I've heard this masterpiece in the last 16 months. While Barnatan had neither the uncluttered Romanticism of Schiff, nor the technical ease of Hamelin, his playing was spellbinding nonetheless.
Greeted by a spontaneous standing ovation by the big Koerner Hall audience, Barnatan said that there is only one thing to do after Schubert and that is to go back to Bach. The evening concluded with an arrangement of the lovely chorale, Sheep may safely graze, from the Hunting Cantata BWV208, which glowed with understated spirituality.
The evening began with two Brahms' extensions of Baroque staples by Bach and Handel. Barnatan emphasized the exalted nature of Bach's Chaconne in D Minor for the left hand, deftly exposing the composer's inner chordal universe. The masterful Variations and Fugue on a theme by Handel, Op.24 with its 25 variations on the Air from Handel's B-flat Major harpsichord suite culminating in the brilliant, never-failing-to-satisfy fugue was carried off with aplomb by the young pianist. He mined the music's rich melodic veins from limpid loveliness to devilish technical difficulty.