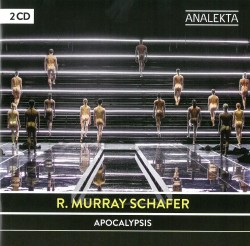 R. Murray Schafer – Apocalypsis
Various Artists
Analekta AN 2 8784-5
Review
Canada's R. Murray Schafer, widely recognized for composing large-scale music theatre works often set in unorthodox venues, completed his oratorio-community pageant Apocalypsis in 1980. Its elaborate, visually striking full score was hand-drawn in ink, a masterpiece of the genre.
Apocalypsis' premiere at Centennial Hall, London, Ontario, was at the time dubbed "one of the most spectacular events in the history of Canadian music" by Toronto Star music critic William Littler. "Sounds about right," commented London Free Press columnist and reporter James Reaney who was there, in his 2010 London Free Press article.
Then last June I attended the spectacular restaging of Apocalypsis, the centrepiece of Toronto's 2015 Luminato Festival. Reportedly costing over a million dollars, the two concerts enacted a ritual "theatre as a civic action" for nearly 1,000 performers. They were crisply captured by CBC audio engineer Doug Doctor for radio broadcast and are presented on these two Analekta CDs.
David Fallis, the music director of the production, points out in his liner notes that apocalypsis is "the Greek word for 'disclosure.'" This deeply mystical work certainly reveals a few of the many concerns Schafer has nurtured over a long career. His chosen texts, drawn from the Old Testament books of Isaiah and Joel and the New Testament book of Revelation, serve to anchor the turbulent, dramatic narrative of Part One: John's Vision. It echoes with the power of dark forces and the cataclysmic end of times, brilliantly articulated by the 12 choirs, the real heart and musical stars of the performance. The large percussion and wind forces add needed texture, timbral diversity and dramatic emphasis.
The various actors and singers for the most part play supporting roles to the choirs, with the shining exception of Tanya Tagaq. Her searing vocal-stretching performance as the Old Woman serves as a reminder of the 1980 score specification that "sound (concrete) poets rather than actors" be cast in the three speaking roles, embedding sound poetry deeply in the work. It's a stipulation elsewhere not followed in this production.
By way of contrast, Part Two: Credo, conventionally a statement of religious belief, is text-spare, adapted from the writings of the cleric, philosopher, mathematician, poet and astronomer Giordano Bruno (1548-1600). Credo is a kind of glorious exaltation of the unity of all creation, each of the 12 sections beginning with the "Lord God is universe" sung by the 12 choirs supported by 12 string quartets.
The composer writes in his notes that Credo is also his affirmation of the potential transformative power of art. It's an affirmation many of us can also believe in.