This being the start of our sixteenth year (well, close enough) I thought it might be fun to start looking back ... waaaaaay back, to Volume 1 #2, fifteen Octobers ago (when we were still called Pulse.)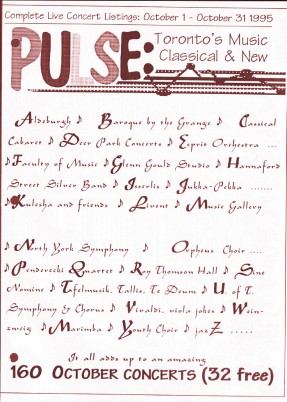 The issue had no cover photo, as you can see, just an A to Z (almost) of the Toronto music scene, made up of words and phrases in that issue. It's all in one of those proudly illegible fonts that WordPerfect irresponsibly put in the hands of people, like us, with even less design sense than money! But I hope you can read it. It tells an interesting tale.
Of the 20 presenters named on the cover, 13 are still with us, by the same name. But
the fate of the other seven can't be summed up in a single simple sentence.
Baroque by the Grange was actually Baroque Music Beside the Grange, as founder Alison Melville was quick to point out. First correction we ever had to run, that one was! Founder Melville is still going strong, though, with Ensemble Polaris and the wonderful "Bird Project," among other things.
Ruth Morawetz's Classical Cabaret is alas no longer with us. But Ruth certainly is!
Deer Park Concerts, along with Deer Park United Church, is no more, although its congregation is still intact, just a block north at Calvin Presbyterian. And its wonderful Rathgeb Casavant Organ has a new, and some say even sweeter, lease of life, at Holy Trinity Church downtown.
Livent? Don't know what happened to Livent. But the North York Symphony, albeit under another name, still holds on, phoenix-like, to philharmonic life in the wonderful hall Drabinsky built.
We lost track of Richard Birney-Smith's Te Deum Concerts sometime around 2002.
As for Youth Singers, I can only think we meant the Mendelssohn Youth Singers. They lost the battle a few years back. But the parent TMC continues to thrive, as anyone who attended the TSO's wonderful season opening Mahler Symphony No. 2 last Thursday (Sept 23) will attest.
And as for the individuals named in Vol. 1 #2's quirky abecedarius, there's a similar mix of names and fortunes; those that are still with us, and those that though gone need not be forgotten.
Not only did Vol 1 #2 not have photo on the cover, it remains the only issue of the magazine ever published not to have a single photo anywhere. As I said at the outset: no design sense, and no money! A single "stat" was 12 bucks – as much as a classified ad!
But even if it lacked for photos, it had one thing we've found it hard to match in the intervening years, namely reader input. Under the heading "Hear Say: Our Readers Write" there were no fewer than six pithy letters. It was the early days of fax machines, don't forget. Remember? Didn't need a stamp, and the knife went in instantly! It was heady stuff.
"Loved the first issue of your 'zine. Loathe the 'Toronto's music classical and new' tagline," snapped L.F. "To me classical means dead western european white men's concert music. Don't strangle a good idea with too narrow a focus."
And E.Y. Hanley opined "If your 'classical' is wide enough to include medieval, how can your 'new' not include jazz?"
Rick Sharpe wanted an index of groups. Ben Scott wanted to know why Black Creek Library in North York had Pulse but City of Toronto libraries didn't. And perhaps the most prophetic letter of all came from Chris R.
"Hope you'll eventually make room for events outside Metro ... (Unless you bomb you will certainly outlast Metro, so you should be thinking about it.)"
I'll be dipping back into the archives, as space permits, throughout this anniversary year. So get those letters rolling again if you like. The fax is always on!
David Perlman