Torreón, Mexico: circa 1955
Not dressed for a Canadian winter! But 30 seasons in the snow have not taken the wave out of his hair or the wind out of his sails.
Look for his photo in two different ads in this issue of theWholeNote, and his name in a single sentence featuring both Bernstein and Mozart.
Think you know who OCTOBER's child is?
Send your best guess to
musicschildren@thewholenote.com
(please provide your mailing address, just in case your name is drawn!)
Winners will be selected by random draw among correct replies received by October 20, 2009.
CONGRATULATIONS TO
OUR SEPTEMBER WINNERS!
Nancy Martin and Julie Goldstein, as guests of Toronto Consort, each win a pair of tickets to Oh Henry!
Music's Children gratefully acknowledges Les Voix Humaines, david Fallis and the Toronto Consort, the good people at Analekta and ATMA and Jessica Parkes.
SEPTEMBER's  CHILD was….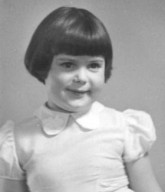 Susie Napper – viola da gambist, cellist, continuo player, educator, curator and consummate collaborator. Susie teaches at McGill University, and in 2001 founded the Festival international Montréal Baroque which is presented in Montreal every June. She was awarded the Prix Opus 2002 for Personality of the Year by the Conseil québécois de la musique.
Her ardent relationship with early music has generated adventurous and colourful performances of solo, duo and chamber music from the 17th and 18th centuries all across Canada and the United States, as well as in China, Japan, New Zealand, India, the Middle East, and most European countries.  She is half of the renowned viol duo "Les Voix Humaines" (with gambist Margaret Little), and is known to appear with Stradivaria in France, the Studio de Musique Ancienne de Montréal, Les Boréades, Ensemble Caprice (based in Montreal), the Trinity Consort of Portland, and Tafelmusik.
She has recorded with Harmonia Mundi, EMI, Erato, ADDA, CBC Records, Naxos, Analekta, and ATMA Classique.
Earliest musical memory?
The Cathedral at Poitiers… I was 3 and the organ was blasting (Bach?) . I remember the power, the seduction…I was mesmerized!
Other musicians in your family?
Father semi-pro pianist…played all the Beethoven sonatas, Chopin, Liszt. Mother amateur violist and music lover. My  brother (one year older) is a fantastic Jazz accordionist and pianist.
Music in your life at the time of that photo?
Ever present! Father practised 6 hours a day. We went to concerts in London several times a week. Musicians around the house…house concerts by young Martha Argerich etc!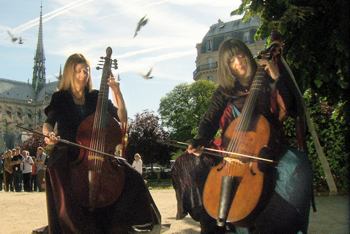 First experiences of collaborative music making?
Cello-piano sonatas with my father. My closest friend at the time was Christopher Smith who played the cello and composed, so we played together. First recorder lessons (at school) such fun. From age 10 quartet rehearsals and concerts (at the Menuhin school before it took that name)…we were all under 15 and won all competitions with Mozart and Haydn! Cute.
Les Voix Humaine in Paris
First instrument(s)?
Piano at 6. Recorder 7. Cello 8.
Did you ever think you'd do anything else?
Painter…equal interest.
Why early music and the viola da gamba?
Loved early music from the start…it always spoke to me. I inherited the viol at 23 when my father died... began to play it immediately. I knew about the instrument but had not explored the repertoire, and knew nothing about early French music.
The viol you play today?
The Barak Norman (1703) is beautifully carved all over and has a portrait of Charles 1st instead of a scroll. The label inside states the instrument is a gift for Corelli who sent a student to collect instruments in London in 1702. Did the viol ever leave England? Did Corelli ever play it?
Are the ribbons  part of viol-playing history?
The ribbons are my own thing, but you do see ribboned instruments in paintings.
If you could travel back through time and meet face to face with the child in that photo is there anything you would like to say to her?
Don't let them get you down! For instance: the piano teacher who said she had no talent, the private school that told her she was dumb, and the ballet teacher who told her she was too fat.
Recordings / Upcoming engagements
Telemann and the Baroque Gypsies, with Ensemble Caprice: pieces by Telemann as well as Gypsy melodies and dances from the Uhrosvka Collection (1730), arranged by Matthias Maute (ANALKETA,  October 6 209)
I Mercanti di Venezia with Montreal Baroque: Venetian 17th century music by Jewish composers Augustine Bassano, Giovanni Bassanon, and Salomone Rossi. (ATMA, May 25 2010)
Susie performs Oct 17 with Ensemble Caprice (Bach and the Bohemian Gypsies) as guests of the Barrie Concert Association.
One of Susie's current projects has been organising the restoration of a collection of six 17th and 18th century instruments known as The Hart House Viols, and an ATMA recording of Henry Purcell's Fantasias featuring the viols. It was released in April (ATMA 22591).
WholeNote-area audiences will have the opportunity to hear the Hart House viols live in concert  when an expanded Les Voix humaines perform as guests of the Toronto Consort (Oh Henry! Oct 30 &31).