For the July / August Mystery Child Click Here
For the names our contest winners and to see and the prizes they won, click here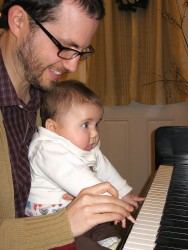 Vancouver-born Josh Grossman came to Toronto at the age of 8. He attended Lawrence Park Collegiate Institute, and then moved on to the University of Toronto Jazz Performance programme.
When you look at your childhood photo today, what do you remember?
It looks like it might have been taken at my grandparents' house in Toronto – we must have been visiting from Vancouver. I enjoyed sports of all kinds when I was younger, and still have a hankering for go-karts, so I imagine that's at play in the photo…
If you could travel back through time is there anything you would like to tell the child in the photo?
DON'T GO INTO THE ARTS! Just kidding. Probably I'd say make sure you nurture your soul – in your family and friends, in your work and in your hobbies.
Anything you'd like to ask?
Where are your pants, child?
What's coming up? The TD Toronto Jazz Festival runs June 22 to July 1.This is my third festival as Artistic Director and I've had so much fun so far! As Artistic Director I get to see a bit of every show, meet all kinds of great people, introduce performances, and interview artists.
During the festival my big band, the Toronto Jazz Orchestra is presenting the Radiohead Jazz Project 2, (July 1 at The Rex Hotel, 7:30pm). We're playing two sets: arrangements of Radiohead tunes and a bunch of new music too. The first incarnation of The Project sold out!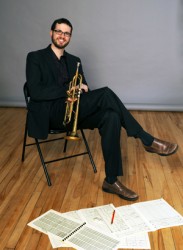 I play (trumpet, flugelhorn) in the Chris Hunt Tentet, which has shows coming up in July and August at The Rex. I've played in the band for almost ten years and it's always a blast. The repertoire is an interesting mix of jazz standards and pop tunes. I get to do a bit of writing for the band, and the other musicians are fantastic.
I'm looking forward to my 15th season as Artistic Director and Conductor of the TJO. I get to work with outstanding musicians, perform interesting music, and enjoy the challenge of keeping things fresh each year. The TJO is good for my soul.
I'm also looking forward to a sixth season as administrator for Continuum Contemporary Music. With Continuum, my mind is constantly expanded. There are no boundaries to contemporary music, and Co-Artistic Directors Jennifer Waring and Ryan Scott are always coming up with outlandish new plans. I get a lot out of helping to make them happen, working with some of the top classical musicians in the city. I feel so lucky to be involved with these organizations - they provide me with such rich and varied musical experience.
Early musical memories? My parents played records all the time at home. I have fond memories of going through the 45s and picking out what I wanted to hear. When visiting my dad's parents, my grandfather would always have music playing (usually opera, usually not to my liking at that time) but also was a big Victor Borge fan.
Musicians in your family? My mom is very musical – she took piano for many years and still sings in a choir. My dad can play the radio. He has a story about a clarinet teacher asking him to stop coming for lessons. My brothers (one older, one younger) were both good saxophonists through high school and university (extra-curricular).
Early experiences playing music with other kids? Piano, and then later on, trumpet. I did the Suzuki Method, and I'm sure there were piano recitals, but I remember Pine River best – I attended a two-week arts program there in the summer after grade 6 which made a lasting and good impression. My first memory of performing solo is at Pine River. It's where I learned trumpet and at the end of the two weeks we performed for our parents …
What do you remember about your "first music teacher
I remember Harvey Silver – my piano teacher in Toronto – best. He was very, very patient. He was already an older gentleman when we arrived in Toronto in the mid-80's, but he was always very kind and very encouraging; when my tastes starting to swing (ha!) more to the pop side of things he would even bring me pop sheet music to play. I especially remember playing "Glory of Love" by Peter Cetera and, of course, "Stand By Me".
When did you first lead other musicians?
High school. Mr. Hazlett and Mr. Dmytryshyn at Lawrence Park were both extremely supportive of my musical pursuits. I had the opportunity to conduct concert bands and jazz bands; I even came back after graduating to continue to work with the jazz band.
Do you remember when began to think of yourself as a musician?
It must have been fairly early on in high school. I had a real passion for music which I'm sure existed for many years, and was fostered by Mr. Ricci at Kane Senior Public School, but it was in high school that I really started to think about pursuing music as a career. I feel lucky to have had such great role models in Mr. Ricci, Mr. Hazlett and Mr. Dmytryshyn – their passion for music and teaching made me pretty sure I wanted to be a music teacher. As my high school years progressed and I was doing more and more playing, I gradually shifted the priority to playing over teaching.
Did you ever think about doing something else?
Nothing in particular. I do remember thinking it was so cool that my dad got to wear a suit and carry a briefcase each day to work…but I can't remember ever thinking about anything other than music.
Suppose an after-school club asked you to talk informally with a group of children about careers.
When they asked you "What do you do?", how might you reply;
I'm a musician!
If they asked you "Why did you decide to do that"? what do you think you would say;
I love playing and listening to music – it's so much fun
What advice, if any, could you offer to a pre-adolescent or young teen who was already sure they were going to have a life in music?
Be prepared to work really hard, and practise your butt off…