For an extended version of Jane Bunnett's interview, please re-visit this page next week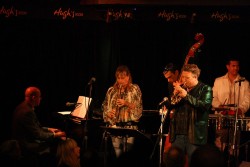 Jane Bunnett plays soprano saxophone, flute, piccolo and piano, and is one of Canada's foremost jazz musicians. Known for her improvising talents, technical alacrity, versatile writing, band leading abilities and also for her collaborative work celebrating the music of Cuba, Bunnett is a multiple JUNO Award winner, Grammy nominee, and a recipient of the Order of Canada. A film, Embracing Voices: The Woman Behind The Music Of Jane Bunnett, which follows a recent recording project, premiered in April 2012. Driven by a deep appreciation for the universality of music, she continues to tour internationally, forge new collaborations and record.
Bunnett lives with her partner of 34 years, trumpet player Larry Cramer, in Toronto's Parkdale neighbourhood and enjoys "painting and creating art, gardening, hiking in the woods, chilling out and cooking with friends and digging into our great vintage record collection." This summer marked Jane's and Larry's fourth year as co-artistic directors of the Bancroft & Maynooth Jazz and Blues Fest.
About that childhood photo?
I do remember loving my stuffed animals. Often at night they'd end up one by one in my bed because I'd be sorry about any of them feeling left out. My mother would come in and find me asleep on the floor. Today maybe I'd tell little me "don't ever let the sidemen upstage you!"
What is your earliest musical memory?
Lying under a grand piano, having all that lovely music wash over me. This was at our neighbours' home, Rosemary Hahn and Marta Stayner — two elderly German ladies — sisters. Rosemary had studied to become a concert pianist. She was incredibly widely read and philosophical, and was pretty much my first piano teacher — she had a major impact on my life.
My parents cut a miniature gate in the fence so as a four-year-old I could visit freely.
What do you remember about music as a child?
I loved lip-syncing and pretending to play along with records in front of a big mirror with my friends. We had the Supremes and Aretha Franklin ... There was also the Jim Kweskin Jug Band — Maria Muldar sang with them. I got the idea of making home made instruments and I'd bring my friends over to play jug band with me.
We made one of those things with a wash tub with a string and a broomstick. And I remember that the Canadian Brass come to perform for us at Brown School. Right in front of us they cut up a garden hose into pieces, stuck some kind of nozzles on the ends, and played them like horns. We had band in grade 5 and 6, and I loved it.
I saw this NFB film in grade 6 or 7 with people playing music on flower pots, so I went out and gathered terracotta pots and hung them from the pipes in the basement to play on them. My brother lent me some kind of a tape recorder, and I recorded it.
And I had these bongos — I remember playing along with Gordon Lightfoot's The way I feel is like a robin. It was kind of bossa nova Lightfoot.
I loved going to Sam's to buy a new record. I'd come home, turn the lights out and listen in the dark ... 
A longer version of Jane Bunnett's interview continues at thewholenote.com.