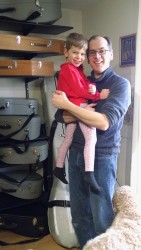 This multi-instrumentalist is one of North America's busiest early music performers. He grew up in Tempe, Arizona, where his father worked in computer technology and later taught computer classes at a community college. His mother was the director of a social service agency and a marriage/family therapist. Harris studied early music in Italy at the Civica Scuola di Musica di Milano (as a Marco Fodella Foundation scholar) and in Germany at the Hochschule für Künste Bremen. He was based in New York City for five years before relocating to Toronto.
In Southern Ontario you have probably seen and heard him in regular engagements with Tafelmusik Baroque Orchestra, the Toronto Consort and I FURIOSI Baroque Ensemble. He's a founding member of the Toronto Continuo Collective, the Vesuvius Ensemble (dedicated to Southern Italian folk music), and the Lute Legends Ensemble (a multiethnic trio of lute, pipa, and oud). He's also played with several modern-instrument groups, including the Boston, St. Louis and Montréal Symphony Orchestras, the Metropolitan Opera, the Orchestra of St. Luke's and Via Salzburg.
On the faculty at Tafelmusik's Baroque Summer Institute he teaches lute and coaches vocal and instrumental ensembles, and he has recently joined the faculty of the Vancouver Early Music Festival's Baroque Vocal Programme. Harris has also served for 12 years on the faculty of Oberlin Conservatory's Baroque Performance Institute. He's in ongoing demand for lectures and master classes at several universities.
Harris has been a guest music director with the Pacific Baroque Orchestra, the Ohio State University Opera program, Vox Angelica and Les Voix Baroques, recently created and directed a program of Austrian sacred music with the Toronto Consort, and is the artistic director of the Toronto Chamber Choir.
If you could travel back through time and meet the young person in that childhood photo is there anything you would like to ask him, or tell him? I'd say "Stop watching television and use your time to learn something that could be useful to somebody someday." I want those hours back.
Suppose a friendly fellow traveller asks what you do for a living? I start by saying that I'm a musician and then see if they ask for more details. If so I try explain what a lute (not a flute!) is. I try using these phrases until I see a light bulb appear above their head: "round back," "pear-shaped body," "Renaissance," "neck that looks broken," "Greensleeves," etc.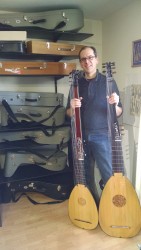 What's the difference between a theorbo and an archlute? I've been asked that hundreds of times and I have the impression that people really want the answer to be that one of them is obviously longer. But I'm afraid you can't tell by the length of the overall instrument. Here's the simplest answer I can give: the shorter (fingered) strings on the theorbo are around 20cm longer than those of the archlute, and this extra length necessitates a "re-entrant" tuning where the top one or two strings are tuned an octave lower.
Earliest memories of hearing and making music? I have distant memories of loving a couple of LPs by the Muppets as a kid. At Christmas my Dad would sometimes put his favourite John Denver LP on. My brother and I just grew to hate it and so we'd make fun of him, poor guy. One year we actually hid it from him so we wouldn't have to listen to Merry Christmas Little Zachary"yet again. And then years later we bought the CD reissue and bought it for him as a joke.
One of the first classical concerts I attended was a classical guitar recital by Chris Hnottavange, the teacher that I later worked with as a teenager. It must have been his final recital for his graduate work at ASU. I think he played the Britten Nocturnal, which some say is the best piece ever written for guitar.
I remember my mother occasionally playing the upright piano in our living room – I think she stopped completely when I started taking piano lessons. I remember a weekly music class in elementary school and I have a flashback of being invited to improvise on the xylophone while the teacher played some chords on the piano. I suppose that was my first jam over a ground bass.
First instrument? I didn't have a great fit with my piano teacher and at around age 12 asked if I could quit. My mother insisted I should take up another instrument and so I asked (obviously!) if I could take electric guitar. They found a really unique teacher who did both electric and classical guitar, Chris Hnottavange. I studied with Chris for six years (age 12 to 18), starting with AC/DC's Back in Black. I soon moved into playing in jazz combos/big bands, and finished that period with a full-on classical guitar recital which featured works by Bach and Couperin. I do feel it's amazing that all of that was with the same teacher.
A first performance? I sang the role of Fasttalk Freddy in my school musical The Amazing Snowman. He was a greasy agent trying to get rich from managing a talking snowman.
And right after high school? I tried to get away from music and started college as a literature major. I imagined myself as a humanities professor who would give inspiring lectures that flit between literature, philosophy, art and music. Halfway through college I changed my mind and threw myself into the core music-major courses. I went to a wonderful small liberal arts school called Pomona College in Southern California. I've just been back there this past weekend, invited to share one concert with seven distinguished alums and a second concert with my former guitar teacher, Jack Sanders. What powerful nostalgia I felt being back there. The music faculty is almost the same as when I graduated 20 years ago!
Memories from any first paid engagements? As a teenager I did some weddings, sometimes with a guitar and flute duo. Once I told the mother of the bride that we had an arrangement from Les Miserables. There was a long silence, after which she replied in an emotional voice: "Phantom and Les Mis are VERY important to our family." One of my college profs hired me to play the Christmas show of the Los Angeles Gay Men's Chorus. I think this was my first real paid concert engagement.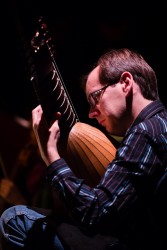 When did you begin playing the lute? I knew about the lute's amazing solo literature from playing some transcriptions for the guitar, and had heard some lute recitals at a guitar festival I went to in Arcata, CA. Eventually, in college, I got the idea on my own to try playing the lute and discovered there was an instrument available to borrow. I had an amateur lutenist friend in Los Angeles (Howard Posner) who helped me get started. When I discovered basso continuo, it seemed like the perfect bridge between the two parts of my guitar background. It was classical, but I had to use my knowledge of harmony and was invited to improvise
How does music fit into your personal/family life at home today? Since Daphnée was born, a new tradition of composing songs for/with her has evolved, often to help her understand or cope with something difficult. Sometimes the songs are famous melodies with new text (in French or English or both) and sometimes original melodies that one of us makes up.
Where does teaching/mentoring fit into your life/work these days? During the season I do only the occasional lute lesson or vocal coaching, sometimes guest lectures at U of T. I get more into teaching mode in the summer: I'm on faculty at three workshops: Tafelmusik Baroque Summer Institute, Oberlin Baroque Performance Institute and Vancouver Early Music's Baroque Vocal Programme.
If you were driving ALONE and could sing along to ANY recording, what song would you choose? Tough one. It might have to be The Police's Roxanne. But I would have to squawk it out in falsetto or sing down about three octaves from where Sting does it.
UPCOMING …
The Lute Legends Ensemble has been revived with oud player Demetri Petsalakis: we're making some new promo materials and starting to snoop around for gigs.
Also – please stay tuned over the next year for the release of a new solo lute CD. I was inspired by Oliver Schroer's CD where he simply recorded himself improvising in little churches while walking the Camino. I've got some new recording equipment and am threatening to do a new solo CD where I'm my own engineer, producer, and editor.
March 13 3pm: "A Voice of Her Own." The Toronto Chamber Choir will sing a "Kaffeemusik" program, created by Lucas Harris, about women composers (from Hildegard to Clara Schumann) The script asks how it was possible that a few women managed to compose despite all the obstacles. Guest conductor: Elizabeth Anderson; Katherine R. Larson (University of Toronto), narrator.
April 23 8pm "I'll Be Watching You" with I FURIOSI Baroque Ensemble I FURIOSI presents stalking, before harassment laws were conceived, with guests: Marco Cera, oboe and guitar; Lucas Harris, lutes and guitar
May 6 and 7 8pm and May 8 3pm: "Monteverdi Vespers of 1810." The Toronto Consort with British tenor Charles Daniels, tenor Kevin Skelton and Montreal's premier cornetto and sackbut ensemble La Rose des Vents.
May 28 8pm "The Sun Rises in the East." Another new Toronto Chamber Choir program featuring 17th- and 20th-century choral music from Eastern and Central Europe.