For this month's contest -  Who is June's Child? - please scroll down.
May's Child is Colin Ainsworth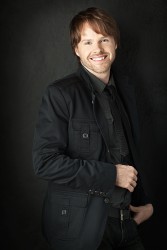 UPCOMING PERFORMANCES?
I can't wait for Versailles (May) and Glimmerglass (July/August))!
And I'm really excited to be joining London's Nash Ensemble at the Toronto Summer Music Festival in August.
RECORDINGS?
I've been involved with numerous recordings which are all on my website - www.colinainsworth.ca.
I think my favourite is the Aldeburgh Connection's Our Own Songs which includes Derek Holman's The Heart Mislaid which were written for me. I'm a huge fan of Derek's songs and these songs speak to me more now than they ever did.
Tenor Colin Ainsworth is well-known to Southern Ontario audiences for his big warm voice and remarkable diction which bring beauty and clarity to operas, choral and symphonic works and song recitals. Disarmed by his frank grin and unpretentious manner, some will not know that beyond Opera Atelier and The Aldeburgh Connection he is in demand with opera companies and symphonies internationally, and made his Carnegie Hall debut on February 10, singing the role of Haroun in Bizet's Djamileh with Leon Botstein and the American Symphony Orchestra. The New York Times said that his "… bright, beautiful singing made Haroun instantly appealing …" Those who have followed his career will not be surprised.
Ainsworth's website biography and schedule are quietly vertigo-inducing, and include a tour of Opera Atelier's production of Armide to the Opéra Royal de Versailles, France, and the Glimmerglass Festival in upstate New York.
Ainsworth grew up in Holland Landing, Ontario, and attended Dr. Denison High School in Newmarket. Late in high school he took a drama/music theatre class for fun: the teacher said he should consider private singing lessons. He went to Irene Ilic on a recommendation from one of his mother's friends, and subsequently met Darryl Edwards at the Toronto Kiwanis Music Competition. Ainsworth went to the University of Western Ontario to study with Edwards and later transferred to the University of Toronto to continue with him.
Ainsworth's parents, who are both deaf, were a bit apprehensive about his becoming a singer since they couldn't hear if he was good or not. But people who had heard him sing helped to ease their fears …
Suppose you're travelling, and a friendly fellow traveller asks what work you do?
It usually does come up and people are fascinated that I sing classical music.
I guess it's not the typical job that would come up in conversation nowadays.
The usual questions then ensue: Do you sing full-time? Can you make a living? Why aren't you fat?
Can you sing something? Yes; yes; I run; and sure!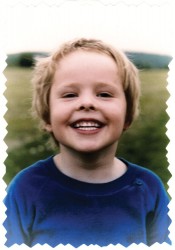 About your childhood photo … ?
I do remember that I was at a picnic or party with lots of relay races and games, probably for the Montessori school I was going to at the time. I apparently had just cut my own hair – thus the lack of hair at the front – and I remember being very proud of myself for doing so.
Anything you would like to tell little Colin?
I would tell him never to cut my/his own hair, something I didn't grasp until I was at least 17.
Your earliest memories of music?
My earliest memory is going to hear my mother's father, Jim Spark, conduct the Masonic Choral Group when I was about four. He too was a tenor but I don't have any recollection of him singing that day. I also remember trying to do Highland dancing to his Scottish records in my grandparent's living room and listening to their records of bagpipes. The sound of a bagpipe still brings back those memories for me.
Other family musicians?
My father's father, Ivan Ainsworth, was a folk singer and played guitar. As a young child, I can vividly remember him singing to me "One day at a time, Lord Jesus." Both my father's parents played and sang in a folk band up in Sudbury. My mother's siblings either sang or played piano. Bur since my parents were deaf, there wasn't that kind of music in the house at the time that photo was taken.
First experiences of engaging with music?
Despite having deaf parents, music slowly became part of my life. I heard music at church and remember as a child trying to make up harmonies to hymns at church. I loved listening to the radio and would sneak a pocket cassette/radio player into my coat at school and listen to it at recess time. I loved to sing at school, and remember being asked to sing for the class with another friend in Grade 1.
What, if anything, was your first instrument, other than your own voice?
Singing didn't really come into the picture until late in high school.
I took piano lessons for a couple years but, unfortunately, didn't take it very seriously. I also started to play trombone in Grade 7 until about the middle of high school but I was hopeless at that. They made me play flute at university as a secondary instrument which I hated and rarely practised.
What were your first experiences of making music with other people?
My first real experiences making music with other people were in high school in the band and jazz choir, with a choral group in Newmarket and with the Ontario Youth Choir with Elmer Iseler conducting.
Do you remember when you first sang alone for an audience?
I think the first real time was for my first singing teacher Irene Ilic's, studio class. Probably "Close every door" from Joseph and the Amazing Technicolor Dreamcoat.
Do you remember the point at which you began to think of yourself as a musician?
Not until I was well into university did I think that I was actually going to be a musician.
Do you remember thinking you would do something else?
At one point in my life, I thought I was going to go into dentistry. I'm so glad I didn't!
Suppose an after-school club asked you to talk informally with  group of children, and they asked you  "What  do you do?" …
I would tell them that I get to pretend to be other people on stage and sing really loudly. I get to travel and see really wonderful places, sing amazing music, and meet amazing people.
If they asked you "Why did you decide to do that"?
I would say that I somewhat fell into it, found that I absolutely LOVE what I do, and that I couldn't imagine myself doing anything else!
What advice, if any, could you offer to a young person who was already sure they were going to have a life in music?
Work hard, practise a lot, and no matter what you end up doing, do it with passion.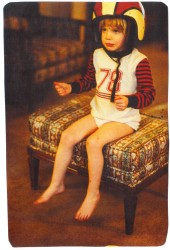 Who is June's Child?
You'll find May's child in the driver's seat for a diverse continuum of music, and occasionally on the frontline.
He may need a jazzy crash helmet in festive June, racing between Toronto's lakefront and Koerner Hall, where he's invited some sophisticated ladies to gather.
Know our mystery child's name?
Send your best guess to musics­children@thewhole­note.com.
Provide your mailing address in case your name is drawn from correct replies received by midnight on May 20, 2012.
Orchestra Toronto's The Choral Symphony (May 27, Toronto Centre for the Arts) is a performance of Beethoven's Symphony No.9 in D minor for which they're joined by the Toronto Choral Society, and Rachel Cleland, soprano, Erin Lawson, alto, Colin Ainsworth, tenor, and Orival Bento-Goncalves, bass. Sue Woo and Joy Gordon each won a pair of tickets!
The seventh annual Toronto Summer Music Festival has this treat in store: the Nash Ensemble with Colin Ainsworth performs Music of England (August 2, Koerner Hall) — works by Bridge, Vaughan Williams and Elgar. The Nash Ensemble is the first ensemble-in-residence at London's legendary Wigmore Hall.  Mark your calendars, Warren Keyes, and Rahila Faziluddin, you each have a pair of tickets!
Our Own Songs is a recording of The Aldeburgh Connection's own commissioned works by John Greer, Derek Holman and John Beckwith, inspired by a wide range of influences in art, history, and literature. Artistic directors and pianists Stephen Ralls and Bruce Ubukata perform with Adrianne Pieczonka, Monica Whicher, Elizabeth Turnbull, Mark Pedrotti, and Colin Ainsworth. (MARQUIS 381) Ruth Comfort and Shelby Cook: a copy each!