The WholeNote is preparing to celebrate 20 seasons, and this is the 96th edition of We Are ALL Music's Children.
Did YOU guess correctly? Contest winners and their prizes are announced at the end of these extended interviews!
Remarkably their collected wisdom tells us that a parent who's a working musician is not what makes or breaks a future life in music. It's much more important to grow up in a home where music is enjoyed: where radio and recordings are heard, where music-making happens at family gatherings or parties, where people sing or play because it makes them feel good – or at least better. Early teaching and concert outings don't always make a difference but seeding musical pleasure and opportunities for self-expression through music cannot start at too young an age – and this has little to do with skill.
We'll launch a new contest in our September edition. Meanwhile please take your inner child, or even better take along a real child, to the wonderful live music southern Ontario has to offer at summer festivals, outdoor concerts, summer camps and workshops. Share the love, sing in the car, and viva la musica!
---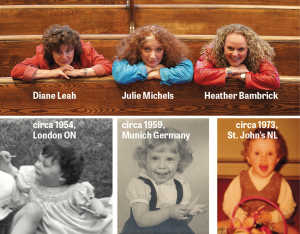 BROADSWAY is a trio of huge talents, whose shared appetite for "show tunes" brought them together to create a successful cabaret. It features classic and contemporary musical theatre, music parodies, jazz, R&B ad pop music woven playfully together by very funny and occasionally suggestive banter. If they leave you gasping for breath but wanting more never fear: they are all prodigious career musicians with extesive individual schedules.
DIANE LEAH, born in London Ontario, is a skilled and versatile music director, arranger and pianist who performs and records with many well-known performers in multiple styles and performance genres. Leah is Director of Music at Metropolitan Community Church of Toronto, and was the music director, performing with the choir and several other guests at the Celebration of Life for Jack Layton, late former leader of Canada's NDP. In 2013 Leah was awarded the Queen's Diamond Jubilee Medal for public service
JULIE MICHELS performs and records in Canada and internationally with some of North America's most renowned musicians. She says one of her greatest honours was singing at the state funeral for the late Jack Layton. In January of this year the Braden-Michels Jazz Project represented Canada at the Haitian International Jazz Festival in Port-aux-Prince. Perhaps best known as a jazz singer, Michels regularly dives into musical theatre, gospel, R&B, Celtic and world music collaborations. Born at Fort Dicks army base in New Jersey, she lived in three countries (ten cities and six schools) before landing in Toronto at the age of 12.
HEATHER BAMBRICK was born in St John's, Newfoundland. One of several top Canadian jazz vocalists featured on Peter Appleyard's recent release "Sophisticated Ladies" Bambrick has twice been named broadcaster of the year at the National Jazz Awards. She currently produces and hosts "Wake Up … with Heather Bambrick" on Canada's only all-Jazz radio station, JAZZ.FM91. Her broadcasting skills are deeply informed by years of singing and recording jazz, music theatre performance, working as a clinician and adjudicator, and current teaching at University of Toronto and Humber College.
INDIVIDUAL FULL-LENGTH INTERVIEWS WITH DIANE LEAH, JULIE MICHELS AND HEATHER BAMBRICK FOLLOW HERE.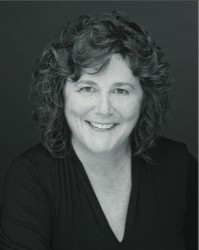 DIANE LEAH
Born and raised: London Ontario.
Other musicians in your family? My mom was a very good piano player and singer. My brother still plays the drums.
Where did you grow up and go to school? Same - until university.
Camp, or summer music programs? No.
After high school? I went to U of T.
What's your absolute earliest memory of hearing music? Watching a guy play the accordion at a party.
Where did hearing music fit into your childhood? My parents played classical music, mom played piano and told stories with music.
What is your first memory of making music? I'd have been about 3 – climbed up on piano bench and played the piece my mother was teaching my brothers.
Your first instrument, other than your voice? I am not a singer primarily – I am a piano player. Accordion was my first instrument, have played many others either as a hobby or at University. None of them to the professional level.
Your first music teacher? Lou Wahl – my accordion teacher
First experiences of making music with other people? Nothing until grade 5 choir.
When did you first perform for an audience? I played at a Tots to Teen concert when I was five.
Do you remember when you began to think of yourself as a career musician? It was always assumed.
Was there a time when you thought you would do something else? I became an accountant in my mid-thirties but went back to music full time five years later.
One person who made a big difference to you as a musical young person? My mother.
Where does music fit into your at-home family life today? My dog Tucker likes to sing.
UPCOMING…
June 20 – Pride Flag raising ceremony: my choir is singing an arrangement of mine with Gavin Hope at City Hall
June 27 – Toronto Jazz Festival gig with Broadsway at the Hard Rock Café.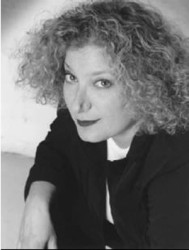 JULIE MICHELS
"Julie lives a mildly insane existence in the Parkdale neighbourhood of the metropolis of Toronto. She is owned by her cat, 18-year old Carrol along with her partner Joey(who is also owned by the cat). She's does lot of things in her life, but there's always been one focus that's lasted and that's music, music and music...and food...and the occasional pair of amazing shoes...and music."
When you look at your childhood photo … I think that that adorable youngster learned how to drink scotch around the same time that photo was taken. Yup, needless to say, it was the beginning of an unorthodox life. Such an adorable face...and don't you love the durndle!!!
Born: Fort Dicks, army base, New Jersey.
Other musicians in your family? My sister and I both played guitar and there was an uncle, back in Russia who supposedly was a wonderful violinist.
Where did you grow up and go to school? We moved all over when I was growing up, 3 countries, 10 cities and 6 schools before I landed in Toronto when I was 12. University was a whole 'nuther set of locations and adventures.
Camp, or summer music programs? No camps or summer programs, I studied guitar at the community centre in Southfield, Michigan, choirs in school music programs. As soon as I figured out how to play and sing, I started making noise whenever I could - at school, at parties, under trees - there was no stopping!
After high school? All manner and sundry of things! A couple cycles through University, a couple different degrees and the eventual ruination of my dreams of becoming an environmental lobbyist but studying Jazz.
What's your absolute earliest memory of hearing music? It was either Holst's The Planets – "Jupiter" – Brubeck or Booker T, the MGs doing "Green Onions", and lots and lots of my mom singing.
Where did hearing music fit into your life as a child? There was always music being played and sung.
What is your first memory of yourself making music? I can't remember when I wasn't singing something or another.
Do you play any instruments? I play a profoundly mediocre guitar.
A first music teacher? David Jorlett! He helped me realize I was a singer and that this was worth something.
First experiences of making music with other people? I first sang with my mom and sisters...and sometimes my dad. Harmonies were natural so we sang everything from show tunes to medieval songs in Latin.
When did you first sing for an audience? School choir and then parties for my parents' friends.
When did you begin to think of yourself as a career musician? After the break-up of my first marriage I realized I'd never been without music - it was time I committed to it!
What else did you think about doing? In chronological order: a ballerina, an astronaut, a chef and an environmental lobbyist.
Any one person who made a big difference to you as a musical young person? David Jorlett gave me my first lessons in good vocal technique. He said my voice was something to use, like a tool, to make my audience feel better. Later, Richard Davis, who taught me jazz, made me realize that I was ready and good enough to become my dreams.
Where does music fit into your home life today? Music is a constant in my crazy life. From the moment I wake up, until I get to sleep, there's and undercurrent of singing. Even in my dreams, there's usually a soundtrack!
UPCOMING…
"'Broadsway" is playing the Toronto Jazz Festival and we're planning a new cd for later this year. I'm going back to Haiti in the fall for a return concert and starting to plan my next solo cd for production in 2015. And I am honoured to be joining the choir of the Metropolitan Community Church of Toronto and Diane Leah for International Pride Service, this June!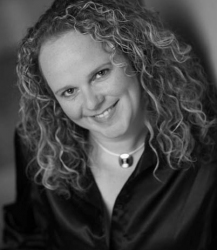 HEATHER BAMBRICK
"Heather Bambrick lives in Etobicoke, with her partner and their dogs, Muffin (a 7 year old puppy mill rescue Cock-a-Poo who is finding love, courage and her new voice), Digby (a 10 year old Yorkie, who has the stance of a bulldog and a heart of gold) and Finnegan (another 10 year old Yorkie who speaks with a French accent and has a lop-sided grin and immeasurable personality). Besides music, her passions include quality time with her partner, family and friends, as well as enjoying wine, golf, "Coronation Street" and "So You Think You Can Dance." (Ok, maybe they're not passions so much as they are indulgences."
When you look at your childhood photo today …? I think about the fact that it was taken at Easter – I was probably a little too competitive with my younger sister where the Easter egg hunts were concerned. (If I'd focused a little less on the chocolate then, I'd be in much better shape now!!)
If you could travel back through time and talk with "little you" Is there a secret or something special you would like to tell her? I would tell her that it's ok to be brave and take chances: that things will always work out if the reasons for taking those chances are pure … and that she should REALLY enjoy her younger years – while life is simple and her biggest worry is that "Mister Dressup" is over!! (Oh, and I'd also tell her to go easy on the chocolate … )
Anything you'd like to ask her? Nope. I think I'd just leave her be. I eventually learned everything as it was meant to be learned.
Born: St. John's, Newfoundland, Canada
Other musicians in your family?
Where did you grow up and go to school? St. John's, NL. I went to St. Pius X Girls' School from K-9 and then to Holy Heart of Mary Regional High School for Girls from Grades 10-12. (Yes, yes, yes, I know all of the Catholic school girl jokes!) High school was Holy Heart of Mary Regional High School
Camp, or summer music programs? No camps for me. My schools were very musical – I was lucky that way. The reason my parents sent me to Pius X was due to the school's amazing band program. My high school was known for its orchestra (a rarity for a high school), its band program, and its award-winning choral program. I was fortunate to have had INCREDIBLE music teachers throughout my school years. With that said, the first thing I did after moving to Toronto, was attend a jazz camp directed by Phil Nimmons and some of the finest jazz instructors in Canada! I was a little late discovering the wonders of music camp.
After high school? I attended Memorial University of Newfoundland, majoring in Political Science and English. I graduated with a Bachelor of Arts Degree from MUN. (Still not sure what to do with it. Might laminate it and use it as a place-mat so I can remind myself of the time, effort, and money that went into those 4 years … and not just at the student bar!) Three years into my BA, I decided to pursue music. I applied to a few universities for Jazz Studies and decided to go to University of Toronto. So, after finishing at MUN, I moved to Toronto and graduated from U of T with a Bachelor of Music Degree in Performance in Jazz Studies.
Your absolute earliest memory of hearing music? My Dad was in a band, so there was always music playing in our house and there were always musicians attending parties and the like. I have heard stories of me singing along with the priest as I attended mass each Sunday with my parents. However, I can't actually REMEMBER those moments. I think my first memory is of hearing my Dad's friend, Len Taylor - the guitar player in his band – singing "Old Cow Hand". I might have been about 3 or 4 years old. Len eventually taught me to sing that song, and I would sing it with Len whenever I saw him.
Other musicians in your family? My Dad is a very good musician. In fact, I think that if he had the opportunity to study music properly, he would have been a pretty amazing musician, professionally-speaking. He played in a band for years, and still plays occasionally. He gave me my first listening experiences of artists like Chuck Mangione, Matthew Gee, Stan Getz, Louis Prima, etc. My uncle was also a part-time jobbing musician, playing guitar in a band very similar to that of my father. My sister and I both took piano lessons as kids, and both participated in band and choral programs in school. She is a better sight-reader on piano than I am. She chose to pursue Culinary Arts while I went into music.
Where did hearing music fit into your childhood? Looking back, I realize music was EVERYTHING to me: Christmas just wasn't the same without the sounds of Bert Kaempfert, Tijuana Brass, and Vince Guaraldi; church was more enjoyable when I could listen to (or sing with) a good choir; my best marks in school were in music-related subjects; apparently I would only fall asleep as an infant while a Chicago record was playing; etc., etc., etc. Hearing music lit a fire within me and instilled a passion in me that would cause me to want to pursue it as a career.
Your first memory of making music? I would sing "Delta Dawn" until the cows came home. I'm not sure how old I was … maybe 3 or 4? I would sing it for ANYONE who would listen. I also remember that my Dad's friend (and the aforementioned guitar player in his band – Len Taylor) once gave me little guitar as a Christmas gift. He tuned it so that it played a G or C chord - all open-strings. I would strum away on that little guitar, singing "I'm An Old Cow Hand" all the time, too. (I now understand that I'm probably to blame for my Dad's inability to embrace country music.)
Instruments? What was your first instrument, other than your voice? I took piano lessons as a child, but my sight-reading is awful. I generally play using chord symbols and by ear. I also played clarinet for 5 years in school, and later for an elective course in university. Lately I've been learning to play the drums. I've been playing on some percussion instruments like djembe and cajon, and two years ago, I actually purchased a set of drums for myself. (Alas, since rescuing a puppy mill dog who is VERY timid, I'm not playing them too often, these days.) Oh, and I also began taking ukulele lessons and am LOVING that!
Do you remember a first music teacher? ABSO-FREAKIN-LUTELY!!! Karen Oakley!!! She was my teacher in grades 5 and 6. She is the reason I am as passionate about music as I am. When I was 10, 11, and 12 years old, she formed a choir at our elementary school that would compete in Kiwanis music festivals against the local high schools ... and they only ever beat us by a point or two. I remember singing in English, French, Gaelic, Latin, and German while she taught us. We sang everything from classic choral repertoire, to traditional Newfoundland folk music, to musical theatre numbers. She NEVER told us they were hard, challenging, or anything else. She invested extra time, energy, and passion into her work with us. I wish I knew where she was today. I would thank her from the bottom of my heart for EVERYTHING she inspired in me!!
Making music with other people? I remember how amazing I felt singing harmony with the other singers in my choir. I remember being so moved by the emotion, the harmonics we achieved in our chords, the dynamics we reached when inspired by our directors. Those were some of the most amazing moments of my musical life. Again, those were the moments that fanned a particular flame that would consume me when it came to music.
When did you first sing for an audience? I think I was probably about 8 or 9 when our school choirs first began competing in Kiwanis music festivals. We performed at the St. John's Arts and Culture Centre – the same hall where the Newfoundland Symphony Orchestra performs. That was exciting!
Do you remember when you began to think of yourself as a career musician? When I had to file taxes as such. <ouch!!>
Do you remember a time when you thought you'd do something else? When I was in high school, I thought I might be a journalist or a lawyer. The latter seemed particularly appealing to me: I love to argue about things and I always want to be right!!
Whose encouragement, particular advice or personal example made a big difference to you as a musical young person? There are five people:
(1) My father was the first musical influence in my life. I remember he always harmonized along with songs. He first taught me about harmony and guide tone lines – before I ever knew what they were.
(2) Karen Oakley, my grade school music teacher, taught me the beauty of choral singing. She taught me that music isn't about something being "too hard" or "too easy". Instead, it's about just creating aural beauty.
(3) Susan Quinn, my high school choral conductor taught me the emotion of singing. She inspired such beautiful singing in our high school choir!! I remember being moved to tears while singing under her direction. She also promoted my skills as an improvising entertainer. She would often call upon me to introduce a piece of music, or MC a choral concert with little or no notice. That was excellent training for me. (And the reason I enjoy a good stiff drink today!!)
(4) Valerie Long, a choral director – and friend – who directed a group called "Variations." We performed pretty well every style of music short of Aboriginal throat singing and Georgian Polyphonic Folk Music. Valerie was the first person to convince me to "scat" during an arrangement of "Alright, Okay, You Win." (In hindsight, that was an appropriate song, in light of her success overcoming my protestations!)
(5) Jacinta Mackey-Graham directed "Girl Talk," an all-female Vocal Jazz Ensemble in which I sang while studying my BA at MUN [Memorial University, Newfoundland]. It was while I was in this group that I sang my first jazz solo, and that I decided to study music (jazz) seriously. She introduced me to so much – from Nelson Riddle to New York Voices.
Where does music fit into your at-home family life today? Whoever spends any time with me knows that music is pretty important to me. My car is usually either tuned to the Broadway channel on satellite radio or Jazz FM … either that or my ipod is plugged in while I happily sing along to various playlists: from classical to R&B to rock to electronica … and everything in between. My partner is also very musically-minded and can usually be found humming around the house or joining me in some sort of sing-a-long. (As you might expect, when friends visit, we usually ply them with plenty of wine, so as not to be too annoying … )
UPCOMING…
ANYTHING with BROADSWAY is exciting for me. There's something about singing with other singers that brings me a particular kind of joy. Add to that the humour and Diane's amazing arrangements … well, suffice it to say, it's incredibly fun. I love performing in ALL SORTS of ensembles, especially with my own band. There's just something different about Broadsway. We are really excited about our show for the TD Toronto Jazz Festival. We'll be at the Hard Rock Café on Friday, June 27, as a part of the festival. PLUS, World Pride is happening in Toronto – in fact, our show is a bit of joint production of both festivals. Thus, I think there will be a big sense of celebration for everyone that night.
Friday, June 27, 10pm: TD Toronto Jazz Festival presents: BROADSWAY (Hard Rock Cafe , 279 Yonge Street , Toronto) www. torontojazz.com
Friday, July 4: BROADSWAY (Midland, ON details T.B.A.) www. thebroadswayshow.com;
Saturday, July 12: Heather Bambrick at Trius Jazz at the Winery (Trius Winery at Hillebrand ... 1249 Niagara Stone Road, Niagara on the Lake) www.triuswines.com;
Saturday, July 26, 9pm: Stratford Summer Music Festival presents: BROADSWAY (The Church , 70 Brunswick Street , Stratford) www.stratfordsummermusic.ca
Thursday, August 14: BROADSWAY( Port Carling - details T.B.A.) www.thebroadswayshow.com
Saturday, August 23, 8:30pm: Heather Bambrick Quintet at Niagara Jazz Festival (Jackson Triggs Winery, 2145 Niagara Stone Road, Niagara on the Lake) www.niagarajazzfestival.com
And join me weekday mornings from 6:00 - 10:00 for "Wake Up ... with Heather Bambrick," on Canada's Premiere Jazz Station, JAZZ.FM91 ... www.jazz.fm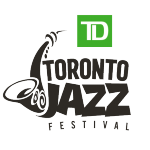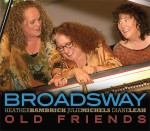 CONGRATULATIONS TO OUR WINNERS!
Read our extended interviews with Diane Leah, Julie Michels and Heather Bambrick, including details of their busy summers, online at thewholenote.com.
Meanwhile don't miss BROADSWAY, presented by the TD Toronto Jazz Festival at the Hard Rock Cafe, June 27 (10pm): an unforgettable evening of everything from Gershwin to Gaga, Sondheim to Schwartz, and a whole lot of laughs. Pairs of tickets have been won by Judith Kidd and Jonathan Giggs.
Broadsway's debut recording Old Friends has been won by Richard Smith. If you'd like your own copy, visit thebroadswayshow.com and click on the album cover.
Music's Children gratefully acknowledges Anna, Ori, Katie, Mike & Lou, Hugh & Madeleine, John & Joan.