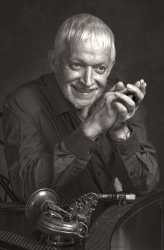 Jim Galloway (born James Braidie Galloway July 28, 1936 in Kilwinning, Scotland) died peacefully at home on December 30, 2014 surrounded by loved ones.
An internationally renowned jazz musician, one of the few specializing on the soprano sax (along with alto, tenor, baritone and occasional clarinet), Jim lived a full life doing what he loved most.
Listening to post-war U.S. Armed Forces Radio Services, the young man discovered jazz music, and soon was playing clarinet and alto saxophone locally. As a student at the famous Glasgow School of the Arts (1954-1958) Jim added to his reputation as a leading Scottish jazzman.