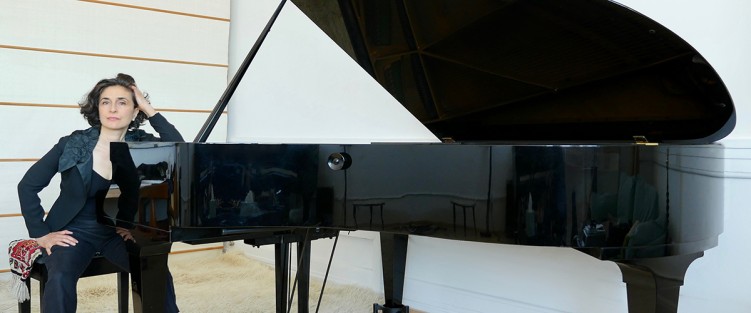 Over 20 years ago, the Toronto-based pianist and extraordinary interpreter of contemporary music Eve Egoyan was introduced to the music of the Spanish-German composer Maria de Alvear through a recording given to her by composer Martin Arnold, the current artistic director of Array Music. After talking recently with Egoyan about her upcoming performance of de Alvear's monumental diptych De Puro Amor and En Amor Duro, I think it's fair to say that that moment in time was a meeting with destiny for Egoyan.
After listening to the recording, she contacted the composer and in return received two scores in the mail. Those scores were De Puro Amor and Amor Duro, composed in 1991, which Egoyan proceeded to learn and subsequently perform at the Music Gallery in 1996, while the Music Gallery was still located at 179 Richmond St. W.
Events will have come full circle with the upcoming performance of these two pieces on April 14, also with the Music Gallery, but this time at the St. George-the-Martyr location that was the Music Gallery's home performing base for the past 16 years. The current performance is also the launch of Egoyan's CD recordings of these works, adding to her extensive list of album releases. Earlier in the evening, writer Mary Dickie will be interviewing former Music Gallery artistic director Jim Montgomery about the years (1991-2000) at the 179 Richmond St. W. venue, during which time Egoyan initially performed these works.
That initial performance of de Alvear's music was "a seminal moment," Egoyan told me in our interview. The unique feature of both these works is their long duration: De Puro Amor being one hour in length and Amor Duro 50 minutes. "This was early in my performing career, and I had never performed anything before of that duration. I jumped into the performance with a lot of trepidation as I thought everyone would leave after the first half."
What surprised her was not only did people stay, but she had an experience of feeling the presence of the audience in a totally new way. "I found it extremely moving to be with my audience for that long in that sound language. I felt people listening, and was very excited by that – that feeling of shared listening. Of course the experience of shared listening is always happening when you are performing, but because of the level of comfort everyone was feeling within the language over that period of time, I was aware of their presence in a new way. I felt so transported by that and honoured that they were with me. It felt really unique, expansive, and quite extraordinary. We were all being transported at the same time."
She went on to explain how works with a long duration create a welcoming space for such listening. "When you are playing standard repertoire, people have a sense of history with that work. They are already prepared to hear a certain language. But when you're playing a piece by a contemporary composer whose language is unknown, there is a certain adjustment period for the listener. The longer duration pieces allow time for that adjustment period. The listener can then be more present and go deeper into the sound language. It's also a more profound experience for me as a performer, to feel people experiencing the art in a totally different way rather than having a more surface experience."
Both of de Alvear's pieces on the program are composed using a type of loose proportional notation. The pitches are pre-determined by the composer, but the durations are approximate and time is determined by the distance between the notes on the printed page. There are very few markings of dynamics or phrasing. This approach allows the performer to be very present in real time. "It gives me space to listen and make decisions based on how the piano sounds in the space and I can adjust the dynamics and pedalling in real time based on what I'm hearing," said Egoyan. "The rules are more open and generous, so everyone can create. It's not improvisation though, because the inherent structure and form is already there, but the composer is trusting her interpreter to draw the audience into real time. Both harmony and register are of the utmost importance, and through that window everyone is guided into an experience of the piece."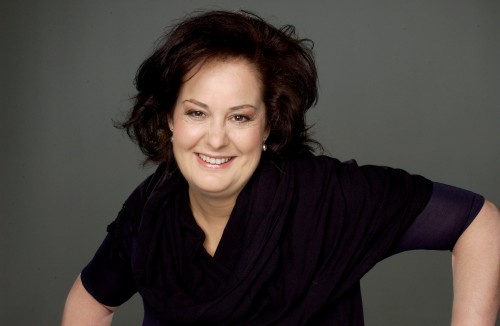 After such a profound experience performing de Alvear's pieces, Egoyan had a desire to perform more such works, and thus began a long association between the two artists. De Alvear wrote specific works for Egoyan, including two piano concertos Clear Energy (2006) and Sky Music (2009), as well as the solo piano work Asking (2001). The friendship and collaboration is so strong that de Alvear invited her to attend the presentation of the Spanish National Award for Music in composition presented by the King and Queen of Spain in June 2016.
Long works, long term relationships: Another outcome of her connection with de Alvear was to seek out and perform long duration works by other composers. A week after the Toronto performance, Egoyan will travel to Victoria and offer a unique listening experience of four concerts comprised of long duration works by de Alvear, Ann Southam, Rudolf Komorous and Linda Catlin Smith presented over the course of two days, on April 21 and 22. Over her career, Egoyan has developed intimate and long-lasting creative associations with each of these composers, and each of these collaborations has resulted in CD recordings as well as multiple performances.
In the course of our conversation, Egoyan told me more about these long term relationships. "When people write for me, it's like having them dress me, they are creating clothing for me. There is a feeling of intimacy – I know them and they know me. I slip into that world and there is a sense of trust and openness when I play music by people I really know. Interpreting is a strange thing for me – I'm giving myself, opening myself fully into somebody's creativity. I really need to trust that meeting place for me to feel that it's most effective." One such long term relationship has been with composer Ann Southam. After de Alvear's visit to Toronto for the premiere of her work Asking, Southam was so struck by it, that she wrote a long duration work for Egoyan entitled Simple Lines of Enquiry in 2008 in response. That particular visit was also inspiring in a unique way for several women composers who attended. Egoyan describes it this way: "We were impacted by the fact that de Alvear didn't hold back from taking up space. Maria only writes long pieces, she only takes up time. We were struck by the fact that a woman would actually say 'I'm here, I'm allowed to be here for this long, without any apology.' That's what inspired Ann to write that long work for me." In describing de Alvear's character, Egoyan stated: "She herself is a force, an unbelievable presence that blew us out of the water. You could say that her music aggressively asserts itself by its duration, but it's not aggressive music."
Solo for Duet to get Luminato debut
Egoyan's latest project, Solo for Duet: works for augmented piano and images, will receive its premiere at this season's Luminato Festival on June 19 and 20. The project takes her love of creating intimacy between piano and audience to a whole new level. It combines six piano works by six different composers and presents them as a theatrical production, combining choreographed movements, speaking, singing, images and unspoken narrative. In choosing the repertoire, Egoyan has intentionally created a gender-balanced program with works by distinguished artists David Rokeby, Michael Snow, John Oswald, Nicole Lizée, Linda Catlin Smith, and Duet, a new piece for disklavier she has composed for herself. The disklavier is capable of producing both acoustic piano sounds as well as sampled and digitally altered sounds. "Duet explores the space between what a piano can do and what I wish a piano could do. It's a conversation between the piano and its dream self. The virtual piano can do infinite sustain, tremolo, change pitch and reveal harmonic overtones." By performing on a disklavier, Egoyan and her collaborators transform the piano into a visual instrument, combining sampled sound, film and interactive images, and drawing inspiration from the films of David Lynch, a Shakespearean sonnet, technical glitches and more.
Egoyan acknowledges that creating and preparing to perform this program has been very challenging for her. "I'm going from being extremely intimate in my performances to more extroverted than I've ever been before. I'm also revealing my own creative voice, which I've never done publicly except for some improvisation." By combining theatrical, musical and visual elements, she seeks to create "a unique hybrid, alternating sections of multi-sensory intensity with periods of delicacy and stillness. This will draw the audience in close to listen and then expand outwards with the addition of visuals and theatrical elements."
Directed by Joanna McIntyre, following its Luminato debut the piece is scheduled to tour throughout Canada in the fall of 2018 and Australia the following May.
Wendalyn Bartley is a Toronto-based composer and electro-vocal sound artist. sounddreaming@gmail.com.