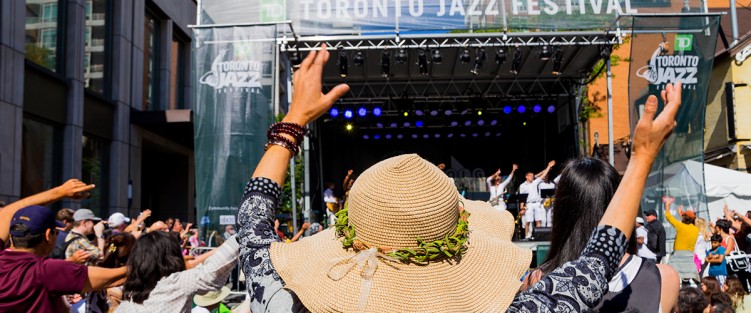 2019 marks an interesting anniversary for the TD Toronto Jazz Festival. A mere three years ago, in 2016, the TJF looked much different than it will this year, or even than it did in 2017, when it first made the move from Nathan Phillips Square to Yorkville.
Of the many changes that took place between 2016 and 2017, there are three that seem most significant. The first: instead of anchoring the outdoor festivities around large, ticketed tent shows, the TJF's outdoor shows would be free, and would, for the most part, feature local or up-and-coming acts. The second: by moving from Nathan Phillips Square to Yorkville, the TJF sought to integrate itself within a pre-existing commercial (and residential) area that is largely pedestrian, automatically expanding the potential attendance pool of the free outdoor shows to people who just happen to find themselves in the area, and making it easy for festival veterans to "make a day of it." (One could, of course, wander around Nathan Phillips Square, but it was hard to find a passable beer, a cup of coffee, or even, say, a salad on the premises. Even the most ardent jazz fan found it tough to do a whole day at the festival as it existed at NPS.) And the third: the TJF would discontinue the longstanding practice of automatically including all of Toronto's jazz (and jazz-adjacent) clubs in TJF materials, with no input as to those clubs' programming and no real control over attendee experience, reducing the breadth of the festival's offerings in order to focus on depth.
Personally speaking, while I was out of town touring for most of the TJF's inaugural Yorkville run in 2017, last year I had the opportunity to both play in the festival (on an outdoor stage on Cumberland, as well as indoors at The Pilot) and to attend a variety of shows, including Dan Weiss' Starebaby group, a ticketed event at The Rex, Savion Glover and Marcus Gilmore's duo show at Koerner Hall, also ticketed, and a healthy number of free shows that took place at (mostly) outdoor stages. (For those with an interest in last year's TJF, please visit The WholeNote website to check out the pieces I wrote.) As a performer and as a spectator, I genuinely enjoyed myself; though it lacked the large open space of NPS, the area's village-esque qualities ended up lending themselves well to a multi-stage set-up with staggered set times. It felt, as I wrote last year, festive, for the first time in my experience of a jazz festival in Toronto.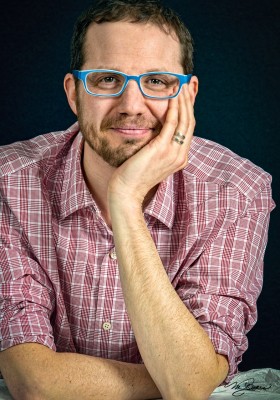 In mid-May, I had the opportunity to have a conversation with Josh Grossman, the Artistic Director of Toronto Downtown Jazz (the organization that administers and runs the TD Toronto Jazz Festival) to talk about these relatively recent large-scale changes to the TJF's format, the unique aspects of this year's festival, and the TJF's future in its new home.
In order for a festival to feel immersive, a sense of momentum must be cultivated within the grounds, Grossman says. Audiences should be able to move naturally from one event to the next, without ever feeling as though they're waiting around with nothing to see. When Grossman looked at other jazz festivals, such as Ottawa or Montreal, or even other festivals within the city, including those that occur at Harbourfront Centre, he took note of the way in which there were events "happening all the time on multiple stages," which he felt the TJF "couldn't ever get at Nathan Phillips Square." One of the biggest problems? The "relatively strict sound restrictions in place" at NPS, owing to its proximity to City Hall and to the courts, which, as Grossman told me, also made the development of any serious sense of momentum difficult.
Mounting frustrations with the festival's old location coincided with the appointment of Howard Kerbel as Downtown Toronto Jazz's new CEO in 2016. Kerbel – who was previously a member of the Toronto International Film Festival's leadership team, and had, according to Grossman, "fond memories of how TIFF ran in Yorkville," before its move to King Street and the TIFF Bell Lightbox facility – helped to initiate the move away from NPS at a time when there was a dearth of multi-day festival activity in Yorkville. Finding the business community and local leadership amenable to the idea of the TJF in Yorkville, the timing was right for Toronto Downtown Jazz to make the move.
One of the best parts of the TJF, in its current iteration, is the proliferation of free outdoor stages. Beyond helping to fulfil a vision of a festival with porous borders, the free stages have tended to skew local and young-ish in their programming. This is, of course, helpful for musicians at an early or intermediate stage in their own career development, but it is also helpful for the TJF, which is still focused on its own long-term growth. A combination of sponsorship and operational funding from municipal, provincial, and federal levels of government allow the TJF to pay for its approximately 170 free shows; making these shows as accessible as possible to the general public. It also helps with fundraising and development, Grossman says, "making it easy for potential sponsors and donors to come down, get a feel for the place, and say 'this is something we'd like to support'.'"
The drastic reduction in the number of clubs included in TJF programming has not been without its detractors. In the wake of the 2017 festival, club owners to whom I spoke mentioned that being excluded from the festival's promotional materials had resulted in a definite dip in attendance during the period, as compared to the previous years. In the research process for this article, I spoke to (and emailed) a number of musicians who had played at the TJF in the last two years – i.e. in the festival's current format – and asked them about their experiences, both as performers and attendees. The responses were fairly consistent: while musicians like the idea of integrating a greater number of clubs into the festival, it doesn't necessarily follow that having more clubs participating will automatically make the TJF experience better; there is something to be said for the community-building power of geographical proximity, and the possibility that a festival may cease to feel like a festival if the majority of its offerings take place at discrete locations at various points throughout a city.
When I asked Grossman about the club situation, he touched on the same points, as well as what for him was the primary issue: that Toronto Downtown Jazz wasn't actually programming the clubs, had no overview over their operational standards, and had no control over attendee experience at events that were explicitly being advertised as TJF events. Moreover, the festival was doing this promotion for free, and, in some cases, club shows "would be up against events that the festival had "programmed directly," creating odd conflicts of interest. Another major issue that Grossman touched on: musician pay. The TJF works to pay "at the very minimum, the Toronto Musician Association's recommended rates." Again, stressing that all clubs operate differently, Grossman pointed out that "when a musician would go in to play" a venue that had a "pass-the-hat" payment arrangement, it would get very tricky to say "this is an official festival show."
This is not to say, of course, that there are no clubs involved in the TJF; there are a handful, including a number of venues adjacent to the Yorkville festival grounds, such as Sassafraz, the Gatsby bar at the Windsor Arms Hotel, and Proof Bar at the Intercontinental Hotel, the latter of which will host the nightly jam. As it did last year, the Home Smith Bar at The Old Mill will represent the TJF's furthest-flung outpost, with four nights of vocal jazz performances hosted by Heather Bambrick. In the downtown core, The Rex will again function as a major festival hub, and will feature major artists such as David Binney, Donny McCaslin and Chris Potter. Grossman tells me that the TJF and The Rex have a "co-curatorial relationship;" throughout the booking process they go back and forth, working through any questions about which artists will work best in which setting. "What we end up with," he says, "is a lineup on our stage that [The Rex] is cool with, and a lineup on The Rex stage that we're cool with." Issues concerning pay, marketing and promotion are all covered in "a very strict venue agreement," resulting in all parties being comfortable and mutually invested in a positive outcome. And, as Grossman puts it, if it's possible to develop similar relationships with other clubs that can provide complementary programming to the TJF's other venues, it's probably "the way forward."
Five years from now? Grossman returns to the move from NPS to Yorkville. "The goal with moving to Yorkville," he says, "was to refresh the festival, change things up, a little bit, but also to create an environment in which people" – attendees, sponsors, artists – "can come and get excited about what we're doing, see that we're trying to build this thing, and get on board." Fundamentally, he says, all of the Yorkville activity will remain more or less the same, because "that's the vibe" they're looking for. When asked about what's missing, he let on that he'd been in preliminary talks with the University of Toronto about space to accommodate a large stage, a marquee venue at which 10,000 or so people could watch major artists perform. I asked if he maybe had a place like King's College Circle in mind, but I was wrong. "Varsity Stadium," he answered. "But," he added wryly, "I think that's very challenging, for any number of reasons."
And so, on its third anniversary in Yorkville, the TD Toronto Jazz Festival seems confident, self-assured, but also duly concerned with the necessity for future growth. Beyond the improved attendee experience, it is this potential for growth that seems most exciting about the festival, and which illustrates one of the less obvious outcomes of its exit from its old location in Nathan Phillips Square: by narrowing its scope and reinventing itself as a leaner, more focused festival, the TJF has given itself the space to better manage its own development. Through this process, it has quickly (re-)established itself as part of Toronto's cultural landscape. As to the future, we'll have to wait and see.
This year's TD Toronto Jazz Festival runs from June 21 to 30. For details visit torontojazz.com.
Colin Story is a jazz guitarist, writer and teacher based in Toronto. He can be reached at www.colinstory.com, on Instagram and on Twitter.