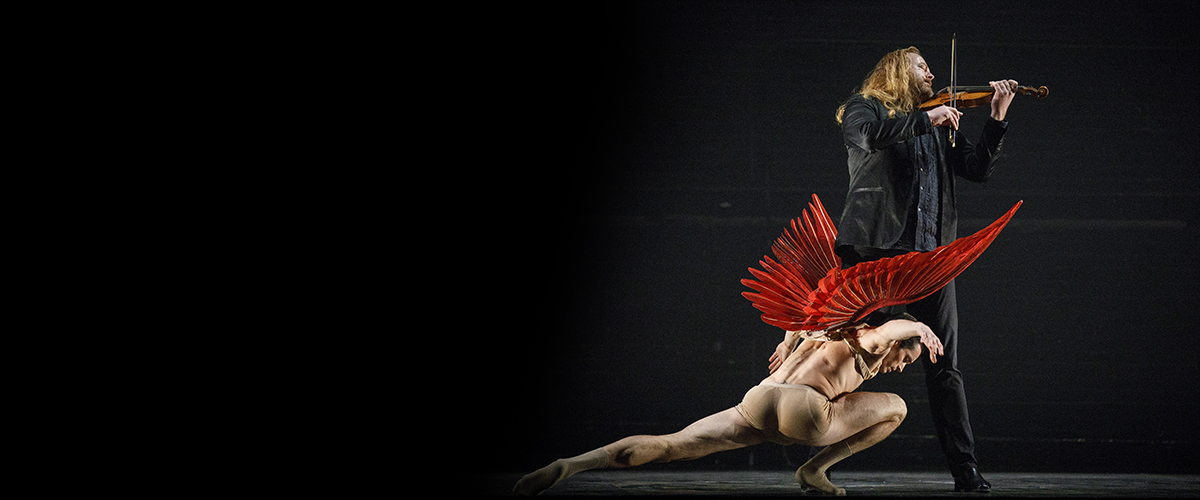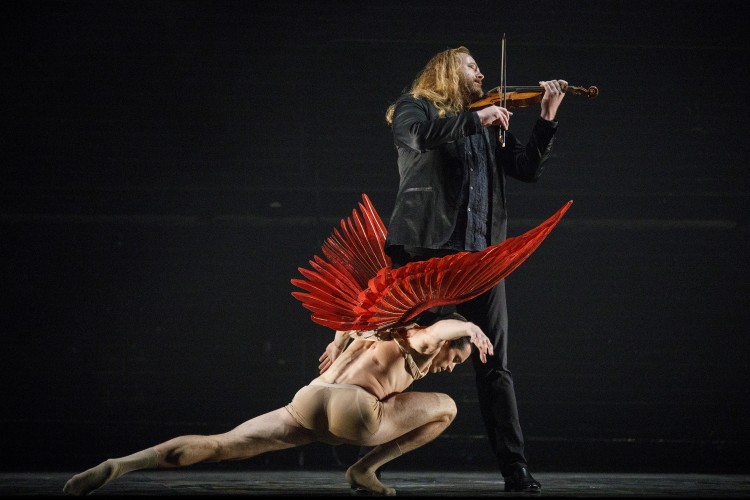 When I tell people about Opera Atelier's ongoing The Angel Speaks project, I always begin with when I saw the very first performance of its first installment, in May 2017.
I was sitting at the back of the Royal Chapel at the Palace of Versailles watching fellow members of Opera Atelier's Medea company and of Tafelmusik perform an attractive selection of Purcell and other English Baroque music, titled Harmonia Sacra, when suddenly there appeared high up on the balcony above, the dramatic figure of what appeared to be a Viking angel playing an exquisite melody on solo violin.This beautiful mystical thread of music then seemed to bring forth, and become tangibly present in, the figure of a dancer (Tyler Gledhill) – another face of the angel – on the ground level with the singers and audience, a figure in search of something or someone. That someone, it became clear, was the Virgin Mary in the person of soprano Mireille Asselin. The violin-playing angel then joined the other two on the ground level, and we in the audience were transfixed as the three embodied the story of the Annunciation in music and choreography in a way that was profoundly moving.
This transformative concert experience was the result of a double commission by Opera Atelier, their first: an original piece of contemporary Canadian music for solo violin, Inception, by acclaimed violinist (and balcony Viking) Edwin Huizinga, combined with new contemporary choreography by longtime OA artist, and in-demand contemporary dancer, Tyler Gledhill.
For me, what was truly extraordinary about this piece was the blending of the Baroque and the new, the music and the choreography, a seamless interweaving with Purcell's dramatic cantata, The Blessed Virgin's Expostulation, beautifully sung by Asselin. Fascinated by what OA co-artistic director Marshall Pynkoski calls this "theatrical intervention" that was so much greater than the sum of its parts, I contacted composer Edwin Huizinga to learn more about his creative journey on this project and how it fits in with his already incredibly multi-faceted career.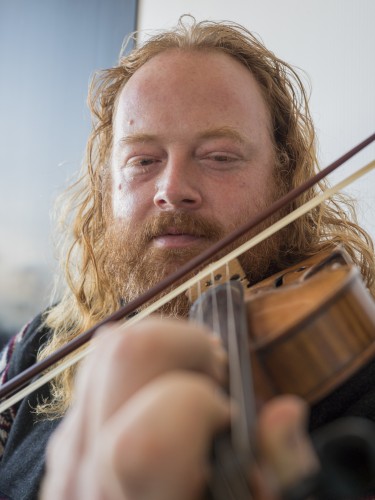 When I caught up with him, Huizinga was in California having just finished recording a new album with his Fire & Grace partner, guitarist William Coulter, and "phenomenal mandolin player" Ashley Broder. Like Fire & Grace's previous albums the new one has a mix of Baroque and Irish music, but with the addition of Broder to the ensemble has also mixed in American folk music and bluegrass, while "still being very much focused on the cross pollination of the two different genres."
This cross-pollination of Baroque and folk music can be seen throughout Huizinga's career although he "grew up in the middle of nowhere (Puslinch, Ontario) listening almost exclusively to classical music on CBC radio," and from an early age was "fascinated with the fact that there was so much Baroque dance music out there that I loved." The folk side of things didn't come in until later.
As a young professional violinist, as he became increasingly immersed in the "world of the Baroque violin, playing with groups like Tafelmusik and Apollo's Fire," he became even more eager to share this music with other colleagues. Also early in his professional career, he was beginning to develop his "other love – of the folk world" playing and writing songs with his Canadian indie band The Wooden Sky. It was as the band toured to festivals across the country "playing folk music for audiences of thousands of amazingly excited young people" that he first thought "why can't we mix these two genres together?" and started brainstorming about ways to do just that.
A chance meeting with kindred spirit William Coulter, a classical guitarist fascinated with Celtic guitar and Irish music, led to a collaboration on the first Fire & Grace album where they experimented with combining classical, Baroque and (primarily Celtic) folk. They were thrilled with the result, as Huizinga says: "It was so incredibly fun to accomplish the combination of music genres and to really feel that they are more similar than not." Performing the album's tracks around the world they found that "people got it, also feeling the real connection between the two genres, the shared joie de vivre and the way your body feels when you are playing this music."
While Huizinga never went as far as step dancing while playing his violin as Natalie McMaster does (although he has met and greatly admires her) he often refers to this physicality of the music, both how it feels in the body when a musician plays it and how it seems meant to be danced.
All of these things make him an ideal composer for OA to have chosen for The Angel Speaks, and to actually take part in the choreography of his music as an integral part of the storytelling.
When I asked him if he had ever done anything like that before, he explained: "It was a completely different experience! I spent time really thinking of what it meant to be a composer and performer today with the knowledge that I have of all this Baroque repertoire that I love. Then when Tyler and I started working together and I sent him the music, we spent many weeks together discovering the relationship – playing with me being part of the voice of the Angel Gabriel and him being the Angel Gabriel, and with the fact that he and I were connected and exchanging energies onstage. That piece was an extraordinary inlet for me, into the world of visualizing what I was trying to write. By the time we were performing it, it felt very organic, as if we were moving and working together as a team throughout."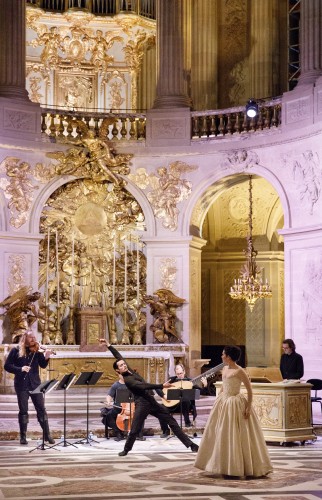 That first Versailles concert performance of Inception was so successful that OA was invited to return to Versailles and to expand the new commission, adding additional instruments, voices and dancers. This opened the door to expanding on the story and layers of the new project, taking as a jumping off-point The Annunciation, a poem by Rainer Maria Rilke, in an evocative translation by acclaimed American playwright and poet Grace Andreacchi,
"One of the beautiful things as I started to write this piece" says Huizinga, "was the chance to collaborate with Tyler." In the new piece, Annunciation, Jesse Blumberg, the baritone soloist, is another great friend and colleague, having made an album with Huizinga's Baroque band ACRONYM and having just married one of Huizinga's best friends. "It's an unbelievably great feeling," Huizinga says, "to be able to call someone at the drop of a hat and ask questions about the range of their voice and their interests; for example, if they would be willing to go into a falsetto voice and be singing higher notes than the soprano. Also, as a composer I've decided that I want the artists that I am writing for to be comfortable. My whole concept behind performance is that, if you're able to really enjoy what you are doing, that will translate beyond anything you could technically accomplish."
The whole process of creation on Annunciation, as it was with Inception, seems to have been very free and collaborative. As Huizinga started work on Annunciation with Blumberg's voice in mind, and "falling in love with the poem and understanding it more and more," he recalls approaching Opera Atelier director Marshall Pynkoski: "I felt there were moments in the poem where I thought there was a dialogue in the Angel Gabriel's mind and I was wondering if I could turn that into a real physical thing and have two singers." Pynkoski agreed immediately and suggested that Mirellle Asselin could be part of Annunciation as well as Inception. "I was thrilled" says Huizinga. "Being able to weave her voice in adds so much, as for me there is very little that is more powerful than two artists trying to tell a story together."
Rilke's poem The Annunciation is a strange, mystical, almost surreal, evocation of the arrival of the Angel Gabriel on earth to find the Virgin Mary and tell her that she has been chosen to give birth to the son of God. It is far from a straightforward telling, as the angel seems to have forgotten his mission at first, and does not recognize Mary or possibly even know she is real. He (almost) seems to be in conflict with himself which gives rise to internal tension in the musical scene and the choreography created to go with it. Asselin, in this section, is no longer the Virgin Mary, as she was in Inception, but more, as Huizinga puts it, "an apparition, or avatar, of what is going on in the Angel Gabriel's mind" conveying what he is yearning and searching for and trying to understand.
He continues: "I've had so many thoughts and discussions about the idea of an avatar and how that's one of the (both modern and age-old) concepts that we use to describe the transfer of consciousness and energy into another being. We had to find a way to give Jesse that responsibility as he and Tyler are both aspects of the Angel Gabriel." This concept leads to a beautiful choreographed interaction as Annunciation begins.
Huizinga himself is not as much part of the choreography in Annunciation, deciding instead to "lead the band" so as to be able to observe and be part of the development of all the moving parts of this much more complex piece that includes two singers, six instrumentalists and five dancers (and Baroque as well as contemporary choreography). As he says: "I'm treating it as a chance to see what it's like to be writing a dramatic cantata today in the 21st century."
One moment in the process so far really stands out for him: "I had written an incredibly calm moment right near the end of the piece – a long meaningful chord – and [director] Marshall had the two dancer couples lean in towards each other and hold this moment of repose and beauty and connection, and it blew my mind. I left that rehearsal basically speechless because I had never talked to him before about how I felt about that moment, but I saw I had been completely understood."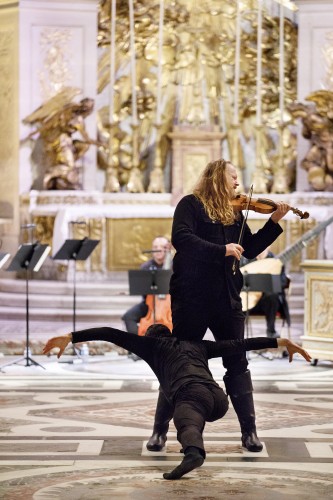 In this new version of the project I first witnessed in Versailles in 2017, titled The Angel Speaks, the various pieces are interwoven. Annunciation, telling the story of Gabriel's arrival on earth and struggle to understand his mission, comes first, followed by Purcell's The Blessed Virgin's Expostulation, interwoven with Inception, with the sweet voice of Huizinga's violin answering from above Mary's cries to Gabriel.
The Angel Speaks will be performed in the Royal Ontario Museum's Samuel Hall Currelly Gallery for one performance only on February 21. Interestingly it was at the ROM that Opera Atelier first began presenting Baroque performances in 1985, so it seems extra fitting that they should debut what feels like a new phase of creation in the same setting.
Already, though, the team are looking ahead to the next expansion of the project which will begin with another mystic Rilke poem, The Annunciation to Mary, in another wonderful translation by Grace Andreacchi. At this point, as Huizinga says, they are "just scratching the surface" exploring the meaning of the poem and looking at possibilities of setting it for a singer or possibly for an actor to speak over music. "The next question for me, for Marshall and OA, is eventually what is this going to turn into?" Huizinga sees it as "eventually having less [musical] support from the godfathers of Baroque music, and Marshall has indicated that he would like to see it become a one-hour piece that can stand on its own."
Asked if he could imagine having undertaken The Angel Speaks without benefit of all the many different things that he has in his musical career, Huizinga replied:
"The short answer is that it is impossible to separate anything that I do in my life from the music that I write. Initially when I was starting to write this piece I was listening to and performing a lot of Heinrich Biber. One of the things I love most about him is that he inspires the performer to improvise, and my life has been guided by my desire to also improvise and be able to feel freedom in music. True freedom where you are really being allowed to speak your own voice in what you do."
In composing Annunciation, for example, he "wrote three very short moments of improvisation. I asked each performer individually 'Would you be interested in doing this? Does it excite you? Because, if not, I am happy to write it out completely.' And I would maybe not have had the courage to follow that path with my new piece without having had opportunities of shredding and improvising in studios as a studio musician, and then as a band member, or asking my kids at the summer camp that I run to forget everything they have learned and just improvise a piece for me using three notes A, C and E. So, everything in my life so far is, I feel, definitely being brought out in this world of writing."
I suggest to him, as our conversation draws to a close, that, along with the exhilaration of composing and creating these new works, it must be a real blast for a musician with his physicality to actually be on stage, with permission to be part of the scripted visual action.
"Absolutely a blast, and also hard to believe, to be honest," he replies.
Opera Atelier's The Angel Speaks will be performed in the Royal Ontario Museum's Samuel Hall Currelly Gallery for one performance only at 8pm on February 21.
Toronto-based "lifelong theatre person" Jennifer (Jenny) Parr works as a director, fight director, stage manager and coach, and is equally crazy about movies and musicals.