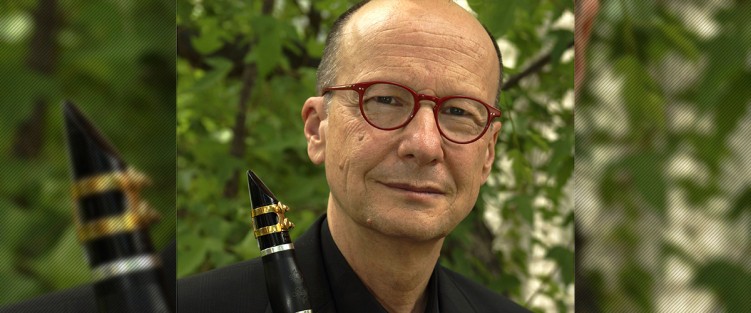 The first-ever concert of the Festival of the Sound was held on August 5, 1979 in a Parry Sound school gymnasium under the direction of pianist Anton Kuerti. The summer of 1980 marked the first full-fledged festival under the FTOS name, with Kuerti as artistic director. In 1985, James Campbell began his tenure as the Festival's second artistic director, a position he still holds today.
I caught up with Campbell in mid-May, via an exchange of emails.
WN: To jog your memory, last time we spoke (briefly) was Feb 4 last year after a New Music Concerts' Land's End Ensemble concert at Gallery 345 in Toronto where you played the Schoenberg Kammersymphonie Op.9 (Quintet version), with Lands End and Bob Aitken, flute. I said something about getting in touch with you about the 2018 Festival of the Sound, and you replied along the lines of "Great, but why don't we wait for next year's 40th anniversary version." So here we are!
You said in your previous email that you were at Munich airport en route to Prague for a week of recording. Can you say more about that?
JC: We've just finished. It's a recording with the Prague Philharmonic of Allan Gilliland's Dreaming of the Masters, a work commissioned by the Edmonton Symphony for the orchestra and me in 2005. It has had quite a run; I even performed it twice with the Boston Pops in Symphony Hall, Boston. It is a cross-over work in the style of three great jazz clarinetists: Benny Goodman, Acker Bilk and Buddy de Franco. The CD will be released next April.
I notice you are using your indiana.edu email address, but I don't know whether you are still mainly at the Jacobs School. I seem to have noticed your name cropping up at University of Toronto more frequently this past year or so (masterclasses, etc) but maybe it's just that I have noticed more?
I have just left IU after 31 wonderful years, but please don't say "retiring," because I will still be very active playing, giving masterclasses worldwide, and being artistic director at Festival of the Sound. Carol and I are looking forward to spending a lot more time in Canada. And yes, you have seen my name at U of T more frequently; I have been a visiting artist there two to four times a year for the last few years, something I enjoy.
Everything else notwithstanding, I'd say that your 35-year role at Festival of the Sound is the one that most WholeNote readers associate you with. How big of a piece of the pie is it?
It is one of the three "jobs" I have had for the last three decades: professor, performer and artistic director. FOTS takes a lot of energy and time, but has been a passion of mine.
"Recurring cast of characters" is a phrase that comes to mind when I look at the artists you've attracted to FOTS over the years, albeit always with interesting "first timers." There must be something in the formula that works, for your audiences, and maybe more importantly for the musicians themselves.
This might be better explained in a conversation, but I'll see what I can do here. I believe there is difference between a music festival and a music series. A series, by definition and necessity, hires pre-formed groups or packages. Although some festivals run this way and it works for them, the FOTS is what I like to think of as a creative festival. Musicians come together to share the stage with friends and colleagues they may not interact with during the winter months. I make up the programs in consultation with the musicians and the concerts are prepared on site. Musicians get to play works they may not get to tackle in a busy concert season and the audience hears programs that can be done only once, at FOTS. Most artists stay in Parry Sound for three to six days and during this time a sense of camaraderie develops, adding to the spontaneous music making and fun that is central (I think) to a summer festival.
The core artists (of which there are now many) are those who love this kind of interaction and risk-taking, and because many return on a regular basis (as you have noticed) feel a sense of belonging and ownership. This adds to the comfortable, relaxed atmosphere FOTS is proud to foster.
The cross-genre aspect of the festival is one of the things that stands out. How much of that comes from the fact that you yourself love crossing those lines as a musician? How much of the curating at this point comes from artists knowing what pushes your buttons, and how much is you doing the matchmaking?
I do almost all the matchmaking but do consider every pitch thrown my way by artists. I also get a lot of ideas sent to me by agents and organizations worldwide. I enjoy gently pushing some artists out of their comfort zones, sometimes successfully, sometimes not. Our audience understands this to be part of what we do and enjoys hearing musicians trying something new, which makes our stage a safe place for musicians to stretch a bit. I certainly appreciate it as a musician. Being allowed to make mistakes has helped me grow in so many different ways.
This is great, thank you! Last word to you?
If I may wax philosophical for a moment, then: I am sometimes asked why I have remained with FOTS for so long and have indeed had other informal "offers." I could have climbed various administrative ladders in Canada but there has always been something very special about the relationship of classical chamber music and Parry Sound that I have never experienced in all my travels.
I am very grateful to Anton Kuerti for asking me to take over from him 35 years ago. He, and a wonderfully tenacious group of volunteers, did most of the heavy lifting. That tenacity remains strong to this day, making my job simply to keep an artistic focus that is worthy of the energy and passion of the local community.
When all is said and done, everything we do comes down to that moment when artist and listener are joined in a moment of communal focus on a timeless masterpiece and life is made better. As artistic director, feeling I may have helped that moment happen gives me a wonderful sense of accomplishment and satisfaction.
It is all about building relationships: artist to artist, artist to board members, artist to audience members, audience members to each other, artists and audience members to the local community. These take time to build, but once established can last a long time. When I find musicians who connect with all these elements I try to help build those bonds. We have found that this connection has helped us through the inevitable ups and downs of our history. We are now the second largest economic generator in the community – the Island Queen is the first!