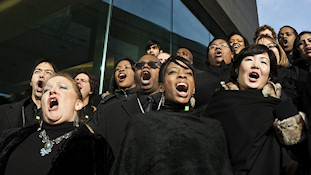 The Nathaniel Dett Chorale is no stranger to prominent people and occasions: over its ten-year history, the Toronto-based choir has sung at events honouring Nelson Mandela, Desmond Tutu and Mohammed Ali. But last month's engagements in Washington DC were in many ways unprecedented, thrusting the group onto the world stage.
"We were pleased and flattered by the invitations," said the choir's director, Brainerd Blyden-Taylor (with understated delight), shortly before his choir sang at the festivities surrounding Barack
Obama's inauguration. "We not only represent Afrocentric music, but also a kind of diversity that's responsive to Obama's ideas about community and coming together."
The only Canadian musical group to take part in the inauguration events, the choir performed on January 19 (Martin Luther King Day) at the Smithsonian Institution's
Museum of the American Indian. On January 20 – the day of Obama's inauguration – the choir sang a concert at the Canadian Embassy.