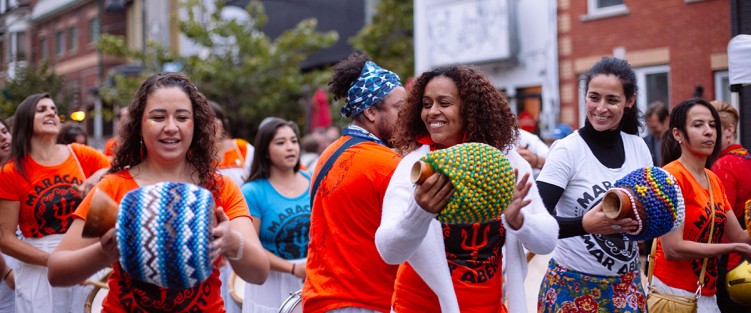 You've seen them. Actually, you probably heard them long before you saw them, when the sound of funky, rhythmic pounding drifted past your ears as you made your way to a street festival in Toronto. I'm talking about those big Brazilian-style drum groups that pop up whenever there's a festival in the summer. Loud, exuberant and infectious, baterias have become mainstays in multicultural Toronto. Sometimes there will be dancers – usually women – all decked out in feathers and sequins, shimmying along in high heels, deftly navigating the streetcar tracks. (How do they do that?!)
Mostly though, it's simply a group of drummers and percussionists emulating the massive Brazilian samba clubs, albeit on a much smaller scale. With their matching T-shirts, jaunty hats and big smiles, they bring a little taste of Carnaval, the huge celebration that happens every year before Lent in Rio de Janeiro, to the streets of Toronto.
Samba as a way of life
Samba is a cultural icon of Brazil, with its roots in Africa, and an integral part of life for the majority of Brazilians. Throughout the country, samba is played, danced and sung in various styles and settings.
Samba de roda (samba circle) and samba de raiz (roots samba) involve smaller groups with guitar, cavaquinho (a small ukulele-type instrument) and percussionists getting together at parties and taverns to sing and dance. Ballroom samba dance (samba de gafieira), similar to Argentine tango, became popular in the 1940s and is still danced today.
Toronto musician, music professor and ethnomusicologist, Gordon Sheard sees samba as a central part of life in Brazil. "Starting in the early 20th century, it played a key role in the formation of the Brazilian national identity," explained Sheard. "It's both a unifying element and an instrument of diversity, as its outgrowths evolve to serve the needs of specific communities – from the bossa nova of Rio's middle classes to the samba reggae of the Afro-Brazilians of Bahia."
The massive drum groups (known as samba schools, although they aren't schools in the traditional structured sense) formed to take part in the pre-Lenten Carnaval. Samba schools became fixtures in the community throughout the country and especially in Rio de Janeiro in the poorer neighbourhoods (favelas). They provide a social life as well as musical training and are a part of life for many in Rio.
"We need to have a beach; We need to have futbol; We need to have samba. It's all linked and part of the culture. We grow up knowing that," says Maninho Costa, a Rio de Janeiro native.
For the samba schools, Carnival parading has become a major competition, with different levels of schools – similar to professional sports leagues – competing against each other every year over a four-day period. The biggest Carnival is, of course, in Rio de Janeiro, where some legendary schools, like Mangueira, have been playing and competing since the 1930s. Samba squads often have hundreds of members and each of the main schools spends many months each year designing their theme, holding a competition for their song, building the floats and rehearsing. Each school's parade may consist of 3,000 participants, including celebrities, dancers, singers, veteran performers and elaborate floats.
The preparations, especially producing the many different costumes, provide work for thousands of the poorest in Brazilian society. The resulting competition is a major tourist draw and media event, with tens of thousands attending in the Sambadrome and the event televised to millions across South America.
Baterias in Toronto
The Brazilian percussion groups here are about more than drumming and often become like little communities or families for the participants. And samba can get under your skin, whether you're Brazilian or not.
Torontonian Gloria Blizzard started playing with a drum group 15 years ago until a hand injury forced her to back off the practising. So she switched to dance so she could continue to "stay deeply connected to the music in a different way. Samba is something that you catch. Once you're in, that's it."
The first samba school to appear on the scene in Toronto in 1994 was Escola de Samba de Toronto, led by Alan Hetherington. Although born and raised in Canada, Hetherington is an expert in Brazilian music through his frequent travels to Brazil, playing with some of the famous samba schools in Rio and Sāo Paulo and studying with several of the master sambistas of Brazil. Finding suitable rehearsal space was a challenge for drum groups then and Escola de Samba started out in Christie Pits park, until noise complaints chased them out. When Lula Lounge opened it was a fitting home for the group for many years, being a hub of Latino culture in Toronto's west end.
In 2003, Hetherington moved the Escola de Samba Toronto to the Royal Conservatory of Music on Bloor Street. Today he teaches beginner and intermediate classes there every Sunday from September to May with opportunities for students to perform at the school and local street festivals. Hetherington also draws from the class to populate his professional samba groups, A Fantástica Bateria and Batucatronica, the latter of which is a mashup of samba drums and electronic dance music.
Samba Squad was the second bateria-style band to form in Toronto and is led by percussionist Rick Shadrach Lazar, who founded the group in 1999. Samba Squad has played virtually every festival in the Toronto area and beyond over the years and is one of the most recognizable groups. Lazar describes the style of music as inspired by the Escolas de Samba of Rio, the Afro Blocos of Salvador, Bahia and the Maracatu nations of Recife, Pernambuco. "I see it as following the path of the drum along the African Diaspora," said Lazar. "Our repertoire also includes gahu from Ghana, sabar and donba from Senegal, comparsa and salsa/mambo from Cuba, soca from Trinidad, funk from the USA and baladi from Egypt."
In 2005, Lazar continued the tradition from Rio of support for the community, especially at-risk youth, by holding workshops, along with partners Janet McClelland and Gili Zemer, at Rose Avenue Public School where McClelland taught. That grew into a full-fledged Samba Kidz program with workshops for at-risk youth. Kids who came through the Rose Avenue and Jane-Finch programs grew up in Samba Squad and went onto post-secondary programs at Ryerson and York Universities.
"The program developed student leaders and the student leaders, in turn, became the teachers of our summer camps and workshops," said Lazar. "We're proud of the program and the progress the kids made."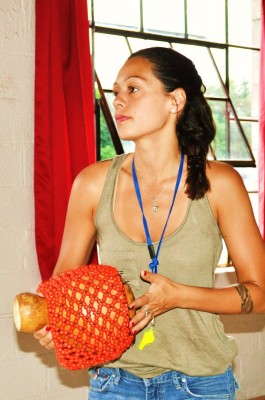 Two natives of Brazil have become prominent band leaders and teachers in Toronto – Maninho Costa and Aline Morales. Costa's group, Batucada Carioca is in the traditional style of the bands from his native Rio de Janeiro. Costa brings his experience playing in elite groups in Rio from a young age – including the renowned Uniao da Ilha do Gobernador run by his uncle – to the tight, swinging shows of Batucada Carioca. Costa regularly holds Women's Samba Bateria workshops for women wanting to learn the basics of Brazilian drumming with a chance to try out all the instruments.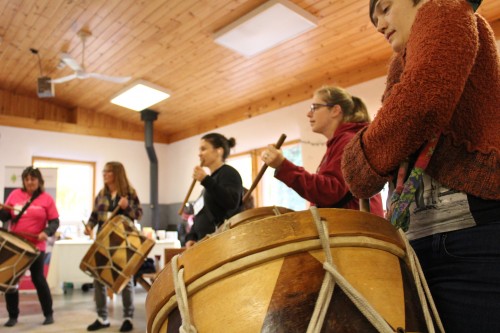 Morales hails from Belo Horizonte and her group, Baque de Bamba focuses on a style of folk music from the northeast region of Brazil called maracatu de baque virado. The group is largely made up of women but all genders are welcome. Their performances include some dancing and singing of traditional maracatu songs and the joy is infectious. "Some people say that you don't choose maracatu, that maracatu chooses you. And I'm starting to believe that," said Morales. "I wasn't born in Recife where this tradition came from, but since the day I started to play, I couldn't respect more what maracatu represents."
Morales holds evening workshops that have often been taught by veteran members of the group such as Mari Palhares, who has gone on to form her own groups, and Ana Maria Higuera, who started playing with Baque de Bamba when she was just 12 years old. Morales explains that "Big groups like ours need this kind of support from the members. It's vital for the growth of the community."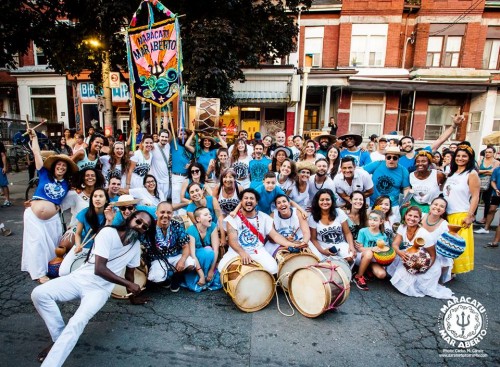 Maracatu Mar Aberto, led by Alex Bordokas, also performs maracatu de baque virado and plays regularly at festivals around town, such as Pedestrian Sundays in Kensington Market. "We have a collective approach where the sound and impact of the group is greater than the sum of our parts," said Borodakas. "Our focus is on the creativity of Mar Aberto and not any one artist in the group."
Among the newer bands on the scene is Tdot Batu. Led by Patricio Martinez, the group focuses on the samba reggae rhythms from Martinez's home of Salvador, Bahia, in Brazil's northeastern region. Performances are high energy and the infectious rhythms get their audiences partying and dancing.
Started just three years ago by Adam Kafal, a member of Batucada Carioca, Blokoloko is the latest group to emerge on the scene. Their rhythmic style is inspired by the samba carioca of Rio and they are also mainstays of Kensington's Pedestrian Sundays and a few other festivals. But performing isn't everything for them. "I think the process of creating and sustaining a rhythm is more of a joy than performing," said Kafal. "Blokoloko started because I wanted to play samba with an emphasis on more complex breaks and arrangements."
At the end of the summer of 2018, a Brazilian supergroup comprising about 70 members from Batucada Carioca, Blokoloko, Samba Squad and Escola de Samba – and led by Maninho Costa – rocked Kensington Market with an afternoon of exuberant percussion. A similar event is being planned for the summer of 2019.
Joining a bateria
Almost all of the groups in Toronto hold beginner workshops for people interested in trying their hand at Brazilian percussion. All that's needed is a good sense of rhythm. From these workshops members for the performing group are often chosen.
The groups in Toronto follow the aural teaching tradition of Brazil for learning songs. The use of written notation is rare. New members learn through attending workshops and rehearsals and listening, as well as studying audio clips or videos. "Samba is hard," explained Adam Kafal. "It's not something you can pick up by coming to a single two-hour rehearsal per week. My goal is to make people care a little more about the music and show them the way."
The seasoned players are encouraged to help the novices. Emphasis is on watching and listening and, often, singing the parts and keeping time with your feet before an instrument is ever picked up and played. It can be a long process for people who don't have a background in drumming and students need to have patience and openness in order to gradually learn enough to contribute to the group. It's a lesson that can be applied to life as well as music.
"Learning to listen and absorb and digest before jumping in, is a tool I try to equip my students with," said Hetherington. "And it can serve us well in many other aspects of our lives, too."
Brazilian Music 101
Percussion groups are just the tip of the iceberg that is Brazil's vast, varied musical culture. Toronto is lucky to benefit from an influx of Brazilian immigrants who have brought their skills to our city. Plus we have plenty of local musicians who are adept in these musical styles.
Here is just a handful of the other styles of Brazilian music and bands you can enjoy:
Choro, which means "cry" in Portuguese, is anything but sad. It's a happy, upbeat music and is often compared to ragtime or New Orleans-style music. It's primarily instrumental and is covered authentically by Tio Chorinho. Led by mandolin player, Eric Stein, the band plays festivals and does the occasional club gig.
Samba de roda (samba circle) is a mix of guitars/cavaquinho, percussion and singing. Musicians get together to jam and go through popular samba tunes. In Toronto, Roda de Samba plays every other Saturday at Yauca's, where expat Brazilians and Brazilophiles gather to dance and sing along. Good times.
Although the source of the name is unclear – it may be derived from the term "for all" – forro is a lively folk music from the Northeast region of Brazil. Trio PernamBahia, led by Carlos Cardozo, plays at Lula and other bars and Forrobodo is a monthly event, produced by percussionist Mari Palhares, that delivers a full cultural experience of traditional food, dance lessons and music.
Of course, bossa nova is one of the most famous Brazilian musical imports, with Stan Getz bringing it to North America in the 60s. A crop of young expat Brazilian performers are keeping classic bossa nova, MPB and samba alive – Aquarela Brasil, singers Babi Mendes and Giovanna Correia and guitarist-singer João Leão, who channels João Gilberto in clubs around Toronto.
A couple of songwriters producing beautiful
Brazilian-esque music are guitarist André Valério and multi-instrumentalist Louis Simao. Catch them in concert if you can (or buy their CDs).
And a final note!
Don't miss Festa Brasileira – Um Grande Encontro as part of the TD Toronto Jazz Festival, Saturday, June 22, 2019, 3pm to 6pm, Bloor Street at Avenue Road
Cathy Riches is a self-described Toronto-based recovering singer and ink slinger.