Angèle Dubeau was the seventh of eight children growing up in a musical family in Saint-Norbert, Quebec. She began playing the violin at four and entered the Conservatoire in Montreal when she was eight. At 15, she studied at Juilliard under the renowned Dorothy DeLay, later moving to Romania to work with Ştefan Gheorghiu. After a globetrotting solo career, she formed La Pietà, a string orchestra which has garnered JUNOs and a widespread public following. To celebrate 20 years of La Pietà, Analekta has released Ovation, a 15-track CD of music chosen from live performances from last year's anniversary tour. The WholeNote celebrates this milestone with the following conversation with Dubeau.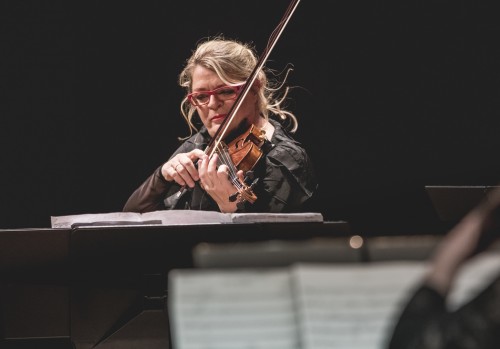 WN: Congratulations on the 20th anniversary of La Pietà. Please tell us what inspired you to form your string chamber orchestra.
AD: After 20 years touring the world as a soloist all the time, the solitude was heavy to bear. I decided to form my own orchestra to be free to choose the repertoire and to explore colours and textures. As a conductor, I was free to find and create the Pietà's sound that characterizes the orchestra today.
Why did you select the name La Pietà?
In 1997, I wanted to record an album of Vivaldi's concertos. [I was] thinking of Antonio Vivaldi – Maestro del coro in Venice 300 years ago at the Ospedale della Pietà. Young orphans and illegitimate girls were playing in the orchestra.
You've had great success in recording with La Pietà. How did you choose the 15 tracks on Ovation? Please talk briefly about your relationship to each of them.
I chose pieces that really impacted my musical journey, all for different reasons. First of all, I think of the composers I have had the privilege of creating a lot of repertoire with throughout the years. When I play [film composer] Joe Hisaïshi, for example, I can't help but think of all the concerts I played alongside him in Japan. The legendary concert halls in which I had the pleasure of playing those musical pieces (Southbank Centre in London, Tokyo's Opera, Bellas Artes in Mexico City) also come to mind. Many memories of foreign trips as well with, for example, the Romanian Rhapsody No.1 by Enescu that brings me back to 1981-1984 when I worked with Ştefan Gheorghiu in Romania. Each piece also brings back memories of great characters for whom I had the chance to play; Nelson Mandela, Queen Elizabeth II, the president of China in 1987 and so on.
You have developed a strong library of contemporary repertoire -- from Philip Glass to Arvo Pärt and John Adams; from Ludovico Einaudi to Max Richter. When did you first discover the music of Philip Glass? How did your musical relationship with him evolve over the years? Was Glass' music the gateway to your love of those other contemporary composers? If not, what drew you to them?
In the past 12 years, I have been drawn to a variety of composers. Gravitating around the minimalist movement that has, and will continue to have, an impact on the intellectual and musical life of our time. I must say that the more I listen to those composers, the stronger my desire to interpret their music becomes.
First, I revisited the colossal work of Philip Glass that I discovered in the 80s and with whom I worked on his first violin concerto in NYC in the 90s. Then came the "essentialist" Arvo Pärt, and John Adams whose music is both strong and exuberant. After came a music portrait of Ludovico Einaudi and two years ago, the portrait of Max Richter who brilliantly follows in the steps of the previous album. With all those icons of contempory music, I have expressed my desire to go beyond and to grant myself those unique voices, unique signatures. A great way to widen my horizons !
With more than 15 million streams, your Einaudi CD was enormously popular. What attracted you to his music? What is your approach to it?
It's crazy to think that in the last five years, my music has been, to this day, streamed 60 million times all over the world. This number I could've never imagined when I started 40 years ago. I always thought that music is for everyone and that it really is meant to be shared. To think that my own accompanies people in their everyday life fills me with joy. As for Einaudi himself, he is a master of melody. His music is pure and refined without any artifice. I find his music to be soothing and truly luminous.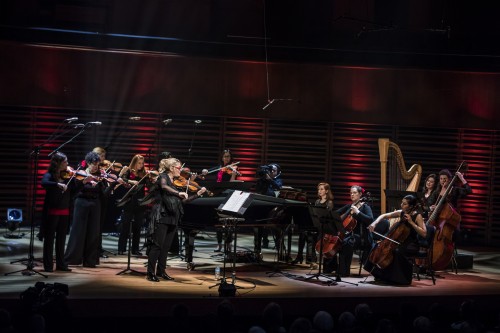 How has your choice of repertoire changed over the last 20 years?
I like to pick out my repertoire from different eras, from different styles. I like envisioning it without any limit of choice; a gift I gave myself quite a long time ago. I strongly feel that if a certain music speaks to me, that I can express something personal with it, I should share it.
What are your plans for La Pietà going forward?
After 40 years of constantly touring and always being on the road, I decided to change my lifestyle and reduce the number of concerts I perform. I remain a violinist. I will keep making albums and I still have a head full of potential projects. I am currently working on my next album which will be recorded in March 2019. As for live perfomances, I will, of course, continue to meet my audience for various concerts.
Finally, who were your musical heroes growing up?
I always had the curiosity to go and discover music and musicians. I had the privilege to play and work alongside Henryk Szeryng, Ştefan Gheorghiu. I played with Dave Brubeck, Alain Marion, Alexandre Lagoya, Joe Hisaïshi. All great musicians that truly made me grow.
Paul Ennis is the managing editor of The WholeNote.