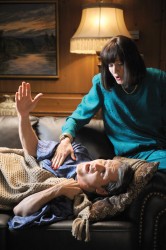 When the Globe and Mail first broke the story last October that there was going to be an opera film about Brian Mulroney, an astonishing 58 readers wrote comments on the website, and all of them were pure vitriol. Clearly, Mulroney, Canada's 18th prime minister, may well be the most hated politician in modern Canadian history.
Well, Mulroney haters (among whom I include myself) can take heart. When I watched the screener, I started to laugh from the very first frame, and was still chortling after the fade-out. In truth, Mulroney: The Opera is absolutely delicious political satire, with every character of every political stripe coming in for a drubbing. On a more serious note, opera lovers will appreciate composer Alexina Louie's clever pastiche score and librettist Dan Redican's hilarious rhyming couplets. Louie is one of Canada's most important composers of new music, while Redican is a revered comedian.
In a real coup, the 75-minute Mulroney: The Opera will be shown in Empire movie theatres across Canada as a special presentation of the Metropolitan Opera's wildly popular "Live in HD" series. The program also includes the 26-minute Behind the Curtain: The Making of Mulroney: The Opera. The first screening takes place Saturday, April 16 at 1pm, with a repeat on Wednesday, April 27 at 7pm. Peter Gelb, the Met's general manager, even gives the tongue-in-cheek introduction from the opera company's broadcast truck.