It is Friday afternoon and my daughter Adrienne just called me and asked what I was doing now. "I'm having a wonderful afternoon, wallowing in the music from a box of mono recordings."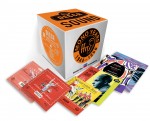 The Decca Sound The Mono Years 1944-1956 (Decca 4787946, 53 CDs) is a treasure trove of exemplary performances of symphonic and instrumental music by artists in the Decca stable at the time. FFRR, the ear and ffrr logo, standing for "full frequency range recording," were registered trademarks and their appearance on the label informed the consumer that this recording sounded better than anything else on the market. For sure, the tipping point into the classical market was when Ernest Ansermet came to London and recorded Petrouchka with the London Philharmonic Orchestra to be released on five 78rpm records. Records are what recordings were called at the time. In November 1949 Ansermet recorded Petrouchka once more, this time in Geneva with the orchestra he had founded in 1918, L'Orchestre de la Suisse Romande. Issued, as before on ten 78rpm sides, it also appeared as Decca's first Long Playing Microgroove record in June 1950 (years ahead of EMI, as usual) and three months later on, yes, as five 78s. As American Columbia, who developed the LP, had trademarked the name and the lp symbol, other companies could not call their LPs, LP. Phillips, who was Columbia's partner in Europe, for example, coined "mini-groove." Eventually however LP became generic.
That Geneva Petrouchka elevated Decca as a label and equally important spotlighted Ansermet and his orchestra. The Petrouchka is on the first disc in this Decca box along with their Le Sacre du Printempsrecorded in October 1950. Both are fine performances that are still admirable, dynamic and cleanly recorded, the harbinger of the many wonderful, highly sought-after Decca recordings to come from Ansermet conducting the Suisse Romande and other orchestras in an astonishingly wide repertoire. Included here are Roussel'sThe Spider's Feast; Ravel's Le Tombeau de Couperin; Rachmaninov's Isle of the Dead; Dukas' Le Peri and Debussy's Six Epigraphes antiques and Jeux.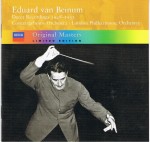 The world's expanding demand for more ffrr recordings necessitated finding new artists and the recruiting began, acquiring many now-familiar names. The young Georg Solti was signed in 1947 as a pianist and made several recordings with violinist Georg Kulenkampff. Solti was itching to conduct and so he did with the Zurich Tonhalle Orchestra in Beethoven's Egmont Overture. Many of his recordings from the time are included here: with the LPO are Bartók, Kodály and Haydn and with the LSO Mozart. In March 1946 The Concertgebouw Orchestra under Eduard van Beinum visited London and in the Walthamstow Assembly Hall they had their first recording session with Decca. Their sessions in mid-March 1947 included the Leonore Overture No.2 that was issued on two 10" 78s and hasn't been heard since. Decca made regular trips to Amsterdam, where in September 1948 Bartók's Concerto for Orchestra was taken down and in 1953, Decca's final year before the orchestra went to Philips, van Beinum recorded William Pijper'sThird Symphony and a suite from Diepenbrock's Marsyas produced by John Culshaw who had joined Decca in 1946. Many more items of the Eduard van Beinum recorded legacy with Decca are available on a 5-CD set Decca Original Masters (4731102).
One wonders why EMI let Benjamin Britten change record companies. Britten and Peter Pears had already recorded folk songs for EMI who also released an abridged Peter Grimes and Rape of Lucretia but as heard here, Decca has Britten conducting his Sinfonia da Requiem, Diversions for Piano left hand (with Julius Katchen),Four Sea Interludesand Passacaglia from Grimes and The Young Person's Guide to the Orchestra.
On a personal note; from 1952 to 1955 Decca had recorded Sir Adrian Boult in the complete Vaughan Williams Symphonies (seven at the time) with the London Philharmonic Orchestra. Those performances were assembled and issued in a uniquely packaged set soon after. My wife presented me with that set for my 25th birthday. Some great wife!
Long gone are the many, many artists who live on in their performances documented by Decca, always in technology ahead of state of the art. The hi-fi era was ushered in by Decca's ffrr recordings. The CDs in this set are sensibly arranged by artist with a composer's directory in the booklet. Surprisingly, there is no duplication of any work. Here are but a few of the artists represented in this collection with a significant work:
Alfredo Campoli: Lalo's Symphonie espagnole (with van Beinum), Elgar Violin Concerto (with Boult); Amadeus Quartet: Mozart Piano Quartets (with Clifford Curzon); Adrian Boult: Vaughan Williams Job and the Suite from the Wasps; also Tchaikovsky and Prokofiev; Sir Arthur Bliss conducts his Colour Symphony and his Violin Concerto (with Alfredo Campoli); Anthony Collins: Walton/Sitwell Façade (with Sitwell and Pears) and Elgar, Falstaff; Clifford Curzon: Brahms Piano Concerto No.1 (van Beinum); Mischa Elman: Beethoven Violin Concerto (with Solti); Christian Ferras: Brahms Violin Concerto (with Carl Schuricht); Anatole Fistoulari: Graduation Ball and ballets by Gluck, Grétry and Tchaikovsky's usual three; Pierre Fournier: Brahms' two cello sonatas (Backhaus); Maurice Gendron: Schubert's Arpeggione Sonata (Jean Françaix), Schumann Cello Concerto (Ansermet); Griller Quartet: Bloch's four string quartets and Sibelius Voces Intímae; Friedrich Gulda: Beethoven's Piano Sonatas 26 & 29 and Eroica Variations; Quartetto Italiano: Quartets by Haydn, Boccherini, Schumann and Verdi; Thomas Jensen: Sibelius Lemminkäinen and Karelia Suites; Erich Kleiber: Beethoven Symphonies 6 & 9 plus Wagner; Hans Knappertsbusch: Bruckner Third Symphony (third version, Schalk & Loewe) VPO; Moura Lympany: Rachmaninov Third Concerto (Anthony Collins), Khachaturian Concerto (Fistoulari); Peter Maag: Mozart Symphonies 28 & 29, Serenade in D major K203I; Jean Martinon: Lalo, two Namouna Suites; Fauré and Françaix Concertino (with Kathleen Long); Boyd Neel: Handel 12 Concerti Grossi, Op.6; Zara Nelsova: cello sonatas by Rachmaninov and Kodály; Ruggiero Ricci: two violin concertos by Paganini (with Anthony Collins); Trio de Trieste: Beethoven Archduke Trio, Brahms Trio No.1; Erik Tuxen: fifth symphonies by Prokofiev and Sibelius; Vegh Quartet: string quartets by Smetana, Kodály and Schubert; Wiener Oktett: Mozart Divertimenti 10 & 17, Mendelssohn Octet, Brahms Clarinet Quintet (Alfred Boskovsky).
Because British Decca and American Decca were unrelated, the records were re-labelled London for distribution in North America and elsewhere. The offerings in this box are not presented as a sonic spectacular but as a true reproduction of the original truth of the monaural recordings heard better now than then.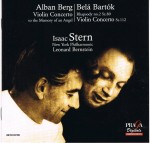 Last month I mentioned attending a Boulez 1969 concert in the Royal Festival Hall that included the Berg Violin Concerto with Isaac Stern. There is no Boulez/Stern recording but in 1959 Stern recorded the concerto in New York with Leonard Bernstein conducting. Praga has produced an SACD "DSD remastered from the original quadraphonic tentatives…without artificial back effect." (Praga PRD/DSD 350099 hybrid). The disc-mates are the Bartók Violin Concerto and Rhapsody for Violin and Orchestra. Stern had a unique, recognizable timbre that makes this an attractive disc particularly in view of the interpretative insights all around and the ideal sound.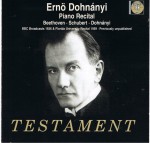 Back in the days of classical AM stations, there was a place for attractive works of lasting interest but of shorter rather than longer duration. There was a Dohnányi piece that surfaced regularly, the Rhapsody in C Major, Op.11 No.3 played by the renowned pianist Eileen Joyce. Testament has issued some previously unissued concert performances by Ernö Dohnányi (AKA Ernst von Dohnányi) recorded live at the Edinburgh Festival in 1956, at Florida University in 1959 and a couple of BBC transcriptions (SBT2 1505, 2 CDs). Born in 1877 in Bratislava (then Pozsony), Dohnányi attended the Franz Liszt Academy in Budapest where he studied with Istvan Thomán, a pupil of Liszt. As did Béla Bartók and György Cziffra. Dohnányi became a composer, pianist and conductor. Through the first half of the last century he was regarded as a pianist of the first rank but today most music lovers might only recognize him as the composer of Variations on a Nursery Tune for piano and orchestra. He did however write a significant amount of chamber music, which is well represented in the catalogue, and composed major symphonic works.
The Florida recital opens with Beethoven's Piano Sonata No.16, Op.31. No.1, Schubert's No.18 D894 and three pieces of Dohnányi's own. Disc two contains six solo pieces and a concerto, Symphonic Minutes, Op.36. This is a brilliant, interesting four-movement work of which there are another two performances in the catalogue – neither of which I have heard – but this one has the composer-pianist playing. It must be noted that because of the variation of recorded quality of the originals, this release is intended for avid collectors and archivists who can listen through the artifacts. However, I find that the brain soon adjusts and diminishes the steady extraneous distractions.