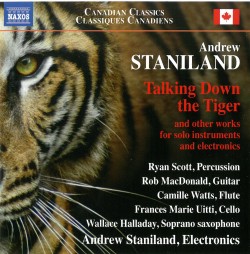 Andrew Staniland – Talking Down the Tiger
Various Artists
Naxos Canadian Classics 8.573428
Review
Talking Down the Tiger
is the latest release in the important CD series under the Naxos Canadian Classics masthead. Five world premiere recordings of as many works by Andrew Staniland, who has emerged as one of Canada's foremost concert composers, are featured here. The subtitle
and other works for solo instruments and electronics
aptly describes the format these compositions, dating from 2007 to 2013, are cast in.
Opening the disc is the title work, scored for percussion and electroacoustic looping. The composer evocatively notes that for him, "percussion is a metaphorical tiger: possessing all at once ferociousness, beauty and mystery." In Talking Down the Tiger (2010) he aimed to "explore a journey from a wild and ferocious sound world that gradually recedes into a mystical and beautiful sound world lying beneath." Virtuoso Toronto percussionist Ryan Scott brings both the ferocity and lyrical sensitivity suggested by Staniland's score alive in his musically sensitive performance. As for the electronics, they effectively extend the percussion sounds, bouncing them around the listening space, sometimes resulting in mysterious sonifications.
All five works receive terrifically musical and convincing performances. Each one – for guitar, flute, cello, and soprano saxophone, in addition to the percussion of the first track – has special musical felicities I would enjoy commenting on, if only space permitted.
Unfortunately there's only room left to mention the impressive Still Turning (2011), thematically inspired by T.S. Eliot's poem Four Quartets. Staniland's expansive near-18-minute score is brought to vivid dramatic life by the celebrated cellist Frances-Marie Uitti, eliciting for this listener a wide range of emotional states. It's a very satisfying musical experience, as is the rest of the album.