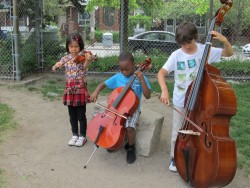 One or two of you will remember that in last month's For Openers I raked the Glenn Gould Foundation over the coals for cutting the Award's classical balls off. So you may be surprised (and maybe disappointed) to hear that, only a couple of weeks later, I attended the May 14 Massey Hall gala concert at which Leonard Cohen received the ninth Glenn Gould Foundation Award, stood for every standing ovation, and wiped away more than a couple of tears.
You might be less surprised, if no less disappointed, if you had known that in my only slightly more demented university days, I was the individual who could, on a given day, rise up from the audience at a mass meeting in the Great Hall, blast the organizers for irrelevance, and lead a walkout, headed for the cafeteria. And, only a couple of weeks later, storm into the cafeteria, bellow at the chip-and-gravy-eating masses to get up off their apathetic arses, and lead a sheepish throng back to the Great Hall for a meeting.
You might be even more forgiving if I explain that I bought my first guitar in 1968 specifically to learn Suzanne, in the hopes of persuading Moira LePage to let me touch her perfect body with anything. And this was half way round the world, long before I even knew, let alone cared, that Leonard Cohen was a Canadian.
It was a wonderful evening, full of nuance and grace, a funny funny story from Cohen himself about the first of his two meetings with Gould himself (as a reporter), and another fine account, from Adrienne Clarkson, herself, about how she tried unsuccessfully to get a literary travel grant from the Canada Council, back in its infancy, for this hot young Montreal poet she "held a torch for" to come do a reading for the young ladies of St. Hilda's (University of Toronto). Cohen himself did get a Canada Council Grant in those early years, it was explained – a princely $26, the first money anyone ever gave him just to "be a writer." (In return, he donated his $50,000 prize back to the Canada Council.)
Suzanne remained, blessedly, unsung, and the only snippet of Hallelujah came in a little video clip sung and played by the children of Sistema Toronto, the organization Cohen chose to receive the City of Toronto Glenn Gould Protégé Prize that goes with the Award. (Oscar Peterson chose Benny Green for his protégé when Peterson won the third GGF award in 1993, and Benny Green has a concert during this year's Toronto Jazz Festival, June 28 at the Church of the Holy Trinity. But that's another story.)
Sistema Toronto is an offshoot of El Sistema. Founded in 1975 by Venezuelan economist and musician José Antonio Abreu, El Sistema is a publically financed, voluntary sector music education program in that country, responsible for bringing music lessons to almost half a million children, many of them otherwise at risk. It has also spawned scores of community orchestras, and produced astonishing musical talents, such as the Los Angeles Philharmonic's current conductor Gustavo Dudamel. Abreu, you may remember, was the previous GGF Award winner, two years ago.
That was one of the teary moments in the evening for me, when two of the children from Parkdale Junior School, where Sistema Toronto is now quietly, and astoundingly, taking root, stepped onto the stage to accept the prize. I'm not sure what was more moving: watching an old man, still full of fire and grace bend to pass the torch, the gift of making music, across one generation to the next; or watching a movement that offers so much musical hope successfully transplanted from statist roots to a tiny patch of individual Toronto soil.
Either way, the torch was passed. Long may it burn.
—David Perlman, publisher@thewholenote.com
Correction
The Choirs Ontario Leslie Bell Prize for Choral Conducting, announced on page 55 of last month's magazine, incorrectly stated the eligibility  requirements for candidates and their nominees.
A corrected notice can be found under COMPETITIONS on page 44 of the current issue.