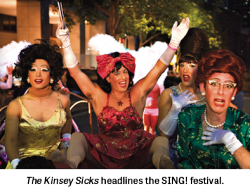 Early on in the development of this magazine we decided on a genre-based approach to our regular beat columns to guide our readers through the vast range of "musics," as columnist Andrew Timar likes to call them, regularly encompassed in these pages.
In many ways it makes sense to do so – if you are on a forest walk and mycology or ornithology are your particular thing, you're going to gravitate towards the guide with a mushroom or bird pin on their lapel. Similarly columns with names that include "New" or "Opera" or Early" or "Jazz" in them offer readers who already know what they like the comfort of a regular "go to" guide.
But it is an organizational device that even now allows interesting content to fall through the cracks, and probably needs a bit of a rethink as the sharply delineated features of the musical and social landscape continue to erode and change.
For one thing, increasingly, we find that musicians, no matter how specialized their training, are choosing not to be pinned down in terms of their practices – seeking partnerships and collaborations all over the musical landscape.