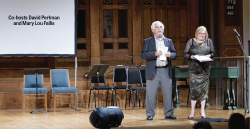 At the party after The WholeNote's 20th anniversary concert at Trinity-St. Paul's Centre, Friday September 25, a former Governor-General of Canada (who shall remain nameless) said to me some kind words to the effect that we were to be commended for the service we had rendered to the artistic community over the past two decades and to individuals like her who in large part get their information about what is out there musically from this publication.
My reply, if I remember correctly after two hours onstage with the inimitable Mary Lou Fallis (thank you, Mary Lou!), was that the most amazing thing is not the fact that we told the story, but the fact that the story existed to be told.
All we have done is to document one aspect of the astoundingly vibrant cultural life of the remarkable cultural fertile crescent along the Canadian shoreline of Lake Ontario. Take a quick look at the Blue Pages in the centre of this magazine and the listings in any issue of the magazine, and you will see what I mean.
Bottom line: There would be no WholeNote if there had not been an extraordinary music scene in these parts to document.
October 19: That is why we are weighing in on the topic of the federal election now under way. Because we believe the artistic life of this city and region is under threat in some very significant ways. And people who care about that should think carefully when they cast their vote.
I am not going to tell you who I think you should vote for. But I am going to tell you what I think you should vote against.
One: Vote against candidates and parties who use the word "middle class" as if they know what it means. And then go on to talk about "what middle class Canadians want" as if that were the only important thing in the election.
In a story in this issue, pianist Eve Egoyan, at some point, talks about life as "an independent artist who makes a living in bits and pieces." Ask yourself: how many "middle class" people would describe the way they make a living in those terms? And then ask yourself how many cultural workers you know who fit that description?
Finally, ask yourself which parties' policies are geared to the needs of the other people in our society who also "make a living in bits and pieces" but don't have the cachet that gets artists (even starving ones) invited to dine at the tables of those who make their living in much more orderly and predictable ways.
Look to support parties with policies that support and empower the working poor, for the majority of the artists that make our society rich in ways beyond money fall into that category for a significant part of their lives, even while they bring us all joy.
Two: Vote against candidates and parties who pit cities against suburbs; and who don't seem to understand that the only way to keep our cities truly, fully culturally alive in the ways that made this magazine possible is to enable the next generation of artists to be able to afford to live in the places where they learn and ply their trade.
Ask yourself: what will have changed irreversibly for the worse when our audiences can afford to live in a city, but the majority of the artists on its stages cannot?
Three: Vote against candidates and parties whose policies suggest they think throwing money at studying problems is actually part of the solution.
Or who base their campaigns on promises to make great new things from scratch without explaining how they will build on what is already there.
Or who say that solutions for those in the arts, whose lives are built of bits and pieces, are different than for everyone else in the same boat.
And then vote.
Twenty-year archive: Earlier in this rant I mentioned that what The WholeNote has done is to document the musical life of this thin strip of land for the past twenty years.
As part of this 20th anniversary celebration, we are pleased to announce we have digitized our first 20 years. They are available for your nostalgic pleasure at thewholenote.com/previous.
publisher@thewholenote.com