I heard pianist Angela Hewitt on Friday night, when she gave a recital at Roy Thomson Hall: Bach's Italian Concerto, Beethoven's Sonata Op. 10 No. 3 and Brahms' Sonata No. 3. As the programme notes explained, this repertoire was chosen for a specific reason. These works were among the pieces she played on the same stage 25 years ago – in her successful effort to win first prize in the 1985 Toronto International Bach Competition.
On January 20, COC General Director Alexander Neef announced the company's 61st season. Of special significance is that this is the first season planned entirely by Neef. It was clear that Neef looked to see what works the COC had been neglecting because five operas are works the COC has not staged for at least twelve years and two are COC premieres.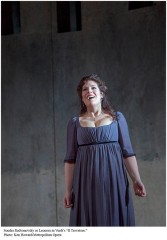 The season opens on October 2 with a new production of Verdi's Aida directed by Tim Albery and starring Sondra Radvanovsky in her company debut. Next is a new production of Britten's Death in Venice conducted by Steuart Bedford, who conducted the opera's world premiere in 1973. The winter season begins with a new production of Mozart's Magic Flute directed by Diane Paulus and starring Michael Schade and Isabel Bayrakdarian.  This is paired with the COC premiere of John Adams's modern classic Nixon in China with Tracy Dahl as Madame Mao. The spring season brings a new production of Rossini's La Cenerentola with Brett Polegato as Dandini; Ariadne auf Naxos with Adrianne Pieczonka and Richard Margison; and finally, and surprisingly, the COC premiere of Gluck's Orfeo ed Euridice directed by Robert Carsen with Lawrence Zazzo and Isabel Bayrakdarian.
Again the COC Ensemble Studio is allowed to take over one performance of The Magic Flute, rather than being given its own production. This is unfortunate because the Ensemble productions were a way for the COC to stage a wide range of chamber operas, from baroque to  contemporary, that helped to broaden our perceptions of what opera is.
Christopher Hoile
Pianist-composer Zygmunt Krauze, the subject of my last blog, presented a public lecture on his and his fellow Pole's music by at the Faculty of Music, University of Toronto. For over 40 years Krauze has enjoyed a successful career not only as a musician but also as a key administrator in both the Polish and international new music scenes. His insights therefore reflect a refreshingly positive central European point of view on new music. It certainly puts into relief what many insiders believe is the veritable outsider status Canadian new music and musicians generally enjoy today.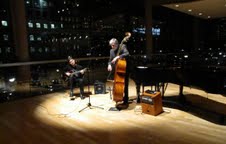 The word "privileged" kept going through my head as I stood in the Richard Bradshaw Amphitheatre in Toronto listening to a jazz concert last Wednesday evening. The word can have negative connotations, since opera and other "high brow" artistic endeavours are often perceived as being accessible only to the educated and wealthy. Certainly the Canadian Opera Company (COC) and the Four Seasons Centre, where the Richard Bradshaw Amphitheatre is located, would be familiar with such accusations. But as I enjoyed a free concert, being played by two of the finest jazz musicians in this country, in one of the most breathtaking performance spaces I've ever been in, "privilege" took on a whole new meaning.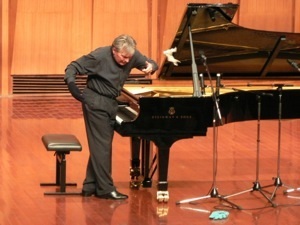 "What makes a complete musician?" That was the thought-provoking question Robert Aitken, New Music Concerts' artistic director and host of Monday night's concert at Gallery 345 asked the evening's featured soloist, Polish pianist-composer Zygmunt Krauze.
Aitken answered his own question first. He revealed that when wearing his composer's hat, his mission draws him deep inside in reflection and soul-searching self-examination. On the other hand, as a performer, he finds he must direct his energy outward to be able to engage musically with his colleagues and audience. The dichotomy is enough to tear a sensitive artist apart.
On the contrary, Zygmunt Krauze pointed out that the classical triumvirate skill set of performing musician-composer-teacher has worked for him very well. Each aspect had in his case reinforced the other to help him build a 50-year career as a "complete musician." In fact, he added, that three-cornered job-description has been the gold standard of almost all of the notable composers Europe has produced.
With philosophical matters out of the way, Zygmunt Krauze's piano recital followed on the heels of Sunday's concert. That concert featured small and large ensemble performances of the music of a cadre of contemporary Polish composers, at the CBC's Glenn Gould Studio. The present recital, however, was dedicated to the piano music of just three Polish composers, active over three centuries: Chopin, Lutoslawski and Krauze himself.
Krauze began with a muscular performance of Fryderyk Chopin's Mazurka, a-moll no. 4 op. 67 (1846), which filled the intimate gallery space with the lush sonorities of the freshly tuned grand piano. Krauze's interpretations are by no means standard, however. He regularly employs unorthodox dynamics, articulation and tempi – and even more unusual is his practice of moving off in an unexpected improvisational tangent. He did just that in this 19th-century opus, as well as in an early work by his colleague and friend, the late Witold Lutoslawski.
Zygmunt Krauze's own music for piano ranged from the early pseudo-folk – Six Folk Melodies (1958) – to the physical theatre of Gloves Music (1972), and to his mature multi-layered musical voice revealed in Refrain (1993).
For me, his Stone Music (1972) proved the most magical music journey of the evening. Performed directly on the strings of the piano and eschewing the keyboard, Krauze employed just three stones and two small metal rods to evoke slowly shifting and eerie sound clouds. Most remarkably, at times the sound which filled the space evoked quite accurately a string section and at other times a wind choir. It was soft and quite exquisite.
Andrew Timar

The WholeNote Podcasts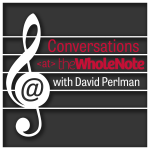 Welcome to the Conversations <at> The WholeNote podcast page. Below you will find our podcast episodes for your listening pleasure.
To listen, you have a few options:
You can listen via this website you can scroll down and find the episode you'd like and click play there.
Or you can download and save the podcasts on your phone, tablet or computer - and then you can listen to it anytime (even without an internet connection) by downloading from the episode articles below.
Or you can subscribe to this podcast on your favourite podcast service including iTunes, Google Play, Stitcher, BluBrry, PocketCasts and more. Just open your podcast app and search for Conversations at The WholeNote and hit 'subscribe'.
If you are unable to find us on the podcast app that you use, please let us know and we'll do our best to try and make it available to you.
Scroll down to select individual episodes to enjoy.