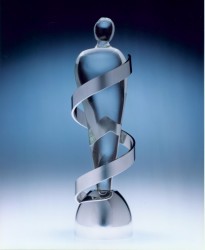 The biggest round of applause  at the Juno nominations announcement yesterday was not even directly related to the music: it was that the awards, taking place in the nation's capital on April Fool's Day, will be hosted by…William Shatner!  Warm applause also ensued after it was announced that rock group Blue Rodeo will be inducted into the Canadian Music Hall of Fame. In terms of the actual nominees, there was no clear frontrunner, with 6 acts tied at first with 4 nominations apiece: City and Colour, Dan Mangan, Drake, Feist, Hedley and Nickelback.
Needless to say (for those who know our magazine) none of the aforementioned frontrunners were reviewed in The WholeNote, but a few hearty bravos  are in order, nevertheless, to our hardworking crew of CD reviewers who have, out of the 35 classical and jazz nominees this year, already reviewed 27 of them in our DISCoveries section, (with three more to be reviewed next month!) A list of all the nominees in the five categories we routinely cover is provided at the end of this blog post, with embedded links to the ones we have already reviewed.
Before that, a couple of particularly WholeNote-Worthy Nods:
● 2 nominations for Montréal conductor Yannick Nézet-Séguin and Orchestre Métropolitain, in the same category, no less!
● 2 posthumous nominations in the Classical Composition of the Year category: Ann Southam's Glass Houses #5 and Jacques Hétu's String Quartet No.2.
● Franz Liszt's Années de pèlerinage suite is played (in part or in whole) in 2 of the recordings nominated in the Classical Recording: Solo or Chamber Ensemble (thank you, Google!)
And now, here are the nominees in the classical and jazz categories, with embedded links (in blue) related reviews already published in The WholeNote. (To view all Juno categories, visit www.junoawards.ca)
CLASSICAL ALBUM OF THE YEAR: SOLO OR CHAMBER ENSEMBLE
Canadian Brass Opening Day*Universal
Louis Lortie Chandos*SRI
Marc-André Hamelin Hyperion*SRI
New Orford String Quartet Bridge*SRI
Susan Hoeppner Marquis*EMI
American Flute Masterpieces (to be reviewed March 2012)
CLASSICAL ALBUM OF THE YEAR: LARGE ENSEMBLE OR SOLOIST(S) WITH LARGE ENSEMBLE ACCOMPANIMENT
Alexandre Da Costa/Orchestre Symphonique de Montréal Acacia Classics*Universal
James Ehnes Chandos*SRI
Jean-Guihen Queyras Harmonia Mundi*SRI
Yannick Nézet-Séguin, Orchestre Métropolitain ATMA*Naxos
Bruckner 4 (to be reviewed March 2012)
Yannick Nézet-Séguin, Orchestre Métropolitain ATMA*Naxos
Florent Schmidt- La tragédie de salomé
CLASSICAL ALBUM OF THE YEAR: VOCAL OR CHORAL PERFORMANCE
Jane Archibald; Orchestre Symphonique Bienne; Thomas Rösner ATMA*Naxos
Karina Gauvin - Marie-Nicole Lemieux Naive*Naxos
Le Nouvel Opéra ATMA*Naxos
Caldara : La Conversione di Clodoveo
Marie-Josée Lord; Orchestre Métropolitain; Giuseppe Pietraroia ATMA*Naxos
Marie-Josée Lord (to be reviewed March, 2012)
Tafelmusik Baroque Orchestra & Daniel Taylor Analekta*Sélect
J.S. Bach: Cantatas 70 & 154; Concerto 1060; Orchestral Suite No. 2
CLASSICAL COMPOSITION OF THE YEAR
Ann Southam Centrediscs*Naxos/CMC
Derek Charke Centrediscs*Naxos/CMC
Sepia Fragments (from Sea to Sea, St. Lawrence String Quartet)
Heather Schmidt Centrediscs*Naxos/CMC
Jacques Hétu Independent
String Quartet No. 2
Jeffrey Ryan Naxos
VOCAL JAZZ ALBUM OF THE YEAR
Diana Panton Independent*eOne
Fern Lindzon Independent
Sonia Johnson Effendi*Sélect
Le carré de nos amours
Sophie Milman eOne
The Nylons Linus*Universal
CONTEMPORARY JAZZ ALBUM OF THE YEAR
Chris Tarry Nineteen Eight
Rest of the Story
Colin Stetson Constellation*Outside
New History Warfare Vol. 2: Judges
François Bourassa Quartet Effendi*Sélect
Hilario Duran & Jane Bunnett Alma*Universal
Phil Dwyer Orchestra feat. Mark Fewer Alma*Universal
TRADITIONAL JAZZ ALBUM OF THE YEAR
Dave Young Quintet Modica*Independent
David Braid Independent
Kirk MacDonald Orchestra Addo
Mike Murley Septet Cornerstone*Outside
Oliver Jones Justin Time*EMI
Live In Baden
Bruce Ubukata and Stephen Ralls' The Aldeburgh Connection (http://www. aldeburghconnection.org) turns 30 February 19 2012. The WholeNote's David Perlman spoke with them late January 2012.
October 15, 2011: David Perlman, Publisher of The WholeNote Magazine in conversation with bass-baritone Mark S. Doss (www.marksdoss.com). Topics include his recent performance as Thoas in the Canadian Opera Company's production of Gluck's Iphigenia in Tauris, early role models and teachers, his practice regimen, working with different directors and teaching music therapy at the Michigan State University in East Lansing.
The Gypsy Princess
by Imre Kálmán, directed by Guillermo Silva-Marin
Toronto Operetta Theatre, Jane Mallett Theatre, Toronto
December 28, 2011-January 8, 2012
For its New Year's show, Toronto Operetta Theatre is presenting its third production (not its first as I mistakenly stated in my December column) of Imre Kálmán's most popular operetta, The Gypsy Princess (or as it was known at its 1915 premiere in Vienna, Die Csárdásfürstin)..  It has one great tune after the next, with no lack of that typical Hungarian dance, the csárdás, and a plot that moves forward less because of artifice than because of the interplay of complex human emotions.  The current TOT production has much to recommend it, particularly the stunning performance of Lara Ciekiewicz in the title role, but when I saw the December 30th presentation, halfway between the premiere and the big New Year's Eve gala, the show still seemed a bit rough around the edges.
The story uses certain clichés of Viennese operetta plotting--a comic couple balancing a serious couple and difference in class as a bar to marriage--but librettists Leo Stein and Béla Jenbach have found a way to emphasize the human side of the conflicts so that characters and the community on stage seem much more real than is sometimes the case in operetta.  For one thing, the title character Sylvia Varescu (Ciekiewicz) is a cabaret singer herself.  Prince Edwin (Keith Klassen) is in love with her, but she doubts whether he has the courage to stand up to his parents' disapproval of his marrying not just a commoner but, even worse, a stage artist.  Meanwhile, her manager Count Bonifazius or "Boni" (Ian Simpson) is trying to get Sylvia started on a tour of America.  Edwin doesn't want her to leave so what can he do to stop her but propose?  Boni, who has never taken Edwin's passion seriously, doesn't want to cancel the tour and so produces an announcement Edwin's parents have prematurely had printed announcing his engagement to their choice for his bride, Countess Stasi (Elizabeth Beeler).  The mood for everyone except Boni gets very dark before events work themselves out.
Ciekiewicz has a clear, strong voice and a delightfully pert personality ideal for Sylvia.  She also can dance.  This must be the first time I've ever seen a soprano hit her high note while doing the splits!  She and Klassen's Edwin have a chemistry on stage that makes the frequent tiffs and reconciliations of these two highly strung individuals seem quite natural.  Klassen's tenor has darkened over the years in a way that has allowed him an even greater range of expression.  This plus the rapport between the two makes the slow minor key waltz "Where Are They Now?" an unexpected highlight of the second act.
As the traditional parallel comic couple, Boni and Stasi are not typical at all.  Stasi, in a surprising notion for 1915, proposes an open marriage to Edwin as the solution to their problem in the "Swallow Duet".  Beeler's scintillating presence lights up the whole second act.  She gives Stasi a fascinating personality, a seeming outward nonchalance hiding deeper feelings underneath that makes you pay special attention to her every word.
As Boni, Simpson simply cannot match or the other leads.  Though I have enjoyed other performances of his, his acting style is completely different from that of the others.  He adopts the consciously artificial line delivery one often hears in musicals rather than the naturalistic style the others use here.  Although he played Boni the last time the TOT staged Die Csárdásfürstin, he plays Boni as a stereotypical comic figure rather than the complex one the librettists have created.  While he may be the main source of humour in the operetta, his motivation for ruining Edwin's proposal to Sylvia are completely selfish.  I'd like to see a bit more chagrin in him when he recognizes the effect of what he's done.  I'd also like to see some kind of change in him when changes from the devil-may-care rake of Act 1 who does not believe in love to a man hopelessly enslaved by it in Act 2.
In secondary roles, Stefan Fehr is excellent vocally and dramatically as Baron Ferencz or "Feri", friend to Edwin and Boni.  Mark Petacchi, though much too young for the role, gives a solid performance as Edwin's father Prince Leopold.  In contrast, Eugenia Dermentzis as Edwin's mother Princess Anhilte indulges in a bit too much posturing and should give some hint of the hypocrisy of her opposing her son's marriage to Sylvia.
As usual director and designer Guillermo Silva-Marin has managed with carefully selection of props, furniture and patterned lighting gobos to conjure up the exciting backstage of a theatre for Acts 1 and 3 and the contrasting formal world of Edwin's parents in Act 2.  Due to an evident enthusiasm for the music, conductor Derek bate uncharacteristically allowed the TOT Orchestra to play at too high a volume in the Act 1 so that most of the words went missing.  By Act 2, however, the balance had been corrected and the words were clear.  The choral singing was lovely throughout.
TOT has not staged Die Csárdásfürstin since 1997 so fans of Viennese operetta in general, and of Kálmán in particular, should not hesitate in seeing the show, especially with such a delightful singer as Ciekiewicz as Sylvia. The show is so full of good tunes that you're certain leave with waltzes, galops or csárdások still dancing in your ears.
©Christopher Hoile
The WholeNote Podcasts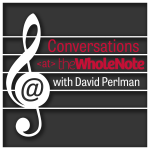 Welcome to the Conversations <at> The WholeNote podcast page. Below you will find our podcast episodes for your listening pleasure.
To listen, you have a few options:
You can listen via this website you can scroll down and find the episode you'd like and click play there.
Or you can download and save the podcasts on your phone, tablet or computer - and then you can listen to it anytime (even without an internet connection) by downloading from the episode articles below.
Or you can subscribe to this podcast on your favourite podcast service including iTunes, Google Play, Stitcher, BluBrry, PocketCasts and more. Just open your podcast app and search for Conversations at The WholeNote and hit 'subscribe'.
If you are unable to find us on the podcast app that you use, please let us know and we'll do our best to try and make it available to you.
Scroll down to select individual episodes to enjoy.