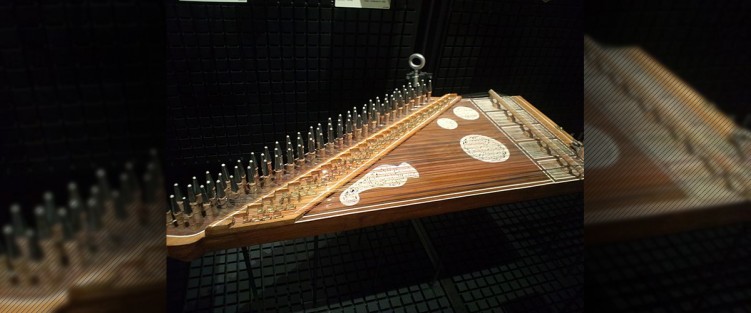 Chinese guzheng, Indonesian kacapi, Iranian santour and Middle Eastern qanun: these representatives of the vast global zither family remain relatively unknown outside their region or country of origin. And yet they all have very deep musical roots, tapping into the bedrock of the communities in which they have flourished for thousands of years.
At 7:30pm on Saturday, November 30, "Encircling the World: Zithers!," produced by North Wind Concerts (NWC) at the Heliconian Hall, aims to redress Toronto's zither lacuna with a transnational zither exploration and celebration – or as NWC more succinctly put it, "Different cultures, similar instruments, shared musical meanings."
The event is the second installment of NWC's ongoing "instrumental families" concert project. The first concert last March focused on members of the global flute family. This one features four different variants of the family of zither, dulcimer and psaltery, from Egypt, Indonesia, China and Iran, presented by leading Toronto musicians. The presentation format is unconventional, too: they will each play a solo feature and share about their instrument and music, then play together as a group and end with an interactive audience Q&A.
I spoke to NWC artistic co-director Alison Melville, as well as the four participating musicians, asking for their zither origin stories and thoughts on the future of their instruments.
It seems that in North America today, the zither's profile is relatively low. Does it have an identity problem, I asked Melville over email.
"I think this depends on which musical community and musical tradition you're considering," she countered. "The hammered dulcimer, for example, has a long and strong tradition in North America. Someone who listens mostly to European classical music, however, might have had no contact with the hammered dulcimer, and might think it's not as significant or developed an instrument as, say, the violin. That's an unfortunate assumption which I'm pretty sure would change if they got to know a great dulcimer player."
What informed Melville's choice of these specific musicians? "Toronto is very fortunate to have so many great musicians from different traditions living here," she writes. "I've known qanun master George Sawa for many years and have long admired his artistry and his ability to easily connect with audiences. Lina Cao (guzheng), Amin Reyhani (santour) and Bill Parsons (kacapi) were all recommended by friends and colleagues."
Melville also makes clear that each musician will present and demonstrate their instrument as they see fit. "This could include discussion of the construction of the instrument, playing techniques, etc., as well as the role the instrument plays within its musical tradition."
Guzheng soloist Lina Cao shared her earliest musical memories. "When I was little my father had many musical instruments in our home, sparking my own my love of music at a very early age," she says. "When I was five, I was strongly drawn to music coming from the home of my grandmother's neighbour. My mother took me next door to investigate. I discovered the instrument making that beautiful music was the guzheng! Not so many years later I began to learn to play it."
Here in Canada, Cao has performed in the opera The Monkiest King, produced by the Canadian Children's Opera Company, and has also played a guzheng concerto with orchestra.
"I thought for a long time about what I will play at the concert," Cao says. "In the end I decided to play a guzheng piece based on the Chinese folk song Jasmine."
Also performing on the concert is santour player Amin Reihani, an Iranian traditional musician who also started his musical journey at an early age. Amazed by the sound of the santour when he first heard it, he has continued to play, explore and create music for it.
A dedicated teacher of the santour, radif (the Persian tonal mode system) and Iranian ensemble music, Reihani enjoyed 20 years of teaching before immigrating to Canada, where he has since played santour with several Persian ensembles – in 2018 founding the Navak Ensemble to perform and record his compositions as well as those of past masters.
At "Encircling the World: Zithers!" Reihani looks forward to "an environment in which musicians have the rare opportunity to compare their instruments and learn more about their strengths and weaknesses."
"Other than physical and structural differences in size, shape, scales and playing techniques, I believe the most crucial aspect of music is the connection between the musician and the instrument," Reihani says. "To me, playing santour is more than just playing songs. It is more like praying. It is my form of meditation, helping me relax."
Veteran qanun master and respected scholar of its music George Sawa weighed in on how his instrument differs from the other zithers on the program. "I think the main difference is the presence of a fish skin membrane below the stable bridge," he notes, "plus the set of levers that allow qanun players to get tones, half tones, quarter tones and [eighth] of a tone." These fractions of tones produce the intervals essential in rendering the characteristic tonal modes of qanun music.
"From the time I was a kid in Egypt," writes Sawa, "I heard the sound of the qanun on the radio. I would rush to the set and press my ears right to the speakers: I was mesmerized by its heavenly sound."
Sawa notes that while it is the quintessential ensemble instrument, the qanun has a soloist side too, typically performing unmeasured improvisations. At the concert, he plans to discuss the essence of these improvisations and showcase the eleven levers on the qanun that give it its unique sound.
The final performer on the program – composer, guitarist, music educator and kacapi player Bill Parsons – is an old friend and colleague. He's also the only musician not born into the culture of the zither he's played for over a quarter century – and arguably the most experimental in his approach to it.
Parsons' creative life began in Winnipeg as a teenager with a guitar. He first encountered the kacapi (Sundanese trapezoidal twenty-string plucked zither) in 1994, when he was invited to join Toronto's Evergreen Club Gamelan (ECG). (ECG plays on a gamelan degung, a type of orchestra also from West Java.) Years later he travelled to the West Javanese kacapi heartland to further his studies with a local master.
"I feel honoured to be a part of the program," says Parsons. "I plan to write a new piece that features the kacapi in the way I see it: in a largely textural role. I'll be using looping, [and] preparations of the kacapi strings. Intermingling the techniques and cultures of the guitar and kacapi are on my mind at the moment."
"We had a wonderful time at the flutes show last spring," North Wind Concerts' Melville concluded at the end of our conversation. "There was a great atmosphere, lots of beautiful music and interesting questions from the audience. We're looking forward to another such evening on November 30!" As am I.
"Encircling the World: Zithers!" takes place at 7:30pm on November 30, at Heliconian Hall, Toronto.
Andrew Timar is a Toronto musician and music writer. He can be contacted at worldmusic@thewholenote.com.